---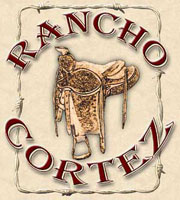 Rancho Cortez
Welcome to the ranch for a family vacation or holiday, fitness vacation, company retreat, church retreat, family reunion, or other group event. Saddle up and live your dreams for an hour, day, week, month, or longer. Cowboys, Cowgirls, and experienced riders: enjoy horseback riding with expert cowboy Larry Cortez, his daughter K.D., and his son Anthony. Plenty of Texas style fun with hay rides, campfires, cattle roundups, lasso lessons, swimming in our pool or soaking in our hot tub.
Your Texas Dude Ranch is open year-round in the heart of the Texas Hill Country. We're just 60 miles northwest of San Antonio and 10 miles northwest of Bandera, the historic "Cowboy Capital of the World." With a broad array of wildlife species and ruggedly beautiful landscape as far as the eye can see, our ranch is the perfect escape from urban life. And a great thing to do with kids in San Antonio.
Take a look for yourself at our photo albums. The Cortez Family is proud to extend to our guests the true flavor of a Texas Hill Country Dude Ranch Vacation or Ranch Holiday, one of the best San Antonio Attractions. Take a break from the city and come enjoy our authentic:
WESTERN-STYLE HORSEBACK RIDING AND INSTRUCTION.
Whether you are an experienced equestrian or have never set foot near a horse, horseback riding is a great way to experience the true beauty of the Hill Country. This is the perfect place to bring your guests, let them saddle up, and show them some true Texan heritage! We offer great trail rides customized to your riding level and available time. If you have enough time, we'll include lots of additional fun dude ranch activities, too!
CHOOSE FROM AMONG THESE HORSEBACK RIDING OPTIONS
Western-Style Horseback Riding and Instruction Full Day at the Ranch, including Horseback Riding Half Day at the Ranch, including Horseback Riding Western-Style Lodging, including Hay Rides, Campfires Home-Cooked Meals Overnight Campouts, with Horseback Riding Fitness Options, including Hiking, Fitness Classes and Healthy Meals.
The view of the unspoiled natural surroundings astride a horse is something you'll never forget! And you'll have plenty of terrains to explore: the combination of the ranch and the adjoining Hill Country State Natural Area offers over 40 miles of trails. At Rancho Cortez, you can enjoy traditional dude ranch fun or an invigorating fitness program–many families take advantage of both! Take a look at a typical day for your dude ranch vacation or for your fitness stay at the Ranch. New experiences, local culture, great activities, and true Texan hospitality await you at Rancho Cortez. You are always welcome!
THE RANCHO CORTEZ COWBOY FITNESS RANCH-A HOLISTIC APPROACH
What do we offer? Rancho Cortez Fitness is different in many ways than other fitness ranches or adult weight loss camps you might be considering. Most importantly, we are located on a real dude ranch with real cowboys. Practical, affordable, and results oriented. The focus is on exercise, eating right, getting healthy, and learning new ways to think and live.
We are not an expensive foo-foo spa. Our reasonably-priced practical approach does NOT include spa services-to save YOU money. People come to our cowboy fitness ranch to work hard and get results, and we help you every step of the way. We are also not an army boot camp. We will push you, but you are expected to take responsibility for achieving the results you want. (But we do periodically offer a two-week Warrior Boot Camp for those who want more strenuous workouts.)
---
---