---
Magnolia Market
601 Webster Ave.
Waco, TX 76706
(254) 235-6111
magnolia.com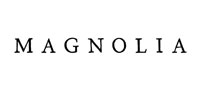 5 Ways to Experience Magnolia Market Like an Insider
If you're a fan of HGTV's hit show Fixer Upper, or you just have a TV, you probably know about Chip and Joanna Gaines' Magnolia Market in Waco. A sprawling home décor and garden shop, food truck park, and bakery set under a pair of towering silos, the market offers endless inspiration wherever you look. Yet there's more to the Magnolia Market experience than first meets the eye, and if you aren't careful you might just miss out. Check out these insider tips that'll help you get the most out of your time here.
---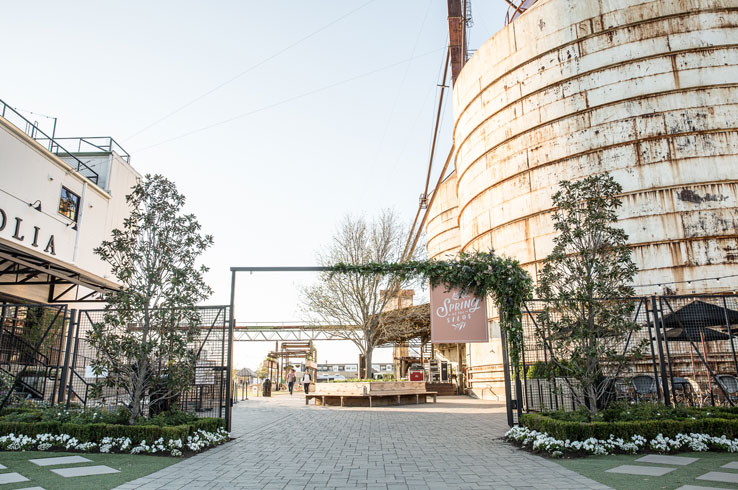 Experience Magnolia Market's Events
Sure, you could visit the Silos at almost any time of the year. But if you want to get the most out of your time here, mark your calendar for the market's lively annual events. Arts and crafts vendors from around the country join a breathtaking array of florals and food trucks for Spring at the Silos in mid-March. For an endurance-testing run through Waco, take on the Silo District Marathon. Held at the end of April, this Boston Marathon qualifier includes a 5K, half marathon, and full marathon run by Chip Gaines himself.
The arrival of fall is cause for celebration, something Silobration does enthusiastically for three days in October. Shop more than 90 artisan vendors, savor Waco's own craft eats, and stick around for the concert (you'll need to get a ticket to attend). Finally, Christmas at the Silos welcomes the holiday season with visits from Santa Claus, activities for the whole family, and a Christmas market full of artisanal goodies that make for memorable gifts.
---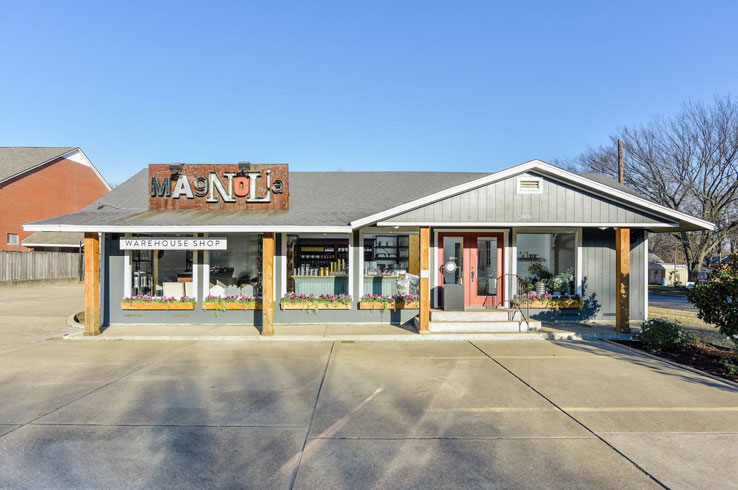 Shop Where Magnolia Market Started
These days, Magnolia Market is as close to a Texas institution as you can get. Yet it had to start somewhere, and that was at the Little Shop on Bosque. Known as Magnolia Market when it opened in 2003, it is now the place to go to get a great deal. The store stocks slightly damaged and last-chance items, from florals and vases to apparel and gifts, that you can get at a big discount. Take your time as there are a lot of great finds here. Even if you don't buy anything, you'll leave with a Lone Star-sized serving of inspiration for your next project at home.
---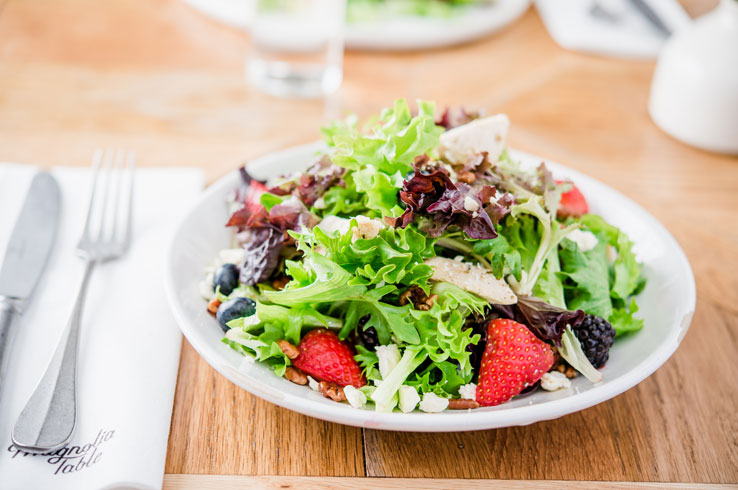 Eat Fresh at Magnolia Table
Spend any time at the Silos and it won't take you long to come across the food trucks (all you need to do is follow your nose). Yet that's not the only Magnolia-style dining experience you can have in Waco. Located in a historic restaurant space, Magnolia Table is an upscale casual eatery that serves fresh, locally sourced foods for breakfast and lunch. Eggs benedict, buttermilk pancakes, avocado toast, and grass-fed beef burgers from nearby 44 Farms are all on the menu here. Some dishes even have vegetables sourced from Joanna Gaines' garden. A special seasonal menu offers more local flavor, along with its fair share of delectable surprises.
Dining at Magnolia Table is first come, first served, so get here early. In a rush? Stop by the Take Away + Market, where you can pick up a prepackaged meal, pastry, and a coffee as you check out the selection of t-shirts, kitchen towels, and mugs in the market.
---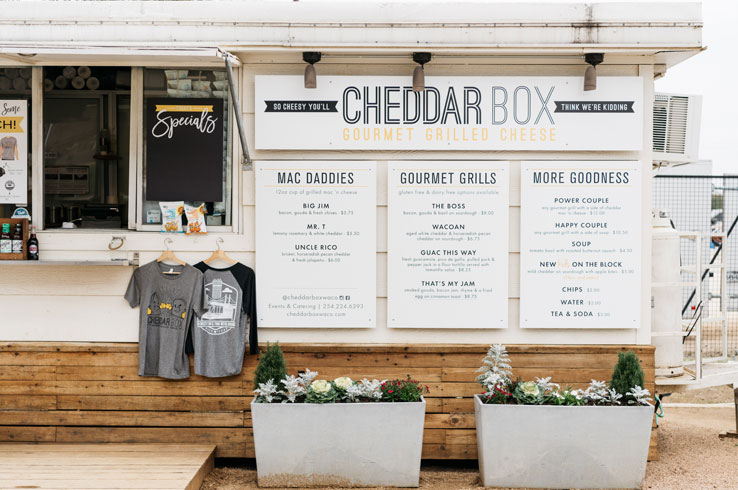 Get Your Fill in the Food Truck Area
You could easily spend all day shopping at Magnolia Market, so who has time to eat? Fortunately, you don't have to go far for some of the tastiest food in Waco. Simply stroll on over to Magnolia's food truck area, where some of the best mobile chefs in town cook up all things delicious. Whether you're hungry for good old-fashioned Texas barbecue, mouthwatering pizza, heavenly creamy mac 'n cheese, or some gourmet popcorn to snack on, you'll find it here. Take your food of choice on over to the covered dining area, where you can relax and dig in.
For some post-lunch fun in the sun, burn off a few calories with a game of cornhole or throwing a football. When you're ready for dessert, treat yourself at Silos Baking Co. All sorts of sweet and savory goodies are on the menu, including biscuits, cookies, and cupcakes, some made using Joanna Gaines' own recipes. Both Silos Baking Co. and Magnolia Table have their own trucks in the food truck area, so you can get a taste of both and skip the lines. After all, you don't have all day to wait.
---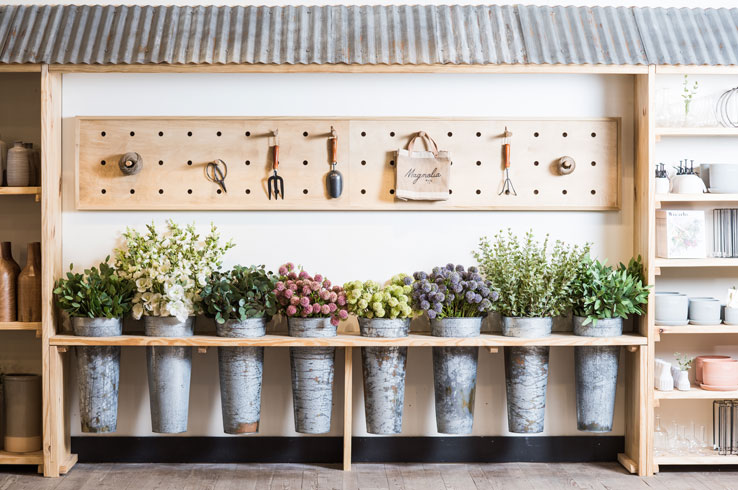 Celebrate Each Season
The vibrance of spring, autumn's deep oranges and reds, and the chill of winter. Each season's unique characteristics are celebrated at Magnolia Market, as the shop is festooned with creative decor, interactive displays, and products you can use to refresh your own space. Draw inspiration from the colorful flowers of spring or the wreaths and garlands of winter. No two visits are ever the same and there's always something new to discover. What better reason that this to come back for more?
---
Magnolia Market is far more than a home décor and garden supply shop; it's an experience unto itself. See everything else this Waco attraction has to offer (and get in a little online shopping) here.
About the Author: James Waterson is the head writer and content specialist for Tour Texas. When he isn't writing about the many great places in the state of Texas, he's planning his next epic adventure in the Lone Star State.
---
---
Magnolia Market
601 Webster Ave.
Waco, TX 76706
(254) 235-6111
magnolia.com