---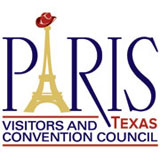 7 Reasons You Need to Visit Paris, Texas this Summer
Miles of scenic trails, a scenic lake perfect for fishing, and an Eiffel Tower wearing a red cowboy hat. These are just some of the reasons you should visit Texas' own Paris this summer. Nestled among the pastoral farmlands and pristine lakes of North Texas, this captivating small-town charmer is ideal for anyone looking to escape from the hustle and bustle of the big city. With a historic downtown full of gorgeous architecture and locally owned shops and restaurants, there are many things you can see and do here. Read on to discover some of the possibilities and why you should plan your next summer road trip to Paris.
---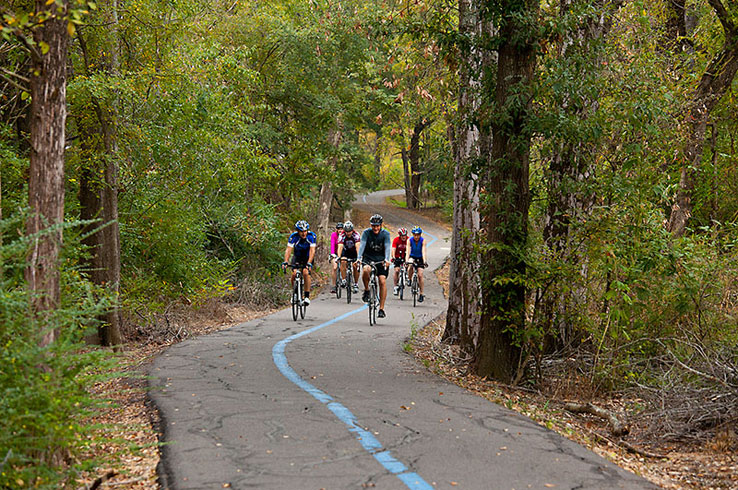 Miles of Picturesque Biking Trails
If the sun is shining and you're looking to work up a sweat, go for a ride along the Trail de Paris. Get in a great workout as you bike along the trail as it meanders past grassy fields and under the canopy of native trees. Since the trail is set far away from any cars, you can relax as you cycle, hike, or jog along. Want to ride the trail, but you forgot your bike at home? Rent one from the Love Civic Center. The Trail de Paris is one leg of the Northeast Texas Trail, a pathway that will eventually stretch more than 130 miles from Farmersville to New Boston. Once it's completed, you can plot your own epic bike adventure across this corner of the Lone Star State.
As amazing as the Trail de Paris is, it's not the only trail in town. Roll through woods, over creeks, and along the fast and technical single-track trails of the Barber Hills Mountain Bike Trail, situated near Pat Mayse Lake just north of town. Stretching for more than 11 miles, the trail is beginner friendly with enough to keep advanced riders entertained. Although it starts flat, there are enough changes in elevation to give your quads a good burn, but you probably won't notice with all the twists and turns.
With miles upon miles of road mountain biking trails, it's fair to say Paris is a dream destination for cyclists. Needless to say, you should probably pack your bike.
---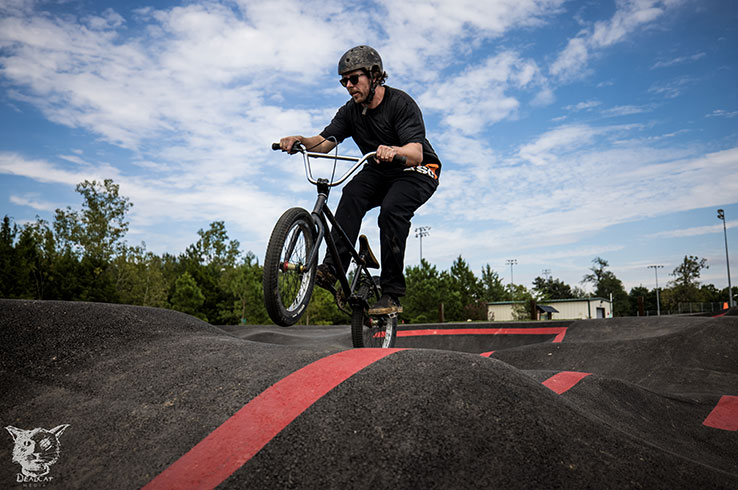 Ride One of the Nation's Largest Asphalt Pump Tracks
Looking for an adrenaline rush? Add some gravity into your next bike ride at Pump Track Paris. Speed over steeply banked turns and over hills as you roll through the brand new 15,000-square-foot track that's one of the largest of its kind in the country. If you want to try this kind of cycling out for yourself, Pump Track Paris is the perfect place to do it. Not only is the track friendly for new riders and experts, it's also free to ride. So bring your bike to Paris and get pumping.
Photo Credit: DeadCat Media
---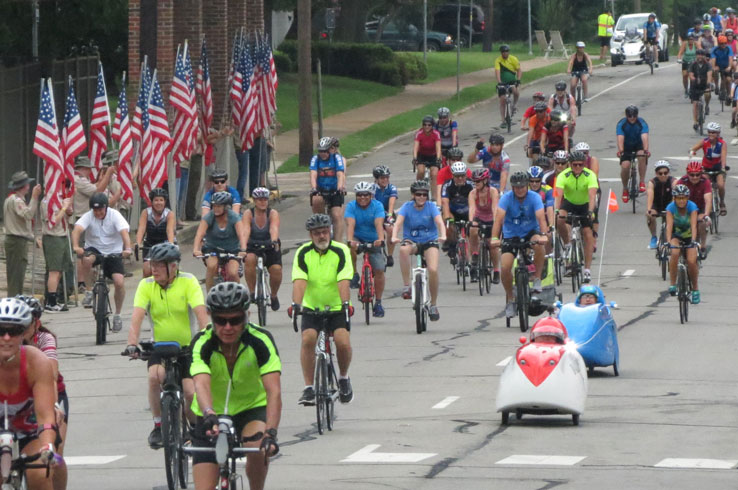 One of the Biggest Cycling Events in Texas
Get out your bike jersey, dust off your helmet, and bring your 12 speed up to Paris for the Tour de Paris (July 17). Pedal along scenic country roads over gently rolling hills and past tranquil farms as you take in all the beauty of North Texas. Whether you prefer a short jaunt in the countryside or a longer ride, the Tour de Paris' seven routes (ranging from 14 to 80 miles) lets you choose the perfect distance. All routes have rest and water stops along the way, which might come in handy during the summer.
If this isn't enough for you, stick around for the Hell of the North Texas Gravel Grind. This event features a 100+ mile and 100K competitive races, as well as a 30-mile beginner ride and a non-competitive open distance option, on the gravel and dirt roads around Paris. Cross that finish line and you'll get food and drinks, as well as the chance to win something nifty. For a full weekend of riding, look no further than Paris this summer.
---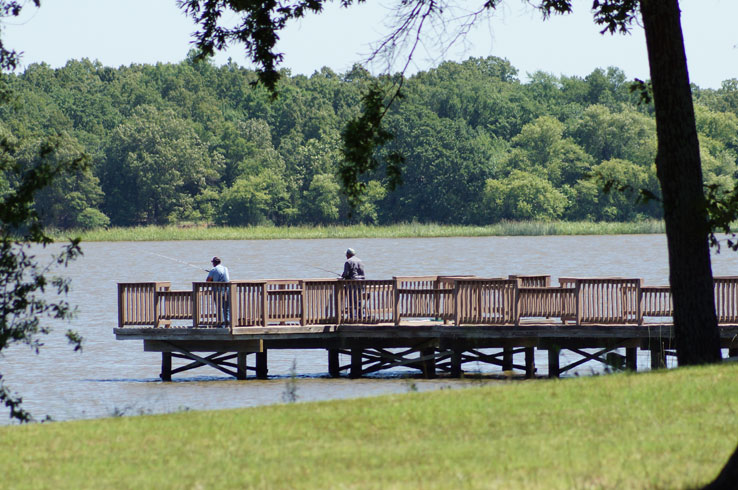 Fishing, Anyone?
Home to two large lakes, Paris is the kind of place you go when it's time to cast a line and enjoy some peace and quiet while you wait for something to bite. Catfish, crappie, and white bass are particularly abundant in Pat Mayse Lake, a 6,000-acre lake accessible from the Pat Mayse Lake Recreation Area. Fish from the bank as you soak in the view of distant trees over the vast blue lake, and cool off in the peaceful swimming area. Hook more catfish, crappie, and largemouth bass from the 100-foot-long pier at Lake Crook, situated minutes north of Paris.
---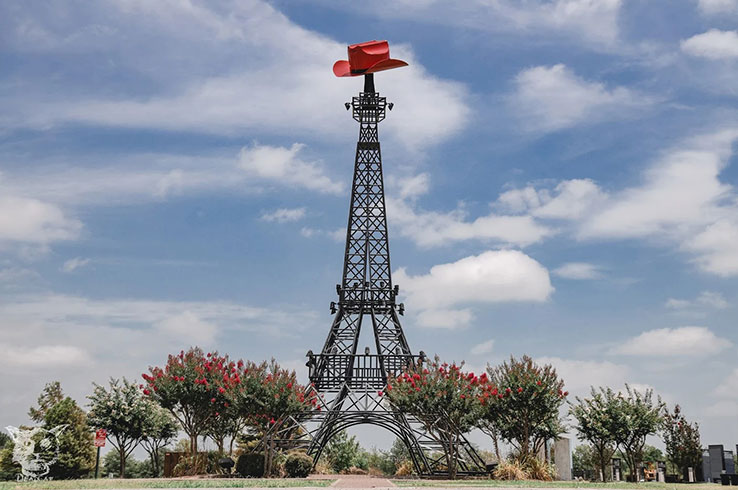 See the Eiffel Tower, Texas Style
What's 65 feet tall and topped with a big ol' red cowboy hat? Paris, Texas' own Eiffel Tower, of course! Although it's smaller than its European cousin, Paris' tower is still a must see. So, what's the deal with the cowboy hat? The 4.5-feet-tall, 10-feet-wide topper was added to the tower to set it above the version in Paris, Tenn., which was built at the same time as the Texas version. Snap a few photos during the day and come back to see it lit up at night. Although the tower is undoubtedly quirky, it's not the only unusual site in town. Head to the Evergreen Cemetery to see a statue of Jesus in cowboy boots. Because this is Texas, after all.
Photo Credit: DeadCat Media
---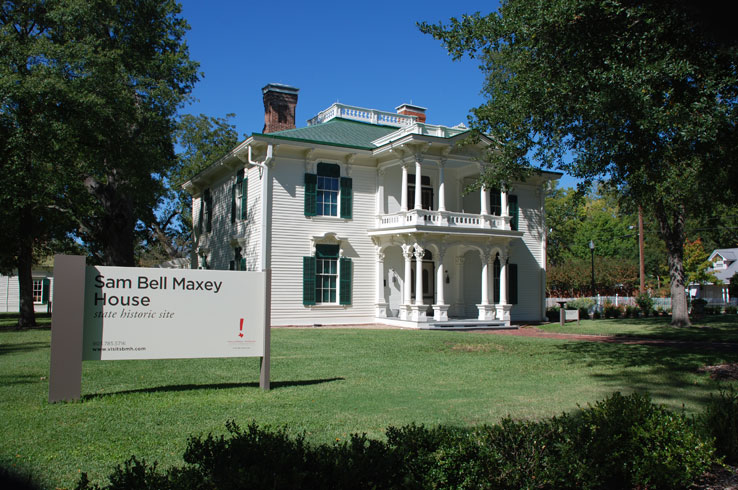 Fascinating Museums Abound
Everyone needs a break from the summer heat. Fortunately, Paris is full of museums where you can cool off and learn a bit about local lore. Start at the Sam Bell Maxey House State Historic Site, the former home of Confederate general and two-term U.S. Senator Sam Bell Maxey. Built in the eye-catching Italianate style in 1868, the house has more than 10,000 artifacts. Each room is furnished to represent how an upper-middle-class family would have lived at the turn of the 20th century, serving up a glimpse at a bygone era of Texas history.
There's more to see at the Valley of the Caddo Museum & Cultural Center. Discover the history of the land's original inhabitants, the Caddo Indians, through the museum's collection of arrowheads and other artifacts. The museum also displays a rotating selection of paintings, sculptures, and other works from local artists. Your journey through Paris' history concludes at the Lamar County Historical Museum, where you'll discover what Paris was like before the disastrous 1916 fire and check out artifacts, photographs, and other exhibits.
---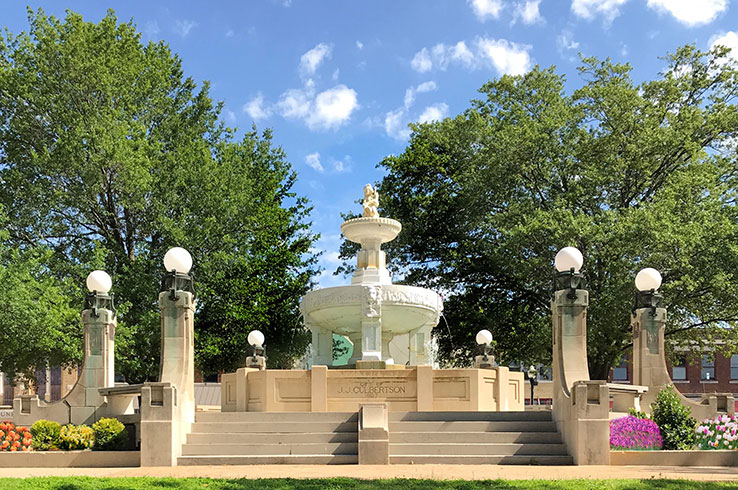 Historic Downtown Paris Has Plenty to Offer
Window shop in historic storefronts, get your fill at one-of-a-kind restaurants, and admire all the picturesque architecture of Historic Downtown Paris. Start in the heart of the downtown square at the Culbertson Fountain, an Italian marble fountain built to commemorate the town's reconstruction after the 1916 fire. Many of the beautifully preserved buildings you see were built right after that fire, and they're as fetching today as they ever were. Cross the street and walk along the wide sidewalks and you'll pass antique shops, boutiques, eateries, and even a community theater complete with an old-fashioned box office.
Uncover treasures from far and wide at Remember When Antiques and Hickory Street Emporium. Step into unique shops like Olive Paris, where you can taste the finest balsamic vinegars and olive oils from around the world. Visit Bee Sweet for an array of honey-made products, from candles and coffee to supplements and sweets. When your appetite kicks in, head to any of the locally owned restaurants throughout the downtown area. Once the sun sets, laugh the night away at the LMAO Comedy club.
With so much to see and do, downtown Paris is a destination in its own right. Whether you're looking to scope out some first-rate historic architecture or a beer garden with a great selection, you'll find it here.
---
About the Author: James Waterson is the head writer and content specialist for Tour Texas. When he isn't writing about the many great places in the state of Texas, he's planning his next epic adventure in the Lone Star State.
---
---