---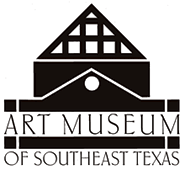 Located in downtown Beaumont, Texas, just beyond the bustling traffic of Interstate 10, tourists find a Texas-sized surprise when they visit the Art Museum of Southeast Texas (AMSET), Beaumont's fine art museum. There's so much to see with amazing art exhibits, exciting educational activities and fun-filled family events, people just can't believe they found this treasure.
AMSET's main gallery hosts eight to ten changing exhibitions each year focusing on 19th through 21st Century American fine and folk art with an emphasis on regionalism. From culturally-important artworks and photographs, to respected paintings of the Texas frontier, to unbelievable folk-art sculptures, AMSET has hosted and continues to show artwork that anyone and everyone can enjoy. A semi-permanent gallery featuring the folk art totems of Beaumont self-taught artist Felix "Fox" Harris has also proved to be a visitor favorite.
AMSET's Café Arts spotlights local artists and Two Magnolias Café, which serves lunch from 11am to 2pm Monday through Friday.
Selections from the over 1,000 works of art making up the AMSET permanent collection can be found throughout the museum. Highlights include sculptures by James Surls, George Tobolowsky and Charles Stagg, photographs by Keith Carter, paintings by John Alexander, David Bates and Paul Manes, among many others.
In conjunction with each main gallery exhibition, AMSET organizes a hands-on educational activity for children in the Conn Take pART Gallery. This gallery helps children understand the artwork on view and create their own art that is inspired by it. AMSET also hosts a Free Family Arts Day one Saturday per quarter. At these widely popular events, children participate in art activities and enjoy musical and dance performances which correspond to the current exhibit. All activities are free of charge.
Celebrating over 50 years of providing art to the community, AMSET invites citizens of every community to come discover the treasure in Beaumont.
Museum hours are 9am to 5pm Monday through Friday, 10am to 5pm Saturday and noon to 5pm Sunday.
For more information and a calendar of events and exhibitions, visit www.amset.org or call (409) 832-3432.
---
---
Art Museum of Southeast Texas (AMSET)
500 Main Street
Beaumont, TX 77701
409-832-3432
www.amset.org