---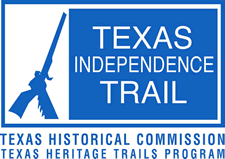 Texas Independence Trail Region
Where HISTORY is made every day...
In the saga of Texas history, no era is more distinctive or accented by epic events than Texas' struggle for independence & its years as a sovereign republic. The Texas Independence Trail Region comprises a 28-county area stretching more than 200 miles from San Antonio to Galveston. Armed with imagination and the Texas Independence Trail Region brochure, relive the era when Texas became a nation. Artifacts & interpretation at heritage sites across the region help visitors understand the lives & events that form this rich historical tapestry. The spirit of independence comes alive along the Texas Independence Trail.
Today, along the trail, you will experience amazing scenic drives, historic downtowns that are great for shopping, legendary rivers, parks, historic sites, forts, museums, living history programs, paddling trails, birding sanctuaries and monuments. Come walk along the grounds of early Spanish missions and historic towns. Experience the colorful cultural diversity of then and now which has helped to make this region and the Lone Star State so unique today.
There are so many adventurous opportunities waiting for you. Plan a day trip from San Antonio or Houston, a weekend get-away from anywhere in Texas or a family vacation that you'll remember forever!
---
---