---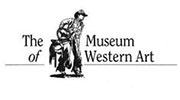 Museum of Western Art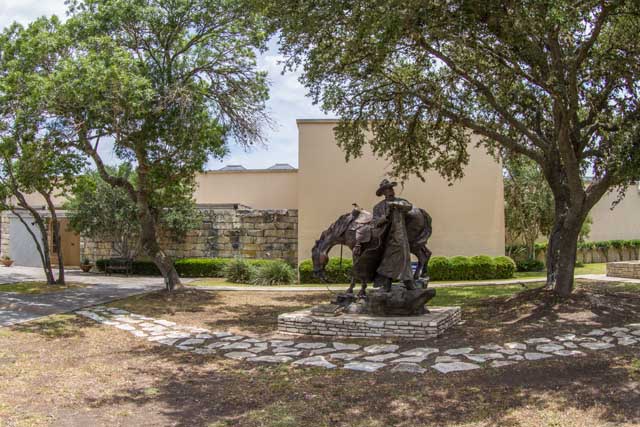 It's all about our western heritage, when life was rugged and the west was wild. It's a bit about cowboys, longhorns, Native Americans and wagon trains, and it's all showcased accurately in one of the finest western art museums in the country.
Who we are and where we're located:
The Museum of Western Art is nestled in the heart of the beautiful Texas Hill Country, 65 miles NW of San Antonio and 90 miles from Austin on I-10, exit 508. This 14,000 square foot facility opened in 1983 and was dedicated to the preservation of western heritage through art.
For Architect Enthusiasts:
The architecture is exceptional, the work of famed Texas designer O'Neil Ford. Interior features include 26 panels of handcrafted boveda brick ceilings.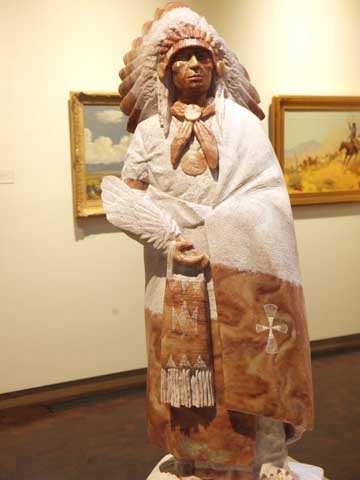 Our Fabulous Art:
Towering bronze sculptures grace the entranceway and exterior grounds. Multiple interior galleries display oils and bronzes of the best-known western artists of today, including art of famed Cowboy Artists of America. In addition to a fabulous permanent collection, special exhibits are featured throughout the year.
For the Buckaroos:
Kids under 12 are captivated by the Journey West Children's Gallery, an interactive display of life on a wagon train in the 1840s. A trunk filled with period costumes, western hats and bonnets offer dress-up fun while kids explore a teepee and covered wagon.
For Historians:
A 4000-tome western research library features books and periodicals dating back to the mid 1800s. Authors Larry McMurtry and James Michener both used this facility for book research.
And more:
A small museum store, outdoor pavilion for events, and exterior casitas for art workshops are also part of the complex. The Museum of Western Art is located at 1550 Bandera Highway, Kerrville and is open Tuesday – Saturday, 10 a.m. – 4 p.m. Admission charged. 830.896.2553 museumofwesternart.com
---
---