---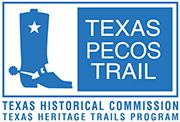 Texas Pecos Trail Region | Keep It Wild!
The Texas Pecos Trail Region promotes heritage tourism to 22 counties in West Texas. Our region is geographically diverse, from charming Hill Country rivers and scenery to rugged Chihuahuan Desert canyonlands to the sprawling mesas, sand dunes, and wide open plains of the Permian Basin. Our heritage is rich with outlaws and lawmen, West Texas oil boomtowns, Native American rock art, ranching and rodeos, frontier pioneers, 19th century military forts, and 20th century air bases. You may even follow in the path of the Butterfield Stage Line, the Goodnight-Loving Trail, the Bankhead Highway, or the old San Antonio-El Paso Road. And above it all stretches a vast sky you can almost touch it!
Travelers have much to see along the Pecos Trail, including museums, historic sites, state parks, outdoor recreation areas, military forts, historic downtowns, and more. Come visit a land where the Wild West lives on, where Native Americans once hunted wild game and lived under rock shelters, where Spanish explorers trail-blazed through remote and dangerous frontier, and where cowboys started the world's oldest rodeo. Experience the artifacts and memorabilia of Mexican and Anglo pioneers, African-American Buffalo Soldiers, ranching families, and modern oil tycoons. Enjoy refreshing spring-fed swimming pools, pristine unspoiled rivers, marvelous caverns, glistening sand dunes, and other natural wonders. Discover prehistoric pictographs, vintage World War Two aircraft, wildlife viewing sites, and contemporary art venues in our region!
There are lots of places to visit and sights to see in the Texas Pecos Trail Region, so plan your West Texas experience today!
---
---