---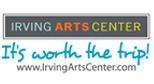 Irving Arts Center
Irving Arts Center | Irving, Texas

Explore Our Inner Beauty and Outdoor Spaces
The Irving Arts Center offers gallery spaces that really deliver, AND they're open seven days a week! Our four galleries range from the intimate to the grand. The Main Gallery is 3,800 square feet, with 200 linear feet of wall space. The skylights in its two-story ceilings offer a dramatic wash of Texas light to any exhibition or daytime event. The Carpenter Lobby and the Dupree Lobby galleries offer the added benefit of a steady theater-going audience for all exhibitions. The Focus Gallery is the most intimate space, offering a personal setting for smaller, introspective exhibitions. The Arts Center's Sculpture Garden showcases several permanent works along with touring pieces amidst flowers and fountains.
Plan Your Visit
The Irving Arts Center's central location and convenient hours - the galleries are open seven days a week - makes our stages and galleries easily accessible. Wherever you are coming from, we know you will find the center is worth the trip!
Gallery Hours
Monday - Friday, 9 a.m. to 5 p.m.
Thursday evenings, 5 p.m. to 8 p.m.
Saturday, 10 a.m. to 5 p.m.
Sunday, 1 p.m. to 5 p.m.
---
---