---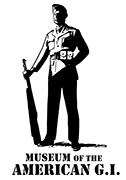 Museum of the American G.I. | Preserve, Honor, Educate
Where American Military History Comes Alive! Step back in time as you experience the breath-taking power of 20th century military history. Explore history in a new way as you tour the finest collection of completely restored and operational WWI, WWII and later era military vehicles in the South. Learn what it was like to face German Panzers in a Sherman Tank during the Battle of the Bulge or to serve in a half-track on Iwo Jima.
Museum of the American G.I. | Preserve, Honor, Educate

At the Museum of the American G.I., we strongly believe in honoring those who have served our country by preserving not only the equipment of the war, but the stories and memories. Each of our vehicles comes with a story of the brave men and women who operated them. Our museum also hosts a collection of women and men's service uniforms, with the badges and medals that their original owners earned throughout the course of their service years. To better understand the massive effort that the US undertook to ensure the success of its military, we also a host an impressive collection of original, vintage propaganda posters from WWII and on.
While the Museum is open year round, The Museum of the American G.I.'s signature event is the annual Living History Weekend in March. The event is a mix of a military vehicle rally, a military swap meet, and a living history event. It is one of the largest events of its kind in Texas, and is becoming an iconic event for the Brazos Valley. The Living History Weekend provides the public the opportunity to walk through WWII era Allied and Axis encampments, observe historic military equipment displays, and experience the rumble of tanks, blasts of small arms fire, and booms of artillery cannons with impressive pyrotechnics simulating authentic fire during the reenactment. The historic WWII battle reenactment on Saturday showcases an impressive choreography of people and machines. At the reenactment, spectators are treated to the largest display of functioning WWII tanks in the South.
Open: Friday - Saturday 10:0 a.m. - 5:30 p.m., Sunday noon - 5:00 p.m. Closed Christmas and New Year's Day.
Connect with us on Facebook, or visit our website at AmericanGImuseum.org
---
---
Museum of the American G.I.
19124 Highway 6
College Station, TX 77845
979-446-6888
americangimuseum.org