---
San Antonio Zoo
For over 100 years, the San Antonio Zoo has been a staple of San Antonio offering visitors the opportunity to get up-close with nature in a fun and educational environment. The San Antonio Zoo is dedicated to providing: the highest standards of care for our animal and plant collections, a diverse educational and high quality recreational experience for all visitors, and all the resources at our disposal for conservation of the Earth's flora and fauna.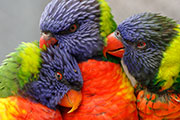 Lory Landing
"Not only is the Zoo dedicated to providing for its animals, it is the goal of the Zoo to educate and provide a fun environment for its guests. The Zoo provides several interactive exhibits for guests including Africa Live! where guests can step into a GIANT "termite mound" to see what goes on underground. At Lory Landing guests can surround themselves in colorful Lorikeets and even feed them some yummy nectar! Step into Butterflies! Caterpillar Flight School and marvel at the sight of hundreds of native and non-native butterflies. Don't forget to stop by the Real. Wild. Fun. Farm. to get up-close with some of the Zoo's adorable pigs and goats! Purchase a Zoo Fun Pass at the main gate for access to all of the Zoo's attractions and receive a FREE box of popcorn!"
Bringing a toddler to the Zoo? Be sure to visit the Kronkosky's Tiny Tot Nature Spot! One of the first of its kind, this area is designed specifically for toddlers to crawl, climb, and connect with nature. With daily animal presentations and activities, the Nature Spot is one spot you won't want to miss!
Conservation is one of the cornerstones of the San Antonio Zoo's mission. The Zoo's commitment to conservation is clearly demonstrated through the number of conservation programs in which staff is intricately involved.
Each year, the San Antonio Zoo participates in and gives financial support to a variety of conservation efforts around the world. The zoo has the ability to work towards this goal through a combination of different methods. Learn more about the Zoo's conservation efforts.
As a 501(c)3 non-profit, every dollar earned by the Zoo, goes directly back to the care and welfare of the animals and operations at the Zoo. Each visit to the Zoo is a contribution to the amazing collection of animals, educational programs and conservation efforts supported by YOUR San Antonio Zoo.

For more information or to purchase tickets visit the San Antonio Zoo website.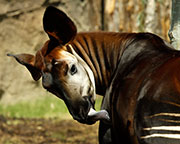 Okapi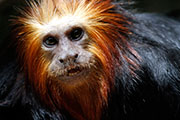 Tamarin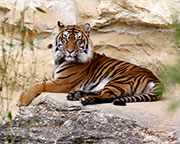 Tiger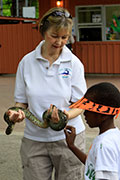 Docent
---
---
San Antonio Zoo
3903 N. St. Mary's Street
San Antonio, TX 78212
(210) 734-7184
www.sazoo-aq.org/