---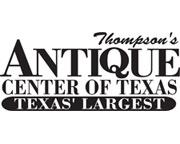 Thompson's Antique Center of Texas Dealers
Thompson's Antique Center of Texas is Houston's home for stunning home decor, collectibles, books, and more. Located in Northwest Mall off Highway 290, Thompson's is open almost every day of the year, so there's never a bad time to stop in a hunt for a one-of-a-kind treasure. Inside you'll find more than 190 vendors who specialize in everything from baseball cards to European furniture. The following are just a few of Thompson's Antique Center of Texas' dealers:
Avid Angler Jewelry Designs - Owner Phil Thompson offers lifelike pendants, charms, bracelets, and other jewelry inspired by all kinds of marine life in both 14K gold and sterling silver.
---
Baker Antiques - Long-time "picker" Bruce Baker has a keen eye for unique collectibles with a focus on vintage cameras of all makes and models.
---
Casey's Corner Antiques and More - Casey's specializes in rare and hard-to-find furniture and home decor, delivered for free within 30 miles of Thompson's (if you've friended them on Facebook).
---
Maximum Furniture d/b/a Houston Upholstery - The family-owned Houston outfit produces custom-built furniture, drapery window treatments, and re-upholstery for homes, restaurants, hotels, and more.
---
JBD Merchandising - Mahogany furniture, chandeliers, jewelry, and china are just a few of the fine pieces you're likely to find for sale from this estate liquidator.
---
Guidry's Fine Jewelry - Ann Guidry has been selling diamonds and high-quality, 14k cubic zirconia since 1981.
---
Tom Kennedy's Collectibles - At the booth of this life-long collector you'll find vintage sports cards, autographed items, movie memorabilia, antique board games, and more.
---
Emmy Lu's Antiques - Husband and wife owners George and Emily supply Thompson's with antique furniture and decorative items from England.
---
Our Robbins Nest - From rhinestones and bakelite jewelry to kaleidoscopes and salt and pepper shakers, Our Robbins Nest is a delightful hodgepodge of furniture and accessories.
---
---