---

Jumper Maybach Fine Art Gallery and Emporium Hours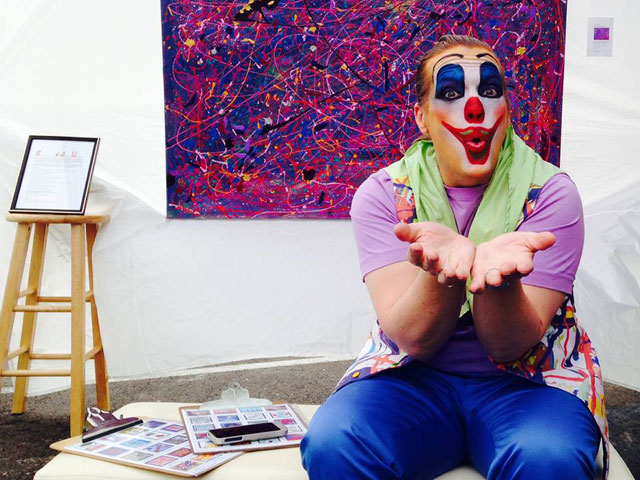 Even in a city known across the country for its dynamic arts scene, the Jumper Maybach Fine Art Gallery and Emporium stands out from the crowd. The home of artist and clown Jumper Maybach (also known as Ben Earl Workman), the gallery houses limited-edition pieces showcasing his unique brand of contemporary and abstract artwork.
Maybach has won numerous awards and honors, most recently serving as the VIP Artist for the Houston Press Artopia. Below you'll find information on the gallery hours, prices, and contacts so that you can become the proud owner of a priceless work by this visionary artist.
---
Jumper Maybach Fine Art Gallery and Emporium Hours
Tuesday - Saturday: 10 AM - 7 PM
Sunday: 1 PM - 5 PM
Monday: Closed
Appointments are available at other times with advance notice.
---
Jumper Maybach Fine Art Gallery and Emporium Merchandise Prices
T-Shirts: $25 - $45
Vases: $40 - $295
Jewelry: $325 - $375
For artwork prices, contact the gallery at (832) 523-4249 or by email at info@jumpermaybach.com.
---
Connect with Jumper
If you wish to have your artwork represented at the Jumper Maybach Gallery, visit jumpermaybach.com/rent-wall-space/ and fill out the web form. From the website, you can also sign up to receive the gallery newsletter and read Jumper's blog to find out the latest news and information on upcoming events.
Prices and hours are subject to change. Please check Jumper Maybach Fine Art Gallery and Emporium's website for up-to-date information before making plans to visit.
---
---

Jumper Maybach Fine Art Gallery and Emporium
238 W 19th St
Houston, TX 77008
832.523.4249
www.jumpermaybach.com/