---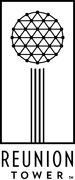 Restaurants in Reunion Tower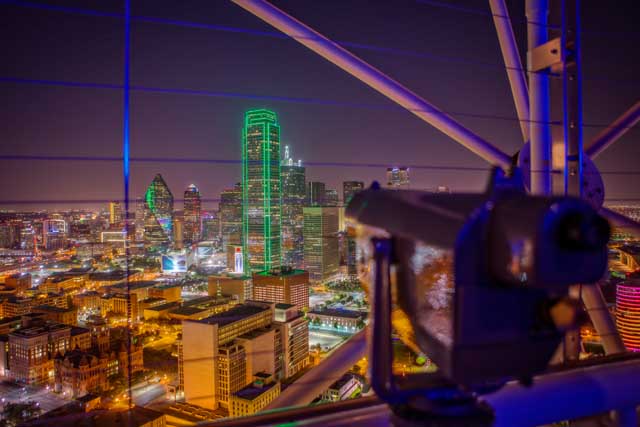 Reunion Tower is a one-of-a-kind attraction in Dallas. Part of the Hyatt Regency Hotel complex, the distinctive "glowing ball" houses the observation level known as the GeO-Deck, as well as two rotating restaurants.
Each offers its own brand of excellent food and eye-popping decor and is a great choice for rounding out a trip to the tower.
---
Five Sixty
The culinary artistry of Master Chef Wolfgang Puck meets the unforgettable viewing experience of Reunion Tower at the gorgeous Five Sixty Restaurant, so-named for its distance in feet off the ground. Floor-to-ceiling windows warm the modern interior of the rotating main dining area, where Puck's modern twists on traditional Asian dishes are served. Five Sixty's menu features signature dishes like "Hong Kong-style" king salmon, prime beef rib chop with wasabi, and crispy Maine lobster. Behind the sushi bar, chefs handcraft the restaurant's versions of well-known rainbow, dragon, and California rolls, as well as inventive originals like surf and turf and tai breeze.
Speaking of bars, Five Sixty offers two for a more casual meal: one rotating bar for enjoying the view, and a stationary bar made of illuminated glass that is a hallmark of the restaurant's style and ambiance. Choose from a selection of more than 400 wines or nearly a dozen brands of sake to find the perfect pairing for your dinner. If you want to dine at Five Sixty, you'll likely need to make reservations in advance. As one of the hottest restaurants in Dallas, tables are always in demand.
---
Cloud Nine Café
With the purchase of a ticket to the GeO-Deck, you're invited to cap off your visit with a refreshing meal at Cloud Nine Café, Reunion Tower's home for made-to-order Texas fare served in a chic setting. The cafe is open for lunch and mid-afternoon snacking on Saturday and Sunday (with extended hours during the holidays and summer), serving an array of menu items that are cultivated every season. You'll dine under the shifting colors of the digital Big Sky Canopy that displays stylized sunny blue skies and stormy horizons. Watch the show as you sip on a Dublin soda and plan your next visit to Reunion Tower.
If you're looking for a truly remarkable dining experience in Dallas, plan a visit to Reunion Tower.
---
---