---
The Woodlands, Texas
10001 Woodloch Forest Drive, Suite 600
The Woodlands, TX 77380
281-363-2447
www.thewoodlandscvb.com
The Woodlands
Attractions: Top things to do & see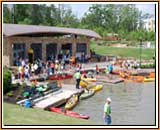 Riva Row Boat House
Enjoy The Woodlands Waterway and Lake Woodlands by kayak! The Riva Row Boat House is a 1.6 acre park located at the juncture of the upper and lower levels of The Waterway. Provided by Orvis, single and tandem kayaks, lifejackets, and paddles are available for rental. Enjoy an afternoon on water while seeing The Woodlands from a different point of view.
Shopping at Market Street and The Woodlands Mall

Shopping and dining at Market Street is spread over 34 acres, offering shoppers an opportunity to stroll from store to store in a vibrant, pedestrian-oriented environment. Central Park offers a natural retreat with a landscaped area with an interactive children's fountain that's an excellent gathering place. The park boasts an entertainment stage that is an ideal venue for jazz concerts and community events. Market Street is known not only for its unique selection of boutique shops, but also for its restaurants, several of which are unique to the Houston area like Jasper's and Tommy Bahama's Café.
As a leading shopping destination in the Greater Houston area, The Woodlands Mall has further enhanced its regional reputation by adding more nationally known names to its already impressive list of more than 200 retailers. The Woodlands Mall also added six popular restaurants, including PF Chang's and Cheesecake Factory, in the outdoor lifestyle area at the edge of The Woodlands Waterway®. Children especially enjoy the enchanted Woodlands play area and the full-sized carousel at The Woodlands Mall. One of the original draws to The Woodlands, this classic indoor carousel runs year round.
The Woodlands Waterway®
The scenic Woodlands Waterway, a 1.25-mile long linear park and transportation corridor, is home to shops, restaurants, Class-A offices and the spectacular Fountains at Waterway Square™. Enjoy a relaxing boat tour on a Waterway Cruiser or, for a ride along the waterway and throughout the Town Center area, hop aboard one of The Woodlands Waterway Trolleys.
The Fountains at Waterway Square™
Waterway Square is a one-acre public plaza with unique water features and green spaces
The Fountains at Waterway Square
that serve as the "centerpiece" of The Woodlands Town Center. Come experience the excitement of earth, wind and water in a synchronized choreography of motion and sound.
The Fountain features a 120-foot long, 10-foot high water wall, flanked by stairs and stepped water cascades at each side of the Square. A waterfall cascades down the water wall to a pool along the lower terrace. Water jets, waterfalls and cascades are designed to create a variety of displays and effects ranging from the subtle flow of water over a stone wall to dancing columns of water, to "boomer" jets that can shoot water 75 feet in the air.
The Cynthia Woods Mitchell Pavilion
Enjoy concerts and events at one of Houston's top entertainment venues. This 17,000-seat outdoor amphitheater showcases over 60 world-class concerts a year. Musical performances from hard rock to classical to everything in between have earned the Pavilion a ranking among the top amphitheater concert venues in the world. Here you can see nationally known artists and enjoy some lighter notes during the Houston Symphony's summer season at The Woodlands.
Are your taste buds tuned for a thick, juicy steak? Asian cuisine? Italian? Fajitas, a great burger or a place to watch the game? Lunch with friends at a sidewalk café? Barbecue? From cozy neighborhood eateries to romantic evening meals overlooking The Woodlands Waterway®, you'll find the fare to fit your fancy right here in The Woodlands. Bon appétit!
Movie Theaters
For movie buffs, there are 17 big screens at Tinseltown at The Woodlands, a Cinemark theater with stadium seating and state-of-the-art sound systems. There is also the Cinemark at Market Street theatre that features a mix of popular titles combined with art and independent films in five auditoriums.
Haga clic en el boton de folleto para descargar una version en espanol de nestro folleto.
---
---
The Woodlands, Texas
10001 Woodloch Forest Drive, Suite 600
The Woodlands, TX 77380
281-363-2447
www.thewoodlandscvb.com