---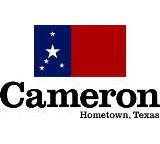 Cameron
Hometown, Texas
Established in 1846, Cameron is the county seat of Milam County and is located in the heart of the Texas growth triangle (Dallas, Houston and San Antonio). Cameron's location puts it within 150 miles of over 17 million people.

Located just 30 minutes east of Interstate 35 with Waco, Bryan/College Station and Austin all approximately one hour away, affording metropolitan benefits with the advantage of country living. Cameron's rural roots, lower land cost, and available workforce make Cameron an ideal location for many diverse businesses and industries. This tranquil and lovely setting is an agricultural center with an abundance of rivers, trees and wildlife.

Many historic courthouses exist across the State; however, few are in service today as they were originally. The Milam courthouse, restored in 2002, is the living and working iconic centerpiece of historic downtown Cameron. Together with the 1891 Victorian-style building that is now the Cameron City Hall-McLane Municipal Center, these two buildings provide the backdrop to enjoy a walking tour of historic downtown Cameron and feel history and the present coming together in perfect harmony.

An 1895 jail was once Milam County's main law enforcement facility, but now is the Milam County Jail Museum and open Tuesday and Thursday from 1pm to 4pm or by appointment. The museum is now located at 112 W. 1st Street and open Tuesday through Saturday from 8 am to 5 pm.

---
---