---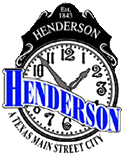 Henderson
A Texas Main Street City
Welcome to Historic Henderson, located in the lush green Piney Woods of East Texas. Step back in time where history comes alive. Start your visit in our National Register Historic District that is one of the most picturesque downtown in the East Texas area. Colorful awnings highlight the historic buildings and offer shade to shoppers browsing the unique shops, eateries and the specialty coffee shop. Henderson also has a variety of restaurants and shopping on US 79/259, the main thoroughfare through the city. Experience the southern hospitality of our small quaint town.
As a designated Go Texan Certified Retirement Community, A Texas and National Main Street, Keep Texas Beautiful Affiliate, Henderson has a lot to be proud of. The quality of life in Henderson is…"Life as it should be!" Visit for a day or stay for a lifetime.

Tourism website and phone 866-650-5529
Main Street Website



Henderson Civic Center

Henderson Civic Center
Built in 2010, this 20,000 sq ft facility is available for a variety of events. The Center is located overlooking scenic Lake Forest Park on Hwy 64W.
Rusk County Airport - Ron Franks, Manager
Located in Henderson adjacent to the Rusk County Expo Center. The 521 acres provides two runways, hangers and a new terminal. Open 24/7. The location ID is RFI. 903-657-7081

Heart of East Texas
Henderson is conveniently located in the Heart of East Texas. Major U.S. Highways 259 and 79 join together in Henderson and Interstate 20 is located 18 miles north.
It is 130 miles to Dallas, 175 miles to Houston and 70 miles to Shreveport, LA.

Step Back in Time
Historic Marker Tour - There are 72 markers in the county.

City markers listed below:
National Register Historic Downtown: There are some 21 historic buildings with either a National Register or State Subject Markers in this designation square. A Walking Tour Brochure of the historic area is available at the Chamber of Commerce at 210 N. Main.

Statue Thomas J. Rusk: A Texas Historic Subject Marker. Namesake of Rusk County. Located on the courthouse lawn, 115 North Main St. Rusk was a soldier, patriot, jurist and statesman, Secretary of War for the Republic of Texas, signed the Declaration of Independence and help draft the Texas Constitution and became a United States Senator who helped establish the Rio Grande as the southern boundary of Texas.

City Cemetery - State Subject Marker- Includes graves of many famous Texans: Two presidents of Texas A & M, Thomas Gathright (1st president), R.T. Milner and Senator Timothy Pilsbury elected to the Legislature in 1846 and Grandson of General Sam Houston child of Antoniette Houston Bringhurst.

Smith Park -Texas Historical Subject Marker. The tomb of General James Smith (1782-1855) and his wife Hannah. General Smith was commissioned Brigadier General Texas Army 1841; commissioned by General Sam Houston to put down Regulator-Moderator War in Shelby County. General Smith died in Henderson Dec 25, 1855 and was buried with full military honors. Tomb has a Texas Historical Subject Marker. Located at the corner of South Main & Jacksonville Dr.
Kangerga Home - Texas Historical Medallion. 501 North High Street.

T. J Griffth - Texas Historical Medallion 310 East Main Street.

Kirby Darnell - Texas Historical Medallion 313 East Main Street.

Mattie Trammell's School House - Texas Historical Building Medallion
600 North High Street adjacent to the Depot Museum.


Depot Museum

Depot Museum - Numerous markers on complex 514 North Main Street
.
Howard Dickinson House - 501 S. Main Street Texas Historical Subject Marker.

Shawnee Town - Texas Historical Medallion located at 2310 Highway 79 south

Museums & Attractions
Hours may vary, please contact to confirm.
Depot Museum - Located at 514 N. High Street. Museum encompasses 5 acres with 13 structures. The Arnold Outhouse was awarded a Texas historical marker giving Henderson legitimate claim to fame as the location of the "Fanciest Little Outhouse in Texas". 903.657.4303
Rusk County Courthouse - Located at 115 North Main Street. This is the fourth courthouse to be built in Henderson. The first courthouse was destroyed by fire in 1860. There have been four courthouses built since that time. The current courthouse was built in 1928.


Monte Verdi Plantation

London Museum - Learn why odor is inserted in natural gas. Hear the story that destroyed the London School on March 18, 1937, killing at least 311 students, teachers, and visitors. Located in New London, just minutes from Henderson 903.895.4602
Gaston Museum - Located in Joinerville, minutes from Henderson. Portrays life in the 1930's in the Great East Texas Oil Field, once the largest oil field in the world. Seasonal hours 10:00am - 4:30pm or by appointment.
Howard Dickinson House - One of the most important and historic buildings in Henderson. Built in 1855, it was the first brick home in Henderson. Sam Houston was a frequent visitor of the Howards. 501 South Main. Call the Chamber of Commerce for tour information at 903-657-5528.

Monte Verdi Cotton Plantation - The Monte Verde Cotton Plantation received the Texas Historical Medallion in 1964. This home is located just minutes from Henderson and is open for tours by appointment only. Contact: kochjl@suddenlinkmail.com


---
---