---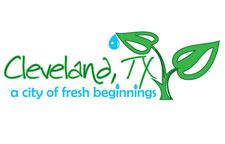 Cleveland
A City of Fresh Beginnings.
Nestled just north of Houston on HWY 59 is a City of Fresh Beginnings, Cleveland, Texas. The community radiates a Texas hometown experience to visitors who come to find their own Fresh Beginning.

Nature lovers, birders, and thrill seekers alike will find fresh experiences along the Lone Star Hiking Trail, a 129-mile National Recreation Trail that meanders the breadth of the Sam Houston National Forest, from the eastern edge of the forest close to Cleveland to the extreme western edge near Richards, Texas.


Sammy Love in Cleveland, TX

Also in the forest is the Double Lake Campground and Recreation Area, home to quintessential campground experiences. The Trail and Double Lake Recreation Area are sure to be home to some of your future favorite family memories.

For a more refined experience with nature, visitors can bask in the lushness that is known as The Retreat at Artesian Lakes. The retreat is a uniquely designed, nature-focused facility that is ideal for any getaway, whether you want to enjoy the spa or indulge in fireside s'mores.

Every evening, visitors make their way to downtown Cleveland, which is home to a beautifully restored nostalgic small town movie house that was originally built in 1939. The Texan Theatre boasts new releases, low prices and Texas friendly employees that will make your visit a memorable one.

Organic farmers and producers call Cleveland home and provide a variety of tours and educational experiences to Cleveland's visitors. From a "fresh from the farm meal" to a masterfully created dinner at the Hilltop Restaurant and Herb Garden, visitors have the opportunity to delight their taste buds with dining experiences parallel to none.


Cleveland Civic Center

Just as you would expect in this quintessential small Texas town, visitors can experience special events in Cleveland every holiday. From honoring our nation's heroes with a Memorial Day parade and a patriotic Fourth of July celebration to Hometown Christmas and Easter's Bunny Blast, Cleveland is the place to be for holiday celebrations.

Sprouting up around town are the beginning efforts of the community's beautification and green space development initiatives. These long term projects will ensure a fresh and beautiful community for years to come.

Big Meetings on a Small Budget? Meeting and event planners find that Cleveland's Civic Center is the smart and economical choice for all their needs. With a state of the art facility and unbeatable low prices and incentives, Cleveland's Civic Center will help transform stale meetings into fresh ideas for event attendees.

Innovative businesses, including those that specialize in green energy and repurposing old products have found Cleveland to be the ideal home for new business growth and expansion. As the community continues to prosper, the number of businesses seeking a Fresh Beginning in Cleveland is expected to increase as well.

Cleveland is a community filled with pleasant surprises for visitors around every corner. Come visit us today and discover why Cleveland is a City of Fresh Beginnings.


---
---