---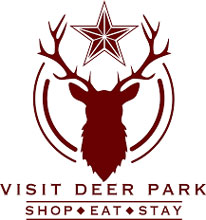 Deer Park Local Attractions
San Jacinto Monument

San Jacinto Monument
3523 Battleground Road


There's something for everyone at the San Jacinto Monument and Museum of History. Experience the world's tallest memorial column, witness revolution in the Jesse H. Jones Theatre for Texas Studies. Discover our nation's past among the museum's exhibits and antiquities. Find the best in Texana books and gifts at the Museum Store.
You can walk the battlefield that gave birth to the American West! From art and artifacts to biking and birding—San Jacinto is where America goes to see its past and enjoy its present.
Battleship Texas
3523 Battleground Road


Come visit the battleship USS TEXAS - BB35, located on the San Jacinto Battleground, where the State of Texas won her independence, just minutes from Downtown Houston, Texas.
Please, come visit the TEXAS, walk on the deck of the last of the great Dreadnoughts, nearly one hundred years old. Walk under the massive 14" guns, climb on and maneuver the anti-aircraft guns, see the restored areas of the ship - the living quarters, the mess areas, post office, radio room, bridge, officers country, engine rooms and more.

Battleground

Visit Patrick's Cabin
1410 Center Street in Deer Park

The City of Deer Park proudly displays a replica of the historic Patrick's Cabin at 1410 Center St. between 13th Street and Helgra. The replica was constructed in 1985 by a group of City employees in the Parks and Recreation and Public Works Departments. In the fall of 2007, a joint effort by the Beautification Committee and the Historical and Tourism Committee moved Patrick's Cabin from Dow Park to its more prominent and permanent location on Center St. Modifications to the interior and exterior of the cabin, in addition to the location site, have been made to better capture the authenticity of the 1830's.

---
---
Deer Park, Texas
110 Center Street
Deer Park, TX 77536
(281) 479-1559
www.DeerPark.org