---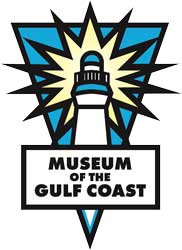 Museum of The Gulf Coast in Port Arthur
Where pre-history and pop culture meet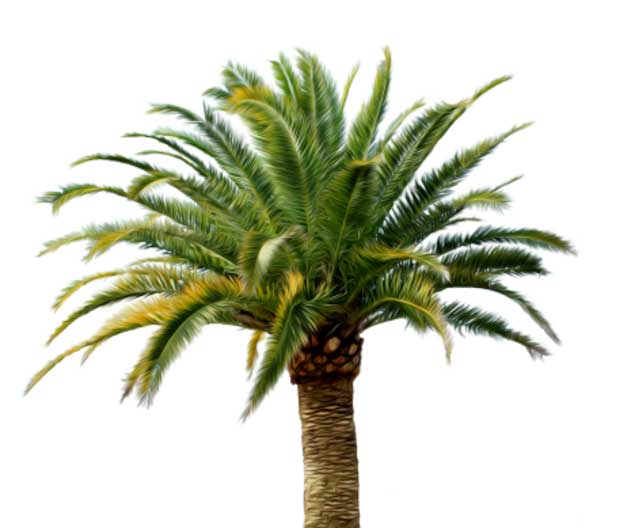 The Museum of the Gulf Coast tells the exciting story of the Texas/Louisiana Gulf Coast region, beginning with paleontology and biology. Permanent exhibits include a section on Native Americans, European contact, the Civil War, economic and cultural growth, the petroleum industry, and the maritime history of the region. The Museum's second floor is dedicated to the many internationally-recognized musicians and athletes who call the Gulf Coast home.

The 39,000 square foot Museum is located at 700 Procter Street in downtown Port Arthur, Texas. In addition to two floors of exhibits, the Museum houses an orientation theater, a classroom, a hospitality area, and a gift shop. The facility is handicap accessible.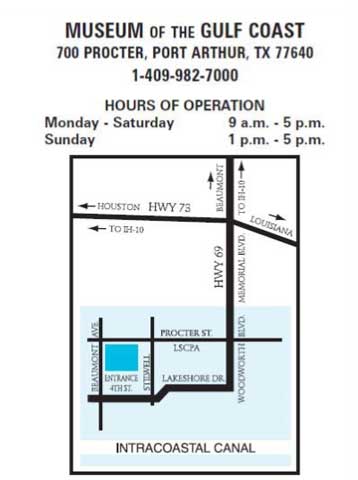 Hours of Operation:
Monday to Saturday
9 a.m. to 5 p.m.
Closed Sundays and Holidays
Parking and Entrance on 4th Street
Main Number: 409-982-7000
Director's Number: 409-999-6281
700 Procter Street – (enter on the 4th street side)
Port Arthur, TX
---
Scope of Exhibits
The Museum's 39,000 square foot facility contains many exhibits which capture the essence of life along the Upper Gulf Coast. Visitors marvel at our 125-foot mural depicting our history from the prehistoric era to the discovery of oil at Spindletop.
Our Hall of Fame galleries highlight local musicians, athletes, and notable people who have achieved national or international recognition such as Janis Joplin, the Big Bopper, Jimmy Johnson, Major "Tom" Collins, actress Evelyn Keyes, and artist Robert Rauschenberg. More recent inductees include Jamaal Charles of the Kansas City Chiefs. The museum also features a wide variety of temporary exhibitions.
The Museum of the Gulf Coast is administered by the Port Arthur Historical Society in partnership with and the City of Port Arthur.
---
Museum Location: 700 Procter Street | Port Arthur, Texas | 77640 \ 409-982-7000
Port Arthur Historical Society Address: P.O. Box 1374 \ Port Arthur, Texas 77641-1374
---
Brochure comment:
"Best museum we've been to in forever. Highly recommend it. Packed full of Texas history. Loved the
Janis memorabilia."
- 5 stars review from Angie C…….. (Alvord, Texas) on Sept. 2, 2016
---
---