---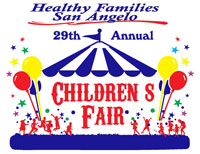 Healthy Families San Angelo's Children's Fair
College Hills Park at the corner of College Hills Blvd. and Vista del Arroyo
San Angelo, TX 76903
info@hfsatx.com
325-658-2771
www.hfsatx.com
Healthy Families Children's Fair Activities
On the fourth Sunday each April, you're invited to San Angelo's College Hills Park for a day full of fun, games, and laughter. Healthy Families Children's Fair in San Angelo offers activities for children of all ages with favorites like the water balloon catapult and pony rides. The fun varies each year, but with more than 120 booths, you're sure to have a good time. Grab your favorite fair food like hot dogs, nachos, and Coke floats, and try your hand at games like the ring toss and roller ball. This annual event supports Healthy Families San Angelo, empowering young West Texas families to reach their fullest potential.
The Open Stage at Healthy Families Children's Fair is the main attraction, with back-to-back performances by area youth groups. You'll be entertained by talent ranging from ballet and karate to singing and gymnastics productions. Young cheerleaders and singers get the crowd going with their bubbly enthusiasm and contagious smiles.
Past Children's Fair activities have included a petting zoo (starring a llama), riding a "Whacky, Bumpy Canoe Ride," and throwing "flies" at the Froggy Catch. Each booth is run by a local nonprofit agency that provides services to children. Sponsor support enables 90 percent of the gross Fair profits to go toward helping fund these nonprofits.
So, grab a friend, your kids, and even your dog, and head to the annual Children's Fair in San Angelo for a spring afternoon filled with games and food. This is one of the annual events in San Angelo you won't want to miss!
---
---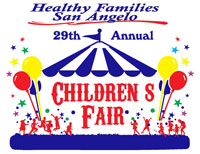 Healthy Families San Angelo's Children's Fair
College Hills Park at the corner of College Hills Blvd. and Vista del Arroyo
San Angelo, TX 76903
325-658-2771
www.hfsatx.com