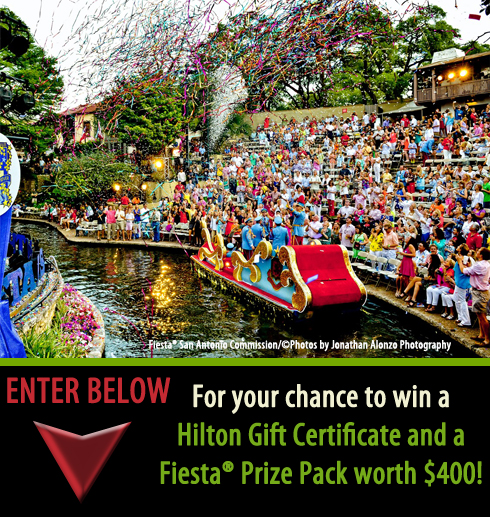 Enter to win a Hilton Hotel Gift Certificate and a Fiesta® Prize Pack worth $400!
Over 100 Events, 18 Days, One Fiesta®!
Viva! It is that time of year again to stock up on cacarónes, collect medals and celebrate—all for a good cause. The 123rd annual Fiesta® San Antonio is April 10-27 and boasts more than 100 events. Plus, the city-wide celebration festival features seven new events to add to your schedule this year.
With almost 3.5 million people attending Fiesta®, it is one of the biggest festivals in the United States, a top three in Texas and the largest in San Antonio. It is held each April to honor the memory of the heroes of the Alamo and the Battle of San Jacinto, celebrating the diverse heritage, culture and spirit that make up the city of San Antonio.
This year's schedule is a wide array of fun for all ages including music, food, sports, pageantry, military and patriotic observances, exhibits, parades and nine official Fiesta® Royalty.