Page Archived
You have reached an archived page on TourTexas.com. Please use the search bar above to view other Texas content or reach out directly to the destination, attraction, accommodation or event shown on this page for up to date information.
---
Chisos Mountains Lodge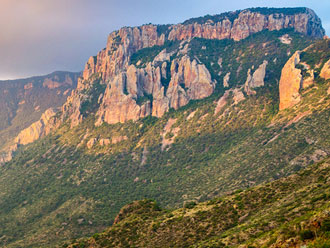 Start your day with a view of a vibrant sunrise as it ascends over the peaks of rugged desert mountains high in Big Bend National Park. Gather your gear and set off to explore some of the most spectacular hiking and biking trials you'll find anywhere in the world, then return for some quality rest and relaxation.
There's only one place that gives you this kind of access to Big Bend, and it's Chisos Mountains Lodge. With rustic accommodations and campsites, as well as on-site dining, the lodge has everything you need for an unforgettable adventure in Big Bend.
As the sole place to stay in Big Bend National Park, Chisos Mountains Lodge is a fantastic starting point. Before you traverse bucket-list worthy trails and take in all the jaw-dropping vistas, you'll need to pick where you'll hang your hat. The motel-style rooms at Chisos Mountains Lodge have all the comforts of home with a serving of West Texas charm. All rooms come with a coffee pot, refrigerator, and microwave, while the Rio Grande Motel Rooms and Casa Grande Rooms feature air conditioning. To preserve the tranquility of Big Bend, none of the rooms come with a television or wireless internet access. However, free Wi-Fi is available in the gift shop, lounge, and patio areas.
Not only will you be in the heart of Big Bend National Park, you'll have everything you need to get the most out of your stay here right at your fingertips. When it's time to fuel up for the day, or replenish those calories you burned, head to the Chisos Mountains Lodge Restaurant and Patio. Visit in the morning for the breakfast buffet or find a spot on the patio for lunch or dinner and enjoy the view as you enjoy a glass of your favorite beverage.
If you need supplies for your day out in Big Bend, head to the Basin Convenience Store. Here you'll find groceries, camping supplies, souvenirs, and other items you may have forgotten at home. Finally, the Curio in the Basin – located in the lobby of the Chisos Mountains Lodge Restaurant – stocks a range of gifts, birding books, pottery, jewelry, and other mementos you'll want to take home with you.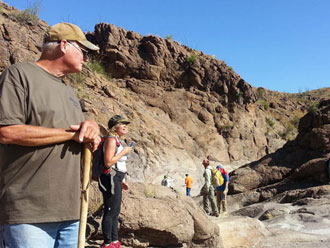 Now that you're settled and you've got all the gear you need, it's time to tour Big Bend. Since you're at Chisos Mountains Lodge, that couldn't be easier. The lodge is just a stone's throw away from some of the most popular hiking trails in Big Bend, including Laguna Meadows, Pinnacles, and Window View trails. You won't even have to go that far to reach some of the park's most iconic landmarks, including Emory Peak, South Rim, and the Southeast Rim Keyhole. Are you a birding enthusiast? Don't miss a scenic hike on the Colima Trail in the summer. The trail is the only place in the country where you'll find the Colima warbler, as well as a plethora of other rare and beautiful birds.
For a more guided adventure, check out the excursions offered by Big Bend Overland Tours that take you to some of the area's most remarkable places.
Balancing cozy and distinct accommodations with convenient amenities and a location that can't be beat, a stay at Chisos Mountains Lodge is a great way to experience all Big Bend has to offer.
---
---