---
5 Ways to Enjoy an Affordable Spring Getaway in Abilene
Clear blue skies, bright sunshine, and delightful weather all mark the arrival of spring here in the Lone Star State. If the season inspires you to go on a road trip, find your way to Abilene. It's here that the unforgettable characters of children's literature stand tall, the remains of a frontier fort await to be explored, and you can feed a giraffe by hand. Located just 150 miles west of Fort Worth, the "Storybook Capital of America" is an easy-to-reach town ideal for affordable spring getaways. Read on to see why.
Tour Texas Travel Tip: Cut out the road trip by flying non-stop to Abilene from either Houston's George Bush Intercontintal Airport or the Dallas/Fort Worth International Airport.
---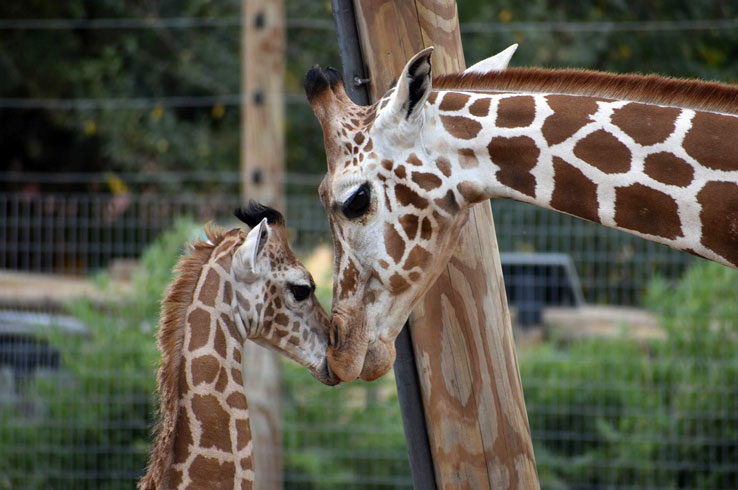 Celebrate Spring at the Abilene Zoo
Hand-feed giraffes, watch lounging lions, and listen to singing parrots while soaking up the delightfully warm sunshine of spring at the Abilene Zoo. Home to more than 1,000 animals from around the world, the zoo gives you the chance to see creatures large and small, from a king cobra and a camel to a black rhinoceros and lions. Stroll along tree-shaded pathways that wind through the 16-acre zoo and come face to face with some of the animals on one of the behind-the-scenes VIP tours. Follow that up with a ride on the kid-friendly Safari Express Train or some interactive fun at the Fort Imagination playground.
Make sure you're here for Spring Break at the Zoo (March 6 - 14), a fun and festive event full of close animal encounters and so much more. Throughout each day of "Wild Days," the zoo will host three demonstrations with warthogs, African-crested porcupines, and other critters you don't get to see every day. Visit a few weeks later for the opening of Madagascar (April 10), a truly one-of-a-kind attraction solely dedicated to the African island, which is one of the most biodiverse areas in the world. Watch leaping ringtail and black-and-white ruffled lemurs, lounging foosas, and see birds, reptiles, and amphibians that are native only to Madagascar.
With its affordable admission prices, the Abilene Zoo offers a thrifty way to enjoy a spring afternoon in West Texas.
Tour Texas Tip: Make sure to say "howdy" to zome of the zoo's newest additions, including capybaras, a new lion pride on temporary loan from the Fort Worth Zoo, three baby giraffes, and a young colobus monkey.
---
Find Your Favorite Children's Book Characters
The Cat in the Hat, the Grinch, Horton the elephant, and even Jack Frost. Not only are these a few of the most popular characters in all of children's literature, they're among the more than 20 fictional fan favorites you can find throughout downtown Abilene, also known as the Storybook Capital of America. Wander through the area and you'll encounter Dino Bob from William Joyce's Dinosaur Bob and His Adventures with the Family Lazardo, as well as The Lorax and Yertle the Turtle, the Man in the Moon, and even Stuart Little and The Three Little Pigs, whom you'll find in the Adamson-Spalding Storybook Garden.
While you're hunting for storybook sculptures, don't miss out on everything else downtown Abilene has going on. Stop by the National Center for Children's Literature, browse the selection of Texas-made goods at Texas Star Trading Co., and savor delicious seafood and delectable comfort food dishes at Cypress Street Station (or many of the other nearby restaurants). Then head to Candies by Vletas, a legendary local maker of fine chocolates founded by two brothers who emigrated from Greece in 1912.
A new sculpture is unveiled every year during the Children's Art & Literacy Festival (June 10 – 12), a three-day celebration of the art and storytelling that goes into children's literature. Make sure you're here to catch the storybook parade and stick around for the art exhibitions, costume contests, and all the other enriching activities for all ages.
Tour Texas Travel Tip: The best way to go on your storybook sculpture scavenger hunt is by using the GooseChase Adventure app for either Android or iPhone.
---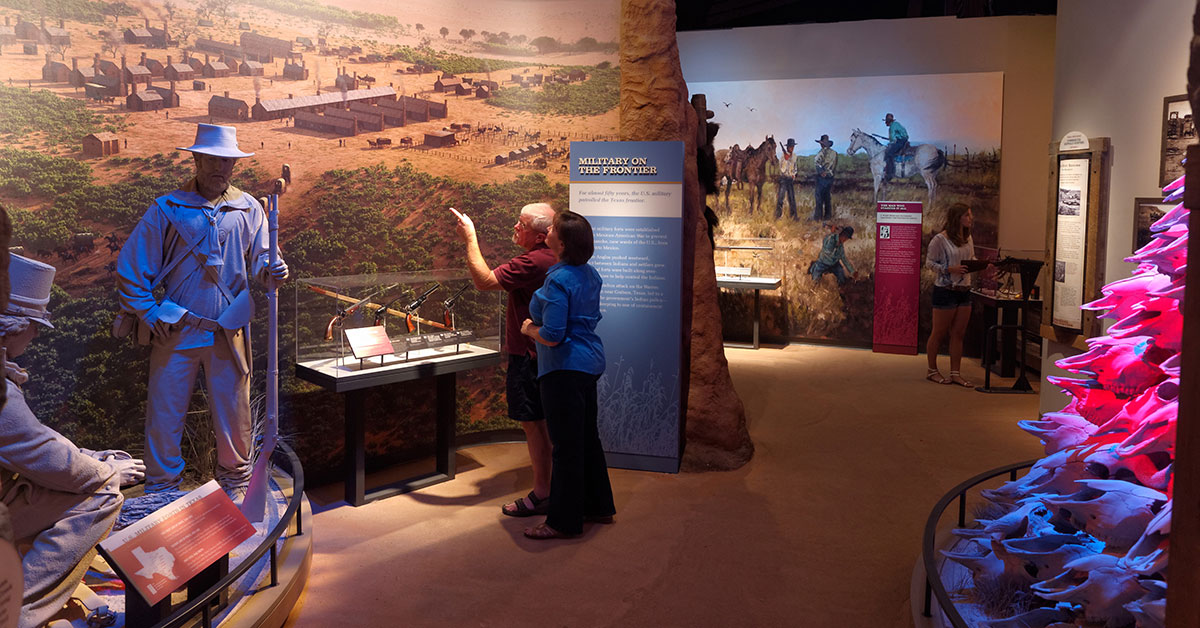 Explore Ruins of Texas Frontier Forts
In the heart of Abilene's historic downtown, the Frontier Texas museum uses state-of-the-art technology to bring the Old West back. Also, this is Abilene's official visitor center where you can find all the information you need about the Texas Forts Trail. There are exhibits about the Comanche Empire, Guns of the West, and Settlements. In addition, there is a theater where you can catch a shootout in a saloon or take in a thunderstorm on the prairie.

The brick chimneys of Fort Phantom Hill, standing over a remote grassy plain nearby, aren't just a ghostly sight; they're a living piece of history. In 1851, the U.S. army built the fort to protect the Texas frontier as it moved west. Take a stroll (entrance is free) and look at original stone buildings, chimneys, and foundations while getting a crash course in frontier history. Let your mind wander and you'll get a sense of what life was like for those at the fort.

Forty-four major posts were built to protect Texans from Native Americans as they advanced to the west. With a 650-mile driving loop, you can tour eight of them and a Spanish presidio in the Texas Forts Trail Region. Fort Chadbourne and Fort Griffin are less than an hour away. The regional information center of the Texas Forts Trail is the place to go for a deeper dive into Abilene's frontier history.
---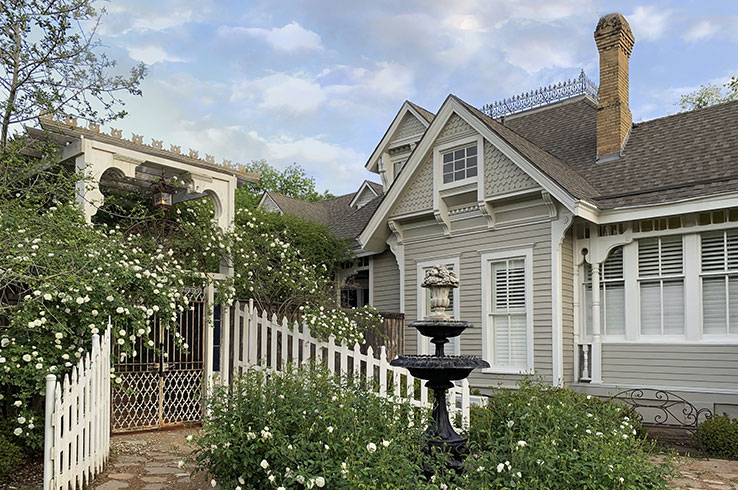 Treat Yourself to a Luxurious Stay
If you're going to travel, you should stay somewhere one of a kind. That's exactly what you'll get if you stay at any of the Sayles Ranch Guesthouses. These one- to four-bedroom houses along Sayles Street (which is within a historic district listed on the National Register of Historic Places) are furnished with charming décor representing different eras and styles. Stays at any of these houses are downright luxurious, but bringing friends you can split the bill with makes it more affordable.
Of course, Abilene also has many hotels and guest rooms and suites that suit just about any price range. Whether you're looking to truly get away or for a starting point for discovering the city, you'll find plenty of great options here.
---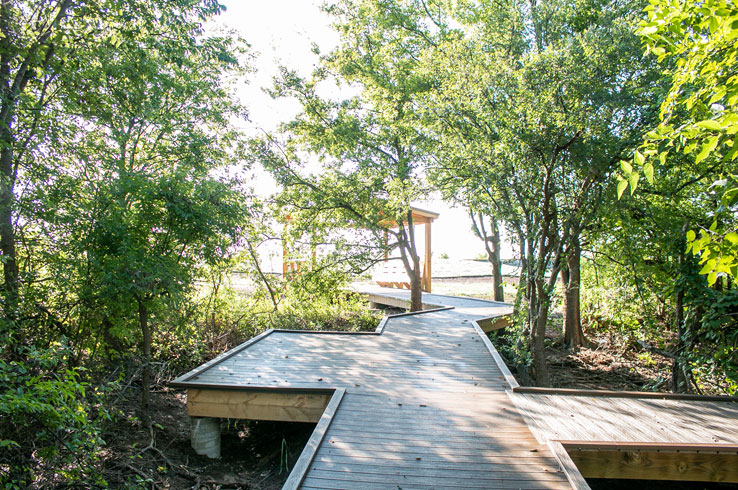 Embark on a Birding Adventure
Spring's arrival means it's time to grab your binoculars or your long-lens camera and head to Abilene, the center of the Big Country Loop of the Texas Parks & Wildlife's Great Texas Wildlife Trails. The season brings with it the arrival of migrating songbirds and butterflies, and there's no shortage of places to see them near town.
Visit Lake Fort Phantom Hill to see songbirds and butterflies like the variegated fritillary and red admiral that are attracted to the area's colorful wildflowers. Abilene State Park is the place to go to see black-chinned, ruby-throated, and rufous hummingbirds, while you might catch a glimpse of an American goldfinch at Will Hair Park. Explore the trails at Lake Kirby Nature Park for even more birdwatching, all while learning a thing or two about the local flora and fauna.
Birdwatching in Abilene isn't just an opportunity to cross some birds off your bucket list; it's also a great way to soak up the sun and get outdoors. Bring your hiking shoes and get ready to come across something you haven't seen before.
---
Whether you're exploring the Abilene Zoo or admiring its many storybook sculptures, spring is a great time to visit Abilene. Plan your visit here.
About the Author: James Waterson is the head writer and content specialist for Tour Texas. When he isn't writing about the many great places in the state of Texas, he's planning his next epic adventure in the Lone Star State.
---
---