---

5 Ways The Woodlands is a Tasty Destination for Foodies
Mouthwatering aromas of char-grilled steaks and blackened fish. Innovative desserts crafted with unexpected ingredients. A glass of wine under a fabulous Texas sunset. Few places have the culinary appeal of The Woodlands, where dining is an experience for all the senses. From chef-inspired creations at first-class restaurants to cuisine from around the world, dining at any of the more than 150 restaurants is a true sensory experience that can't be fully appreciated in just one visit. Come hungry and you'll always leave wanting more.
See why The Woodlands is such an amazing destination for foodies below, then sample it all for yourself when you visit.
---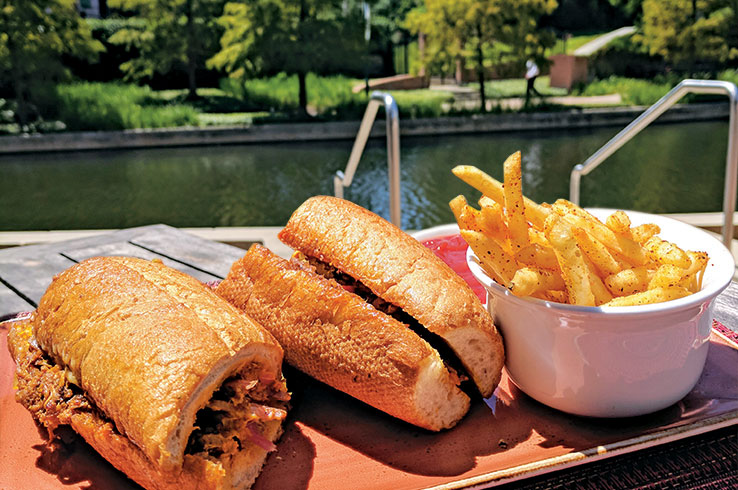 There Are Plenty of Restaurants with Great Views
A hearty serving of your favorite meal is a wonderful thing, but pairing it with a fantastic view makes it even better. Nearly everywhere you look in The Woodlands, you'll find a multitude of restaurants that offer al fresco dining. Toast a vibrant sunset over Lake Woodlands with a craft margarita, and sizzling fajitas from the patio at Escalante's Fine Tex-Mex, one of several waterside restaurants in Hughes Landing. The neon-lit trees that line The Woodlands Waterway create a romantic backdrop for an evening at Churrasco's, where flaky empanadas, bacon-wrapped stuffed shrimp, and a host of savory steaks perfectly compliment something from the impressive cocktail and wine menu.
If you're in the mood for health-conscious fare and some fresh air, head to True Food Kitchen. Perched on the outer edge of Market Street, this chic eatery serves up everything from grass-fed steak tacos and lasagna Bolognese to turkey burgers and cauliflower polenta. The eclectic menu has ample options for vegans and vegetarians, and its diverse selection of cocktails, beer, and wine offers much to taste and delight in.
These are just a few of the many restaurants with patios in The Woodlands, so grab your friends (or your sweetheart) and enjoy outdoor dining at its finest.
---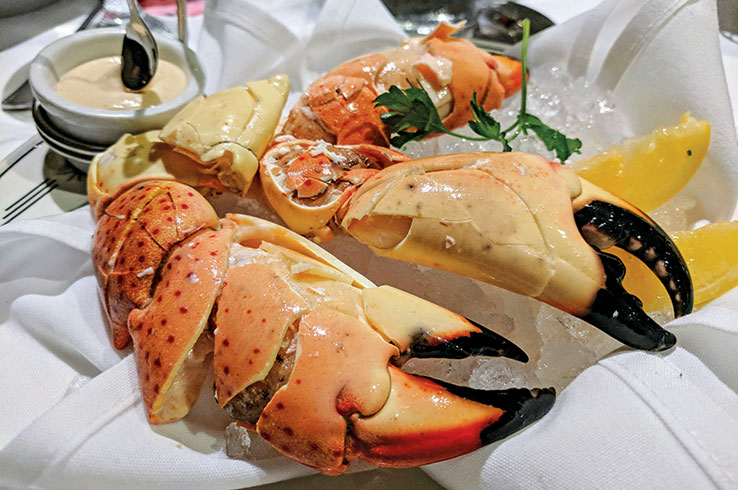 High-End Restaurants Offer Upscale Nights Out
Pan-seared Japanese scallops, wagyu ribeye steaks, ravioli stuffed with veal, and a globe-spanning selection of red and white wine. Whether you're celebrating something special or you're seeking your next favorite dish, The Woodlands is the place to be. Indulge in the tantalizing flavors of northern Italy at Via Emilia, where such dishes as Lasagna della Nonna and Salmone alla Griglia are prepared using house-made pastas, braised meats, and the freshest seafood around. Sip on one of more than 250 wines, then treat yourself to the positively decadent, espresso-soaked tiramisu or the delightful crème brûlée.
Want to try something new? Tris' menu takes you on a culinary journey to places your palate has never been. Choose from such chef-inspired creations as Patagonian toothfish served with wasabi-braised rutabaga or Texas exotic venison, with octopus a la plancha or lamb lollipops as a starter. A variety of cuts of steak, including aged wagyu, are served alongside inventive cocktails and a tempting array of craft beer and wine.
Speaking of steaks, they are also the specialty of Truluck's Seafood, Steak & Crab House. Stepping inside the restaurant is a true sensory experience, and the range of flavors on the menu will make deciding what to order a challenging (but worthwhile) task. All cuts of steak, including the 20-ounce prime ribeye, are broiled at 1,600 degrees to perfection, while the variety of seafood will have pescatarians salivating. Fill your glass with something from the impressive wine list and you've got all the makings for a spectacular night out.
---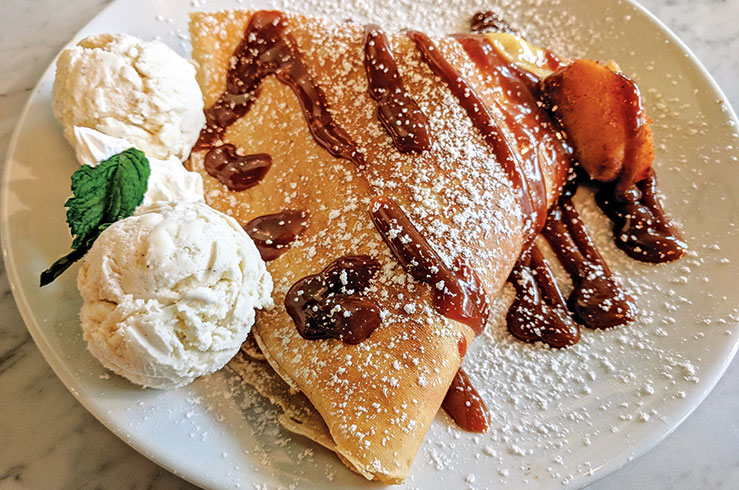 You Can Taste Cuisine from Around the World
One of the best things about traveling is getting to try new foods that expand your palate. Come to The Woodlands and you'll discover that all the flavors of the world are never far away. From Cajun and Caribbean to French and Vietnamese fare, The Woodlands serves up a culinary voyage unlike any other. You don't even need your passport. Start your day like a Parisian with pillowy crepes stuffed with scrambled eggs and other goodies at Sweet Paris Creperie & Café. Stop by later in the day for a Nutella dessert crepe topped with strawberries and bananas, a timeless classic that will have you feeling like you're on the other side of the world.
Head to southern Brazil for the full churrasco experience at Fogo de Chão, where succulent steaks, pieces of bacon-wrapped chicken, and more are cut right at your table. Get your fill from the eatery's Market Table, a colorful display of traditional Brazilian fare like feijoada, a black-bean stew served over white rice, as well as specialty salads and seasonal salads. If sushi is more to your liking, find yourself at Sakekawa Japanese Steak House & Sushi Bar. Creative rolls with fresh fish; hibachi dinners served with soup, salad, sautéed vegetables, and grilled filet mignon, chateaubriand steak, or sea bass; and some hot sake. What more could you ask for?
---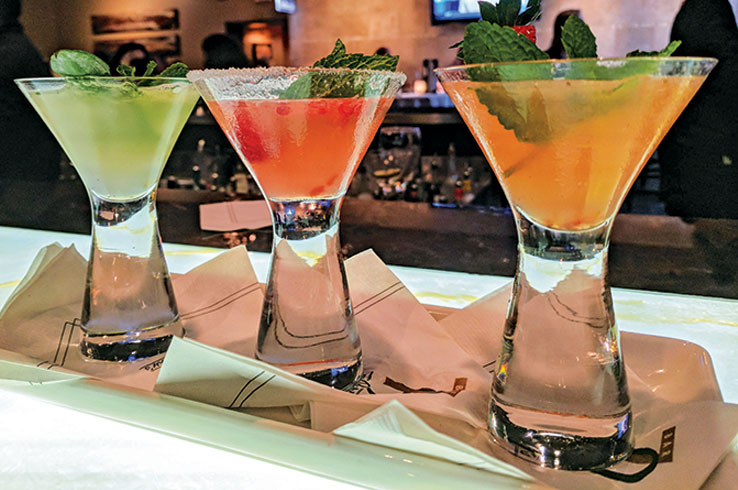 Happy Hour is Serious Business
What's better than drinks with some of your favorite people? Happy hour, of course! The Woodlands is full of unique happy hour spots that have the kind of vibe you prefer. Take in the elegant ambience at The Refuge Bar & Bistro as you sip on your choice of more than 40 cocktails crafted with premium spirits. Happy hour is typically Tuesday through Saturday from 3 – 6 p.m., so get there early to get the most out of your visit. More of a craft beer drinker? Local Pour has 40 beers on draft and a broad wine selection, and its happy hour runs from 4 – 7 p.m. every day.
The dark woods and industrial vibe at Jasper's sets the stage for daily afternoon happy hour, but the classic cocktails and Texas beers will make you want to hang out for a while. For you lovers of merlots and viogniers, Cru: A Wine Bar is a must visit. Choose from one of 300 bottles of wine from the four corners of the earth and sip the afternoon away as you nosh on a goat cheese beignet or a margherita pizza. Happy hour is from 3 – 6:30 p.m. Monday through Friday, and even includes a discount on flights and wines by the glass.
Regardless of the kind of beverage you're interested in, you'll find the happy hour for you in The Woodlands. See more spots here.
---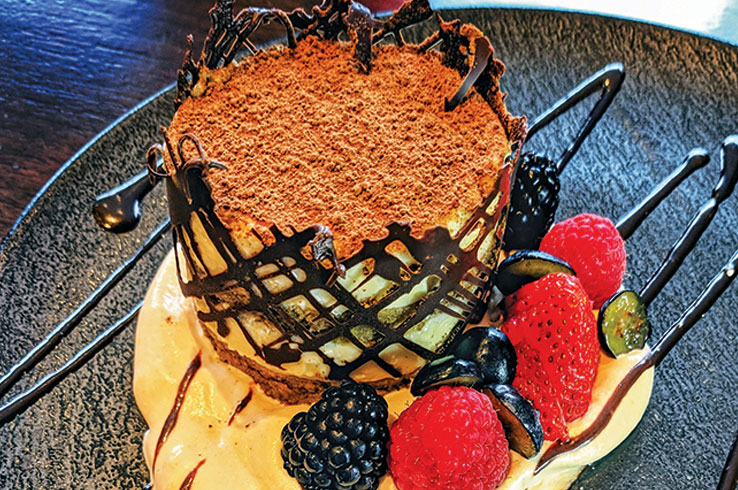 Unique Dessert Spots are Everywhere
Everyone knows that dessert is the most important meal of the day, and The Woodlands is just the place to be when you need to satisfy your sweet tooth. As appealing as the lava cake and carrot cake are at The Kitchen, the old-fashioned milkshakes made with whole milk and ice cream just might be the star of the show. Divine combinations like cherry amaretto ice cream with chocolate syrup and Chantilly cream and lemon cheesecake ice cream combined with graham cracker crumbles and fresh lemon mean you can't go wrong with what you choose.
Colorful, delicate, and oh-so delicious, the tiny confections at MACARON by Patisse provide a carnival of tastes that will have you asking for more. Flavors like red velvet, mint chocolate, and blueberry vanilla bean keep things fresh every time you visit. Get a macaron ice cream sandwich or a push pop if you're in the mood for a frosty treat. Want to indulge on the go? Taste the kaleidoscope of flavors at Popbar Market Street, purveyors of handcrafted gelato on a stick that you can dip and choose your own toppings.
When it comes to all things sugary sweet, The Woodlands can't be beat. Make sure to leave some space for dessert. You'll thank us later.
---
With so many restaurants serving all kinds of cuisine, you can create your own culinary adventure in The Woodlands. Discover all the other things to do and plan your visit here.
About the Author: James Waterson is the head writer and content specialist for Tour Texas. When he isn't writing about the many great places in the state of Texas, he's planning his next epic adventure in the Lone Star State.
---
---