---

7 Ways Marble Falls is One of the Hill Country's Coolest Destinations
Ready for your next road trip? Shut off the laptop, load up the car, and head out to Marble Falls. Rush hour gives way to two-lane roads and the rolling hills of the Texas Hill Country. You'll know you've arrived when you cross over the breathtaking Lake Marble Falls, where you'll see anglers casting their reels and kayakers paddling with a little help from the breeze. Explore this inviting town and you'll find some of the best the region has to offer, from breweries and wineries to magnificent parks and local shops. Read on to discover why Marble Falls is one of the Hill Country's coolest destinations, then plan your visit here.
---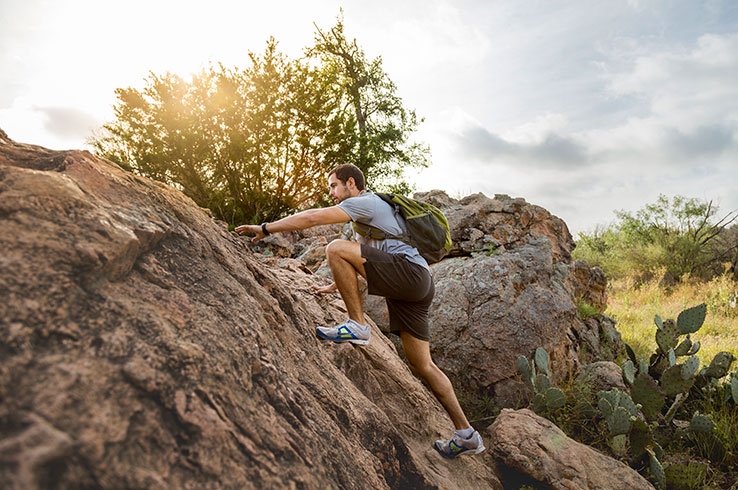 Marble Falls is a Hub of Outdoor Adventure
Iconic rock formations, shimmering lakes, and spectacular swimming holes. You'll find it all within an easy drive of Marble Falls, which is surrounded by many of Texas' best state parks. In fact, there are five parks located less than 60 miles from town, and the Hill Country scenery makes for a beautiful drive to each locale. First stop? Everyone loves the Enchanted Rock State Natural Area, and for good reason. Explore any of the park's eight hiking trails to take in majestic views of the famous massive pink granite dome. Don't miss ascending the Summit Trail, a challenging trek to Enchanted Rock's peak. Beyond all the hiking, you can go rock climbing or camp under the big and bright stars of the Texas night sky.
When you're looking for a break from the heat of a Texas summer, Longhorn Cavern State Park offers an escape into the cool depths of an ancient limestone cavern that stays at 68 degrees throughout the year. After the darkness of the cavern, find your way to the rolling pink granite hills of Inks Lake State Park. A veritable birdwatcher's paradise, you can spot scores of birds from willow flycatchers to ladder-backed woodpeckers. Canoers and kayakers can paddle in peace in the park's large no-wake zone. If you catch any fish, you'll find two fish-cleaning stations—just cook right there or pack your catch on ice to enjoy at home. Each of these parks is full of one-of-a-kind adventures, but there's far more. Pedernales Falls State Park and Colorado Bend State Park are also a short drive away.
To beat summer's sizzle, there's nothing better than diving into the cool waters of a natural swimming hole. The Hill Country has some of the best in the state, and two are less than 30 minutes from Marble Falls. Head up to Inks Lake for the Devil's Waterhole, a crystalline pool surrounded by impressive pink boulders. Set just southeast of town, Krause Springs has a different feel. Relax under the shade of bald cypress trees when you aren't swimming in the cool waters fed by 32 springs.
Looking for some heart-pounding action? Hidden Falls Adventure Park is a spectacular place to go off-roading. You'll find more than 240 miles of rugged trails, ranging from novice to expert. Come test your mettle on this 3,000-acre family outdoor park. If needed, you can rent ATVs, dirt bikes, and UTVs from Hill Country Adventure Rentals.
For more details on outdoor excursions, click here.
---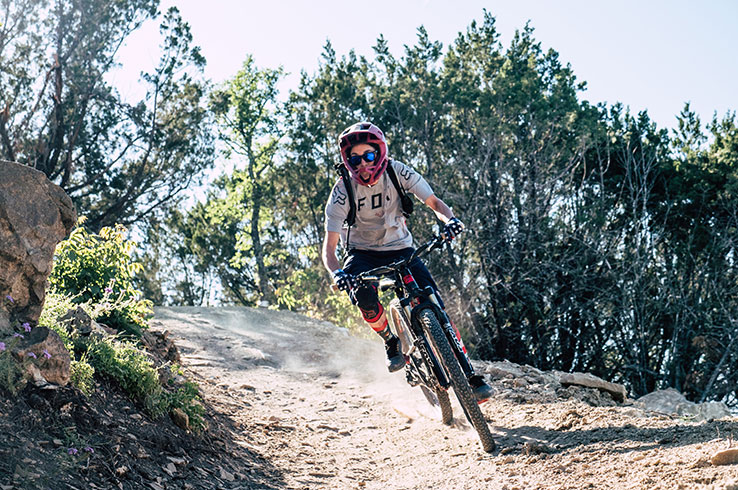 Spider Mountain Bike Park is One of a Kind
Typically seen on the snowy slopes of the American Southwest, chairlifts are an uncommon sight here in Texas. But at Spider Mountain Bike Park, riding one is an essential part of the experience here. Texas' first and only lift-served mountain bike park, and the only year-round park of its kind in the country, Spider Mountain is the place to be when you want to carve up some trails. Ride the lift to the top of the hill and you'll have your pick of nine downhill freeride paths that range from easy to advanced. Each has dirt jumps, wallrides, berms, and other naturally occurring and man-made obstacles for you to conquer. There are also expert-level cross-country trails you can take on as well.
Can't pack your bike? Rent one of Spider Mountain's top-of-the-line two-wheelers and you'll be conquering the trails in no time. Even if you're not into mountain biking, you can still savor all the amazing views of Lake Buchanan as you ride the lift, then hike back down the hill.
---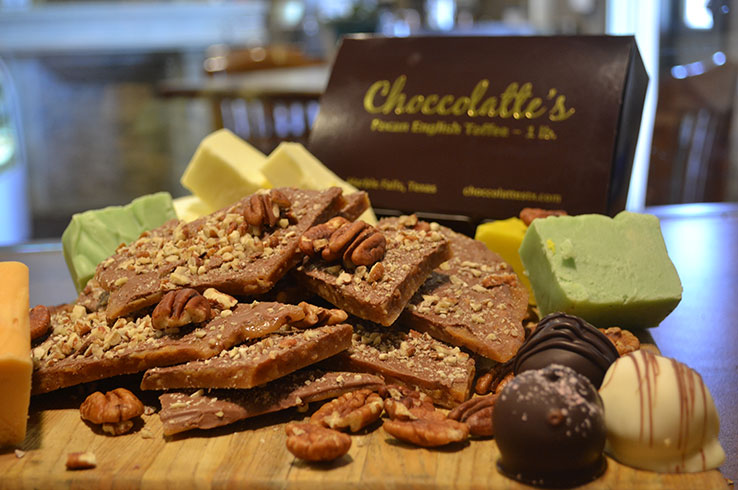 Choccolatte's Pecan English Toffee is World Famous
Have sweet tooth, will travel! Especially for Choccolatte's pecan English toffee, so buttery that it almost melts in your mouth. Hand-crafted in the shop, the toffee comes covered in Callebaut chocolate, favored by pastry chefs the world over, and sprinkled with Texas pecans, because TEXAS PECANS. If Choccolatte's only made this toffee, that would be reason enough to visit. But you can also fill up on coffee and gelato, providing all the pep in your step you need for a day of shopping in the downtown area. Pop over to Choccolatte's sister store, Third Street Treasures, and stop by other spots like Birdie's Market, Ms Lollipop Parties & Gifts, and the Shops at Old Oak Square in downtown Marble Falls.
Photo Credit: Choccolatte's Fine Chocolates & Toffee
---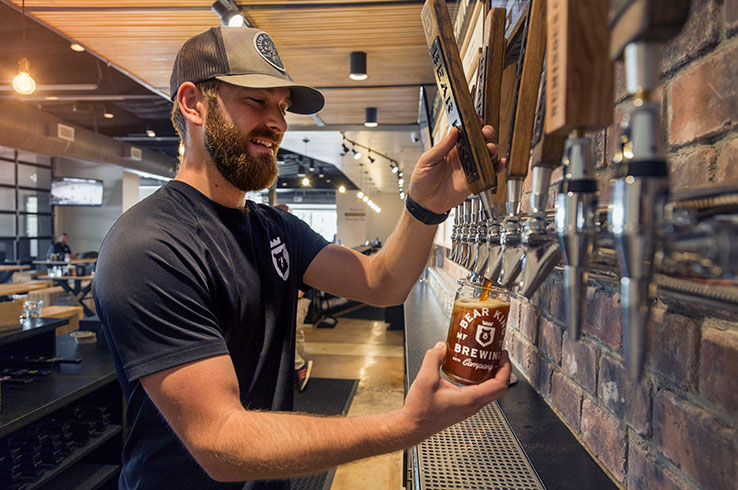 Local Breweries Serve Up Delicious Ales and Lagers
The Texas Hill Country is exploding with breweries, and Marble Falls is helping lead the charge. Tip back a few pints for a good cause at Save the World Brewing Company, which not only produces knock-out beers but donates 100 percent of all net profits to charities like Meals on Wheels and Habitat for Humanity. One of the earliest to the area, Double Horn Brewing Company opened its doors in 2011 and has been serving up hand-crafted beers and refined-casual food ever since.
For an afternoon out with your family, Bear King Brewing Company has something for everyone. Kick back in the outdoor beer garden and order some barbecue, tacos, or a burger to go with your brew. The menu here even has kid-friendly eats and non-alcoholic drinks. Whether you visit one or all of Marble Falls' breweries, you'll enjoy first-rate brews you'll only find in this part of the Hill Country.
---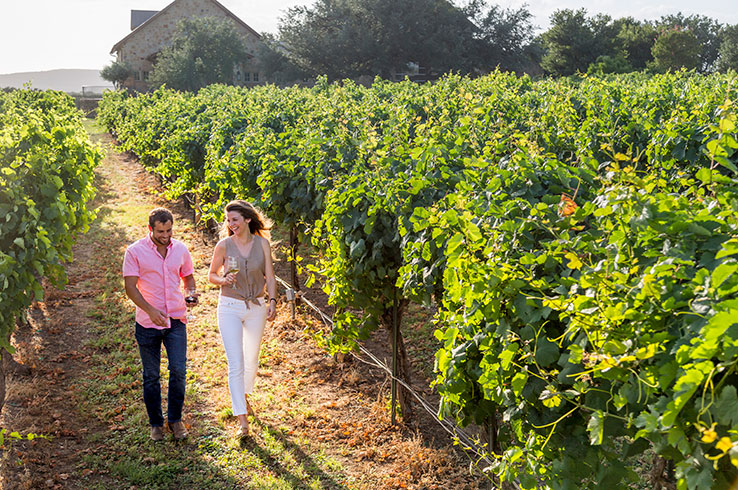 Amazing Wineries are a Short Drive Away
If you've ever tasted Texas wine, it was probably made in the Hill Country. Marble Falls happens to be a fantastic starting point to tasting some of the region's best reds and whites. Start at Fiesta Winery or Flat Creek Enoteca right here in town or make the short drive out to the vineyards of Spicewood Vineyards and Perissos Vineyards & Winery. It's not just the wine you'll love out here—it's the long reach of live oaks and the shade of their branches, the craggy mesquites, rows of lush vines, and a whole host of good people tending these grapes. Fredericksburg is just an hour down the road, too, and home to 50 wineries worthy of a day trip. For a more guided experience, book a Heart of Texas Wine Tour for door-to-door service that lets you enjoy every toast to its fullest.
---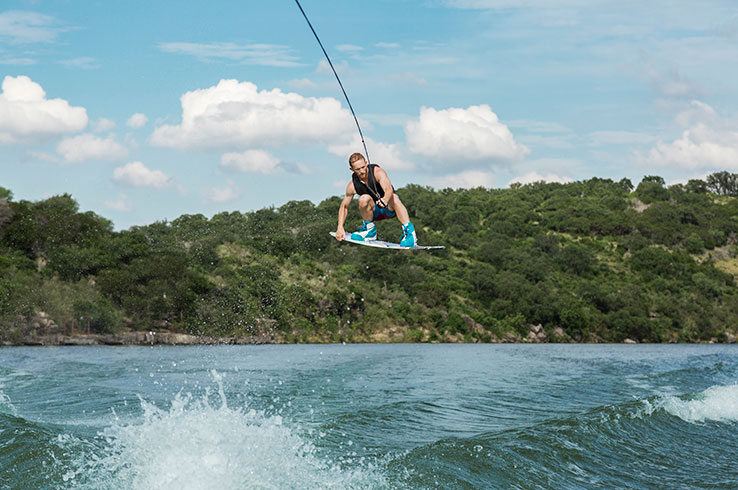 Lake Marble Falls is a True Texas Gem
As you drive into downtown Marble Falls on 281, you'll catch a glimpse of Lake Marble Falls, a reservoir of the stunning Colorado River. The lake's beautiful from a distance, and even better when you get out of your car and make a day of it. With a single cast of the pole, you could snag a largemouth bass, catfish, or sunfish. Make sure to bring your beach towel and swimming gear, as you'll want to cool off in the lake or the swimming pool at Lakeside Park & Beach. To get out onto the water, rent a kayak from Just Yakin Kayak & SUP or a jet ski or pontoon boat from Splash Boat Rentals.
No matter when you visit, make sure you come back for LakeFest, one of the largest drag boat races in the country in which boats race at speeds of up to 260 mph. For as much as Lake Marble Falls has to offer, the best part may be that it's just a stone's throw from all the shops and restaurants of downtown Marble Falls.
---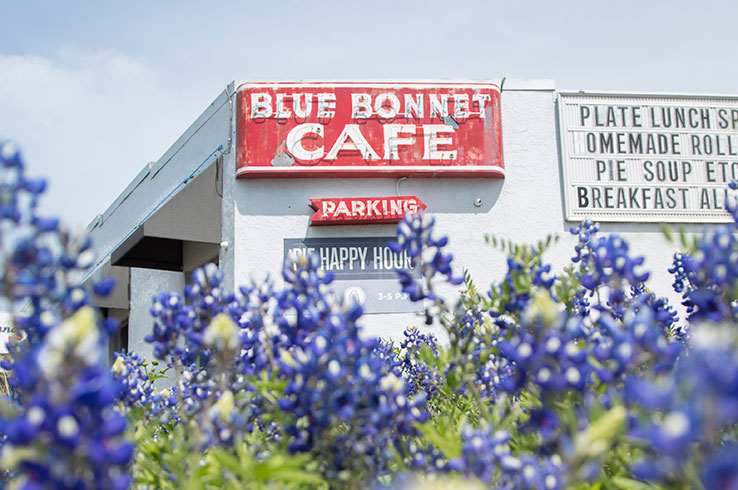 The Food is Fantastic
Though a charming small town, Marble Falls has good eats worthy of the big city. Three of the best are all within walking distance of each other, making it easy to have dinner at one and dessert at another. Pause for a moment to appreciate the aromas of curry, hot peppers, lemongrass, and basil at Ginger & Spice, a local favorite that serves up mouthwatering Thai dishes along with an array of sushi rolls. Meanwhile, Oli's Kitchen is the place to go when you're craving Mexican and Tex-Mex fare, all crafted by a chef trained in Mexico City. The pièce de résistance may be the pies from Blue Bonnet Café, where you'll find up to 15 types of pies to choose from on any given day. Want to try them all? Make sure you're here for pie happy hour, from 3 to 5 p.m. Monday through Friday. They make a mean biscuits and gravy, too.
These are just three of the many options here in Marble Falls. Get a taste of the thriving dining scene here.
---
Set less than 50 miles northwest of Austin, Marble Falls has some of the best the Hill Country has to offer. Plan your visit here.
---
---