---

5 Reasons to Plan Your Next Weekend Getaway in The Woodlands
Greet a Texas sunrise from the comfort of your luxurious hotel room. Bike along endless miles of urban trails or enjoy a refreshing breeze as you paddle on the cool waters of an inviting lake. As the sun sets, sit down for dinner with a glass of wine and a fantastic view. Welcome to The Woodlands, a thriving destination just north of Houston. Want to kick back, sip something cool, and let the day pass you by? No problem. Would you rather fill your days by exploring the outdoors? You'd better bring a good pair of shoes. Add in a world-class shopping scene and restaurants of all kinds and you've got the ideal place for your next road trip.
Read on to discover some of the top reasons The Woodlands is the perfect weekend getaway spot.
Tour Texas Travel Tip: The Woodlands is open and ready for your visit. Check out this safe travel guide to prepare you for your stay.
---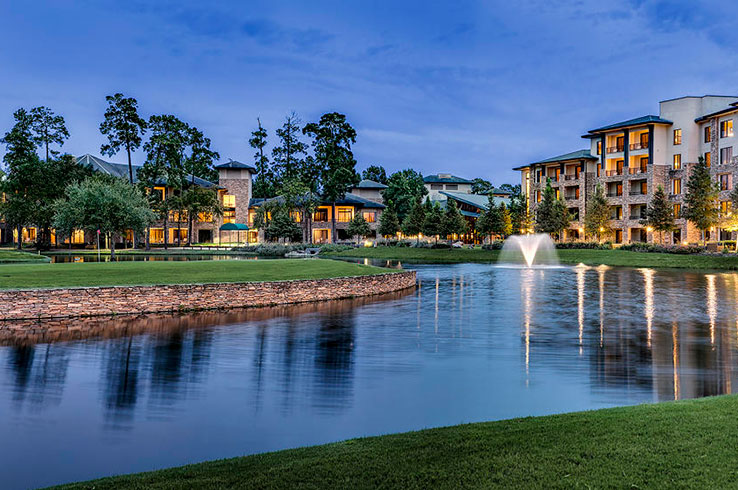 There Are Many High-End Places to Stay
Whether you're looking for a relaxing weekend away or a base of operations for an adventurous day, where you stay can make or break any kind of getaway. Fortunately, The Woodlands is full of remarkable hotels and even a resort, perfect for when you want to treat yourself. Set among magnificent pines, The Woodlands Resort is more than a resort; it's a destination. Start your morning with views of lush pine trees from your room or suite, some of which feature private balconies and separate lounge areas. Then play a round on two championship golf courses or book a session at the tennis center with 10 clay, seven outdoor hard, and four indoor courts. To bask in all the abundant sunshine, go for a splash at the Forest Oasis Water Park, where you can float a lazy river, ride water slides, and swim in a lagoon-style pool. If you're not traveling with kids, unwind in the adult-only pool.
In the Town Center area, The Westin at The Woodlands and The Woodlands Waterway Marriott Hotel put you right in the middle of it all. The Westin pairs its colorful art and blown-glass lighting fixtures with a modern feel that will elevate your stay. Spend the day at the rooftop swimming pool that overlooks The Woodlands Waterway, then savor pasta and pizza dishes at Sorisso Modern Italian Kitchen before capping the evening with a cocktail at Como Social Club Poolside Terrace + Bar. Not far away, The Woodlands Waterway Marriott Hotel sets you up for a comfortable stay with its upscale guest rooms and on-site dining options.
Both hotels are within walking distance of The Woodlands Mall, Market Street, and countless shops and restaurants, making them great options for when you want to experience some of The Woodlands' best. Discover the other lodging options in The Woodlands here.
---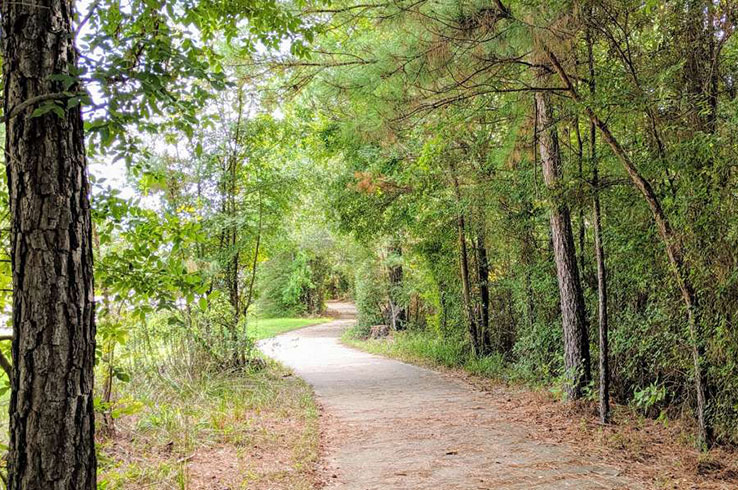 It's Easy to Enjoy the Outdoors
Watch as American robins or blue jays dance on the branches of oak and pine trees. Soak up the sun as you paddle to the middle of a sprawling lake. Lose yourself on placid pathways that meander through a serene forest. Not only can you have all these adventures in The Woodlands, but you also don't have to go far to get outdoors. With more than 220 miles of interconnected trails, many of which are separated from traffic, the city is a fantastic (and safe) place to go for quick jogs, leisurely bike rides, and even marathon training. To feel like you truly are off the beaten path, head for the George Mitchell Nature Preserve. Hike or bike along the five miles of trails and you'll feel like you're all on your own, yet the preserve is just a short drive from the Town Center area.
Drive anywhere in The Woodlands area and you'll undoubtedly come across Lake Woodlands. Located just west of The Woodlands Waterway and The Cynthia Woods Mitchell Pavilion, the lake is one of the top kayaking spots in the Houston area. Rent a kayak or a standup paddleboard from either Riva Row Boat House or Lakes Edge Boat House and paddle the day away as you spy herons and egrets wading on the shoreline. You can also rent swan boats from Riva Row Boat House, a fun and approachable way to see the wide variety of public art installations and other sites along The Woodlands Waterway.
While these things to see and do can take up your entire time here, we've only scratched the surface. After all, The Woodlands is home to more than 140 parks, countless tennis courts, golf courses, and more. Discover all the possibilities here.
---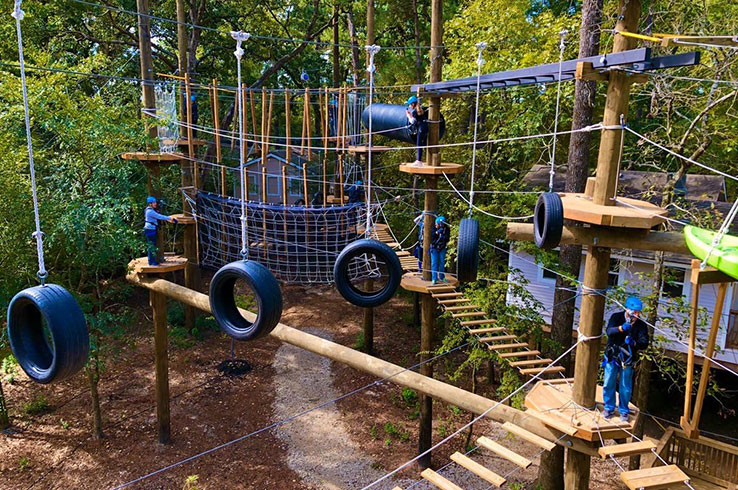 You Can Climb Among the Treetops
Cling to a hanging rope ladder, test your balance on swinging wood platforms, and swing on suspended tires, all while you're in the canopy of a pine forest. If you want to do something out of the ordinary, look no further than Texas TreeVentures in Rob Fleming Park. Bring a can-do attitude and get ready to conquer over 70 challenging elements as you ascend a three-level aerial adventure course. While you're out there, watch for the multitude of birds and other animals that call the park home. If you're traveling with family, you're in luck. Kids as young as six can take on the challenge, so bring everyone out for the kind of adventure you won't get every day.
---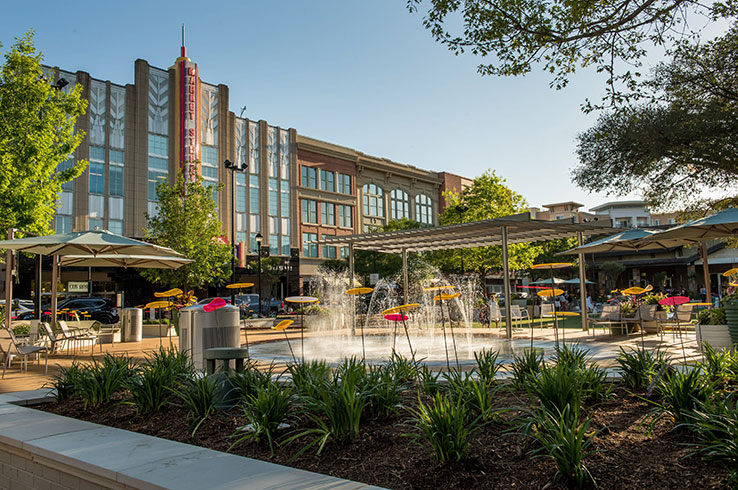 The Shopping Here is Spectacular
Home to high-end department stores, luxury retailers, local boutiques, and one of Texas' top shopping malls, it's no wonder Southern Living Magazine considers The Woodlands among America's best shopping destinations. Start your shopping adventure at the epicenter of it all: The Woodlands Mall. Here, you'll find more than 160 shops that sell everything from clothing and jewelry to books and electronics. When you aren't browsing stores like Barnes & Noble Booksellers or Nordstrom, stop in for a quick bite at Shake Shack or Torchy's Tacos. Find a more indulgent meal at Fleming's Prime Steakhouse & Wine Bar or Peli South African Kitchen.
Not far away, you'll find yourself surrounded by the outdoor, main street style storefronts of Market Street. You'll discover places like Madewell, Tiffany & Co. & Louis Vuitton. Find a spot on the patios at either Jasper's Gourmet Backyard Cuisine or Tommy Bahama Café & Emporium to watch folks of all ages relaxing on the central lawn. Kids can also play in the splash pad, open year-round. There are 90 shops, restaurants, and even a movie theater, here in Market Street, so make sure to set aside plenty of time to discover all it has to offer.
Of course, there's way more to The Woodlands' shopping scene than The Woodlands Mall and Market Street. Discover boutique shops at Hughes Landing, check out the world-class art you can take home with you at Glade Gallery, and more. No matter what you're looking for, you'll find the perfect gift for yourself or someone special in The Woodlands.
---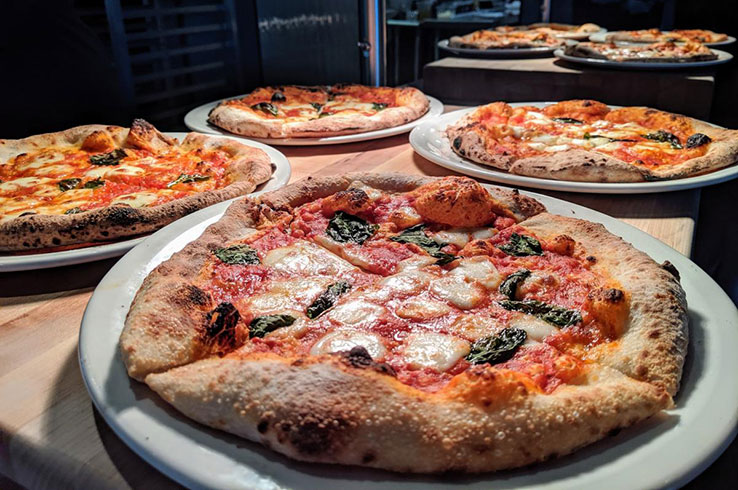 Great Food is Never Far Away
Regardless of how you choose to spend a day in The Woodlands, your appetite will eventually kick in. Luckily for your palate, the city is a prime destination for foodies. After all, you'll find more than 150 restaurants here, a selection that includes high-end steakhouses and wine bars, craft beer pubs, dessert spots, and local bakeries. Relish Italian countryside cooking and an enticing selection of red and white wines from California, France, and Italy at Sorriso Modern Italian Kitchen, where you can try authentic pizzas and dishes like fusilli pesto or spaghetti vongole made with house-made pasta.
No matter what time of year it is, there's always something special about eating a steak or a slab of salmon right off the grill. Yet Jasper's Gourmet Backyard Cuisine takes this kind of straightforward fare and elevates it to the next level. An award-winning eatery with a chef-driven kitchen, Jasper's serves up burgers, pizzas, and desserts that'll light up your taste buds with their big and bold flavors. Meanwhile, Fielding's Local Kitchen + Bar's approachable, but still decidedly upscale, ambiance makes it the kind of place you'll want to hang out for a while. Not only does the eatery have dry-aged steaks, succulent seafood dishes, pizzas, and sandwiches, it also offers more than 400 wine and spirit options and Texas craft beer on draft.
Want to get your morning started right? Sit down for breakfast at The Kitchen, where you can tuck into pancakes made from scratch, omelets, breakfast migas, and avocado toast along with a tasty latte or mocha. Visit later in the day for handheld bites like a venison burger, Cuban sandwich, or entrees like oak-grilled Scottish salmon or lobster truffle pasta. Finally, if you're a beer aficionado, you'll have a wealth of choices of ales and lagers at Local Pour. Order your favorite kind of brew, light or dark, and admire the view of Lake Woodlands as you sip and snack on buffalo cauliflower wings, brisket meatballs, or a burger on the back patio.
There's no end to all the amazing food you'll find in The Woodlands, so make sure you come hungry.
---
Whether you're looking for your next adventure or to pamper yourself with amazing food and some world-class retail therapy, The Woodlands is just the place for your next weekend getaway. Discover all this destination has to offer and plan your visit here.
About the Author: James Waterson is the head writer and content specialist for Tour Texas. When he isn't writing about the many great places in the state of Texas, he's planning his next epic adventure in the Lone Star State.
---
---