---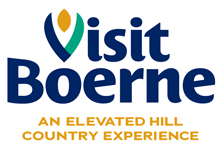 5 Reasons to Enjoy the Beauty of Spring in Boerne
Greet spring in the heart of the Hill Country where outdoor adventure abounds, wildflowers bloom, patio seating is plentiful, and people are friendly. Boerne (pronounced Ber-nee) is a small, family-friendly, German-Texas town located 30 miles north of San Antonio with an enormous reputation and plenty to do. Walk the acclaimed 'Hill Country Mile', a mile-long stretch of over 50 specialty shops, art galleries, trendy boutiques, world-class restaurants, historic buildings, Texas breweries, and colorful storefronts, all with a distinct Hill Country feel.
Welcome the blooming wildflowers where Southern hospitality abounds, nature rejuvenates the spirit, culture runs deep, and historical splendor collides perfectly with contemporary life. Get outdoors and experience wide-open Hill Country spaces made for exploration. Hike or bike on spectacular trails, learn to sail, explore beautiful caverns and caves that twist about underground or work your core on a stand-up paddleboard on beautiful Boerne Lake. There is something for everyone in this splendid town, where spring and renewal are a breath of fresh air.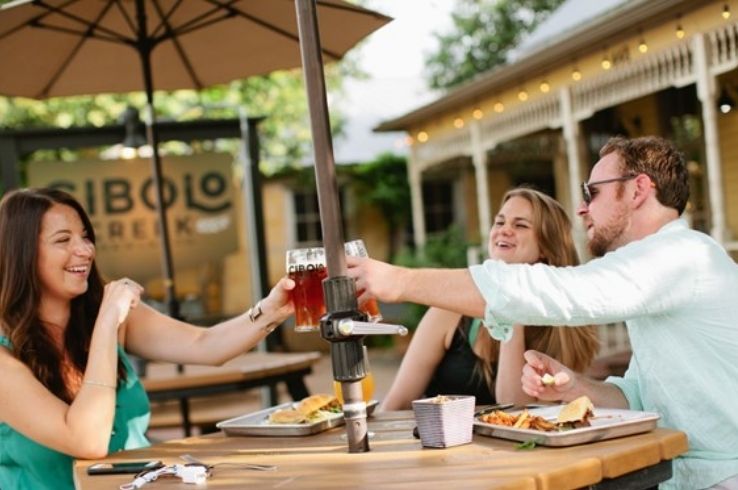 Outdoor Dining is a Breeze
The locals will tell you that mealtime presents a big problem for many in Boerne. Due to the vast variety of restaurants serving world-class cuisine, deciding which one to experience can be a real challenge! Most agree this is a great problem to have and definitely a good reason to plan for plenty of time to experience the diverse dining scene.
Set the evening tone by relaxing on the outdoor patio at Botero Tapas + Wine Bar, a must-try Spanish-style eatery located right off Main Street along the Hill Country Mile. Take advantage of live acoustic entertainment on the weekends in a picturesque Hill Country setting. Select a wine that suits your fancy and pair it with rich, delicious Spanish tapas that are all the buzz around Boerne. Try the empanadas, tostadas, and flatbread tapas that are as scrumptious as those served in Spain. The wait staff are top-notch at Botero and always willing to help you decide on the perfect food and wine pairing. Be sure to save room for dessert!
If hot biscuits, fresh greens and Grade A steaks are what you crave, Peggy's on the Green is the place to go. Fill up on authentic, all-American Southern-style dishes with a contemporary twist that will transport you back in time to your grandmother's kitchen. Sink your teeth into Peggy's Chicken Fried Steak or dress up a smidge for an elegant dinner of scrumptious Andouille Shrimp and Grits. Sit outside and enjoy the breeze on the romantic wrap-around porch at the beautifully restored Kendall Inn that dates to 1959. Imagine a time when stagecoaches stopped here for weary travelers to enjoy a home-style meal and some much-needed rest.
Be sure to venture deep into the heart of downtown Boerne to discover a unique dining destination: 259 Brantley's Bistro and Bar. Wet your whistle at this farm-to-table venue that serves craft beer and wine made in Texas, as they are proud to be a "Go Texan' restaurant. Music lovers will enjoy live music every Friday through Sunday, and on Sunday, brunch is served. Grab a light lunch with your choice of fresh salads and soups made from scratch. Hungry after a long hike? Sink your teeth into the Mixed Grill plate and feast on flavorful quail, tenderloin steak and Axis sausage served with mashed potatoes and seasoned vegetables. You are guaranteed to leave satisfied with a full belly and a big smile.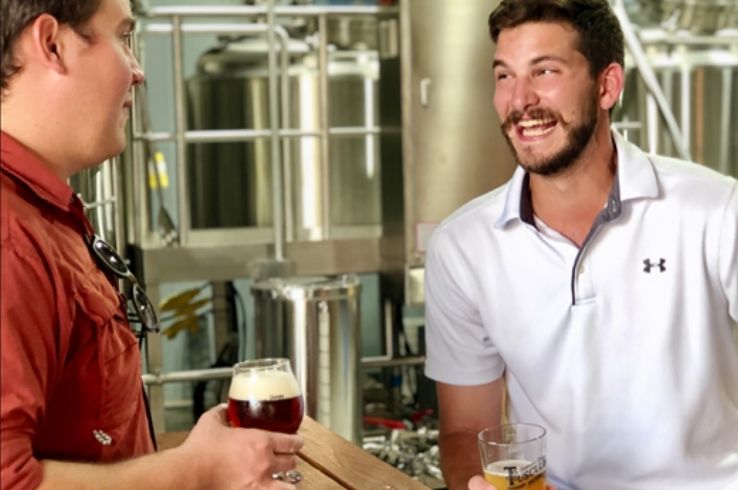 Boerne is a Craft Beer Fan's Dream Destination
So much excitement is brewing in Boerne these days, especially when it comes to beer. Boerne's rapidly expanding brewery scene includes six notable craft breweries located along the Hill Country Mile within an easy drive or walk of each other. These breweries emphasize quality beer and produce smaller batches, viewing the craft as an art form driven by passion and finely-honed techniques. They are experimenting on a regular basis, so you can always try something new.
Once you experience the award-winning craft beer brewed onsite, the delectable food prepared from original recipes, and the upscale casual atmosphere at The Dodging Duck Brewhaus & Restaurant, you will be hooked. Winner of six medals at the World Beer Championships, you cannot go wrong with your selection of craft beers. A cozy, comfortable vibe will relax you as soon as you walk through the front doors. Grab a table on the patio, enjoy the beautiful weather and live music, and take in the cool spring breeze with a perfect view of Cibolo Creek. No need to rush! Take your time while tasting some menu favorites, like the Giant Baked Pretzel with Beer Cheese Dip, the Chimichurri Grilled Beef Tenderloin, or the bratwurst and sauerkraut.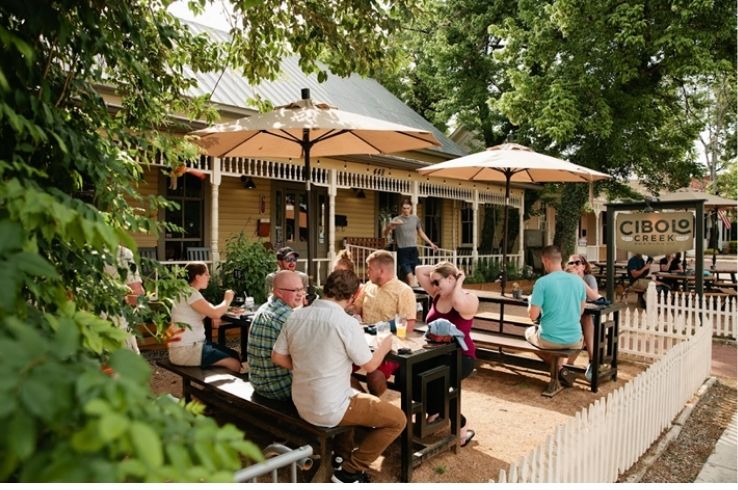 Cibolo Creek Brewing Company, family-owned and operated, is another brewery people are talking about. Their goal is simple: provide a welcoming environment for all, including travelers. With some beers on tap year-round, in warmer seasons like spring, refreshing and lighter beers are on tap. The Boerne Blonde and Creekside IPA are local favorites. Order from their creative menu of items sourced locally, hormone-free, and raised certified humane while kicking back in a relaxing, casual, friendly atmosphere.
Tusculum Brewing Company, along with the former two mentioned, can be conveniently reached from the Cibolo Creek Trail. History is alive in this former General Store you will find beer made in-house, sourced wine, champagne, and cider. The service is impeccable here, as they allow guests to try multiple drinks before deciding. Enjoy the pleasant, relaxed atmosphere, order your favorite beer, and share a large order of "Jacked Up" Nachos or an epic Charcuterie Board that will easily fill two bellies.
All three of these breweries are on or near Boerne's Historic Hill Country Mile. So many sensational Brew Pubs, so little time! Barrelman Brewing Company, Kinematic Brewing Company and Z BrewZ Beer Company are also well worth checking out during your stay in Boerne.
Free Roam Brewing Company will be opening soon, so keep an eye out during your visit to Boerne.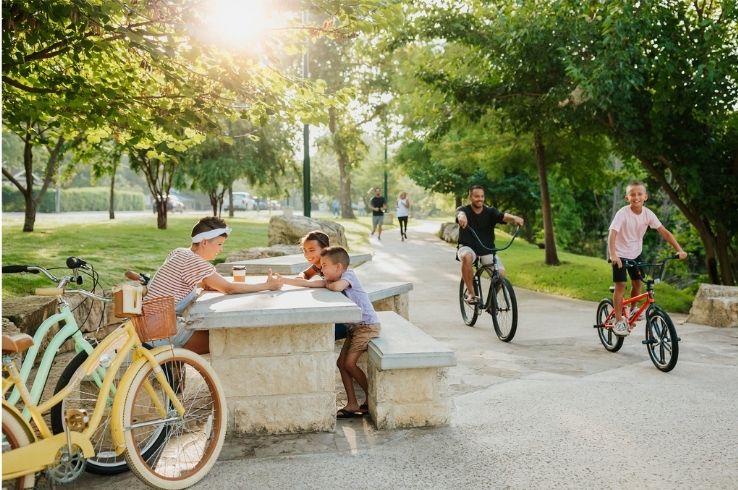 Savor Spring's Abundant Charm
It is spring in Boerne, time to head outdoors to the Cibolo Center for Conservation to admire breathtaking blooms and the fresh green growth of spring that will make your heart sing. Parking, a pavilion, restrooms and a nature center with a gift shop are all at your convenience during your visit. Hike or bike the 2-mile loop, take your time venturing off the smaller side trails if you would like. No need to rush here. See if you can spot some wildlife on your trail venture! Also, make plans to cross the creek and visit the Historic Herff Farm during their Saturday Farmer's Markets too.
Old Number 9 Greenway is another popular hiking and biking spot in Boerne that is also dog friendly. Take the trail, once used as a railway, right through the heart of the city. Follow the trail signs, stop at a fountain for a drink or take a rest on a bench along the way. You can rest in the shaded "train depot" midway through the trail and there are even misters at the Esser Road trailhead for hotter days.
There are 13 parks to visit throughout this beautiful area and seven of them have access to cool Texas Hill Country waterways like the Guadalupe River or the Cibolo Creek. Caught any fish lately? You just might when you try your hand (or your hook!) at River Road Park, where fishing is allowed. Paddleboarding and sailing both make for unique adventures on the water that you can experience at Boerne City Lake Park. Make sure Guadalupe River State Park is on your To-Do list. With four miles of riverfront access, guests and locals rave about the 5-mile paddling trail through exciting rapids, hiking, floating down the river on an innertube, kayaking, canoeing, and more. The breathtaking spring scenery on your outdoor Hill Country adventures is nothing less than majestic.
Window Shop Along the Hill Country Mile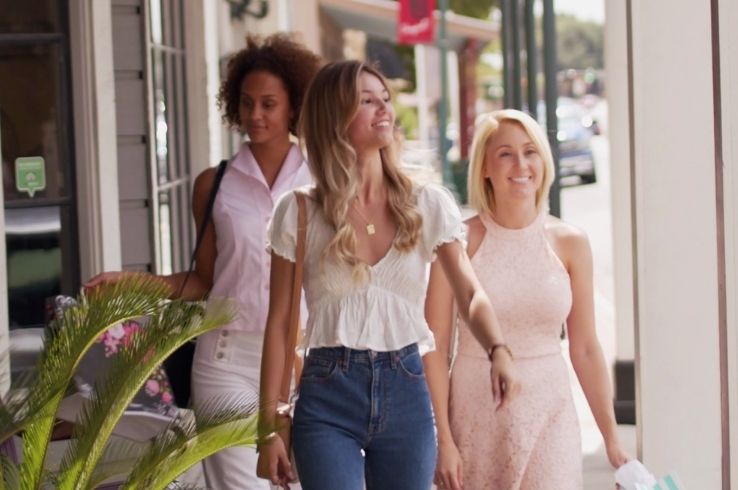 Lose yourself as you travel back in time to Boerne's historic district on a stretch of Main Street designated as a "Great Street in Texas." Along the Hill Country Mile, the town's eye-catching storefronts embody the city's emphasis on hospitality, history, culture and, best of all, shopping. The boutique shopping in this tasteful town is unbeatable, with stores that are rumored to be some of the best in Texas. This earned Boerne's Hill Country Mile a spot on the 2019 Shop Across Texas "Best Stores in Texas" list. Stores include clothing boutiques, home goods, import-type stores, art galleries and antiques, to name only a few of the over 50 establishments on Main Street.
There's something for every shopper in Boerne with a wide array of elevated shopping experiences available. Discover a treasure trove of antiques at shops like Mainly Vintage and Flashback Funtiques. Step into A Little Nature Store to find all kinds of nature-related gems, like kid's crafts, birdhouses, books and various creative and unique eye-catching items. Fashionistas will revel in all of the stylish boutiques at their fingertips as well.
Admire and analyze the expansive art scene of the many local artists who are celebrated and encouraged to create. Make your way to Gallery 195, an amazing cooperative gallery of local Texas Hill Country artists' work of assorted styles and mediums. From the Art al Fresco outdoor public art exhibit to the art on the walls of the quaint coffee shops to the numerous art galleries, immersion in Boerne's artful atmosphere is well worth your time. You may even take home some treasures!
Enjoy a Remarkable Stay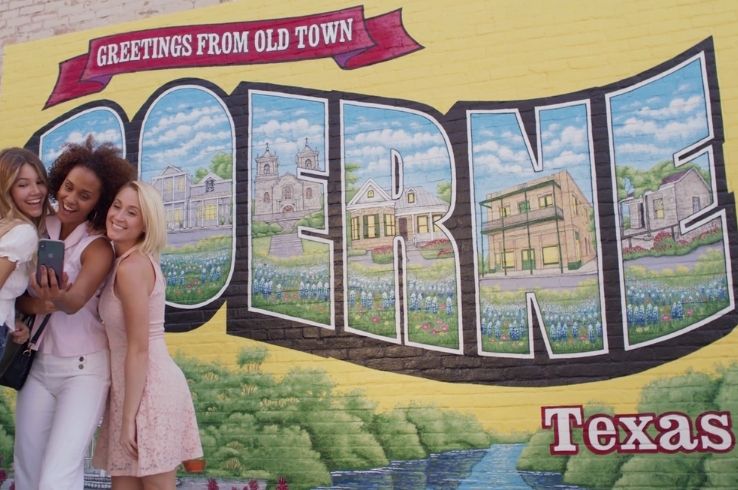 From familiar brands to unique vacation rentals to historic inns, Boerne is full of places that'll have you feeling right at home. Overnight accommodation is the finest in the Hill Country and nestled in the amazing landscape. Spend your evenings in The Kendall which began in 1859 and is situated right by the Main Plaza, where the action takes place. Or check into The William, a newly renovated, luxurious 11-room boutique hotel with modern amenities. The Bevy is a Doubletree property turned boutique hotel that is popular with visitors. Many vacation rentals are available, as are branded hotels at a variety of price points. Find more information and book your accommodations here.
Around every corner in Boerne, you will find adventure and entertainment for families, friends, couples, or solo travelers. This special community is a heavenly place to be as spring arrives. Spring is a time of new beginnings, new possibilities, new destinations, and new experiences. Boerne, Texas, is the perfect place to start!
---
---