---

5 Amazing Ways to Enjoy The Woodlands' Captivating Arts Scene Outdoors
Magnificent sculptures of all sizes, dazzling mosaics, and a remarkable array of art benches are set among towering pine trees along one of Texas' most iconic waterways. While every destination has an arts scene, few can match what you'll find in The Woodlands, home to one of Texas' largest collections of public art. Wander through town and you'll encounter a wide variety of art while you enjoy fresh air and plenty of sunshine. Located just north of Houston, The Woodlands' has an arts scene that is truly one of a kind. See a few of the best ways you can experience it for yourself below, then plan your visit here.
Experience The Woodlands Waterway Arts Festival
Perfect weather, abundant sunshine, and world-class art everywhere you look. It doesn't get any better than what you'll see at The Woodlands Waterway Arts Festival, a two-day arts event held in early April. Stroll along the glistening waters of The Woodlands Waterway as you admire the drawings, paintings, photographs, sculptures, and other original works of nearly 200 first-rate artists from around the country in what feels like a sprawling outdoor art gallery. Take your time as you peruse it all, stopping to relish live music and the delicious food. Let the whole family play and explore their creativity during hands-on art activities for all ages. Whether you're here for an afternoon or both days, you'll savor fresh air and remarkable art with the iconic The Woodlands Waterway as a picturesque backdrop.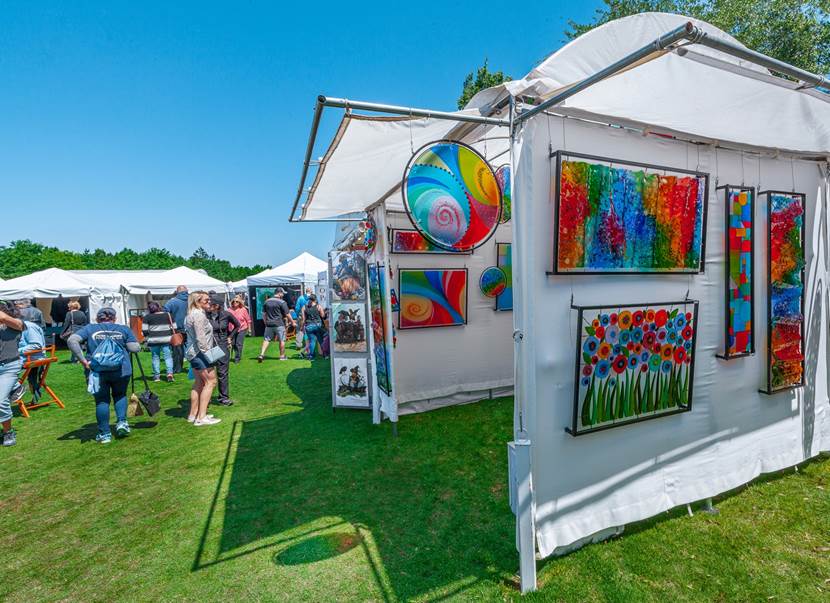 ---
See World-Class Performers at an Iconic Venue
What do Ozzy Osbourne, Jack Johnson, Lynyrd Skynyrd, and Frank Sinatra all have in common? Besides being some of the biggest names in music, they're among the many artists who have lit up the stage at The Cynthia Woods Mitchell Pavilion. Entirely outdoors, the pavilion is one of the best places to see live music in the Houston area. Bring a blanket, find a spot on the sprawling lawn, and take in a show under the stars. For a more traditional concert-going experience, purchase tickets for seats under the impressive mezzanine. During the show, head on over to the concessions area for craft beer, wine, and specialty cocktails - best enjoyed alongside something tasty to snack on. You can even bring your own food too (in a one-gallon plastic bag) if a picnic is your idea of a great night out.
With performances from spring into the holiday season, there's always something amazing to see at The Cynthia Woods Mitchell Pavilion. Check out this list of upcoming shows and get your tickets today.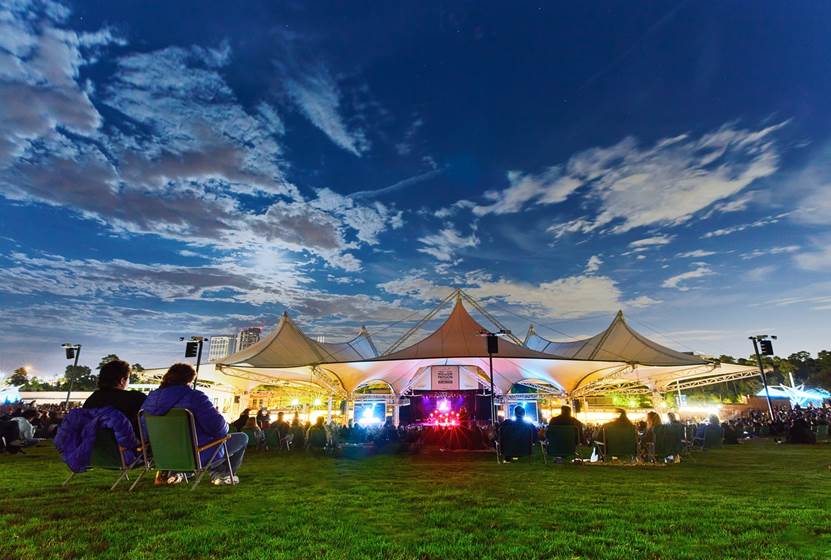 ---
Catch a Free Outdoor Concert
Nothing beats live music under a setting sun, and The Cynthia Woods Mitchell Pavilion isn't the only outdoor venue in town. In fact, The Woodlands has four free concert series that keep the tunes coming. Cap your weekend with toe-tapping local bands at Northshore Park during the Concerts in the Park music series on Sundays in the spring and fall. Meanwhile, Rock the Row keeps the party going on Thursday nights from mid-March through mid-November at Hughes Landing, where performers take to the stage on the bank of Lake Woodlands at the Hughes Landing Bandshell.
If you're spending a Saturday night out in The Woodlands, head to Waterway Square for Waterway Nights - a showcase of everything from jazz to classic rock. Finally, Central Park at Market Street is a regular venue for concerts throughout the year. With all of these concerts every week from spring through the end of fall, The Woodlands is a must-visit for music lovers. Find out more about The Woodlands' outdoor music scene here.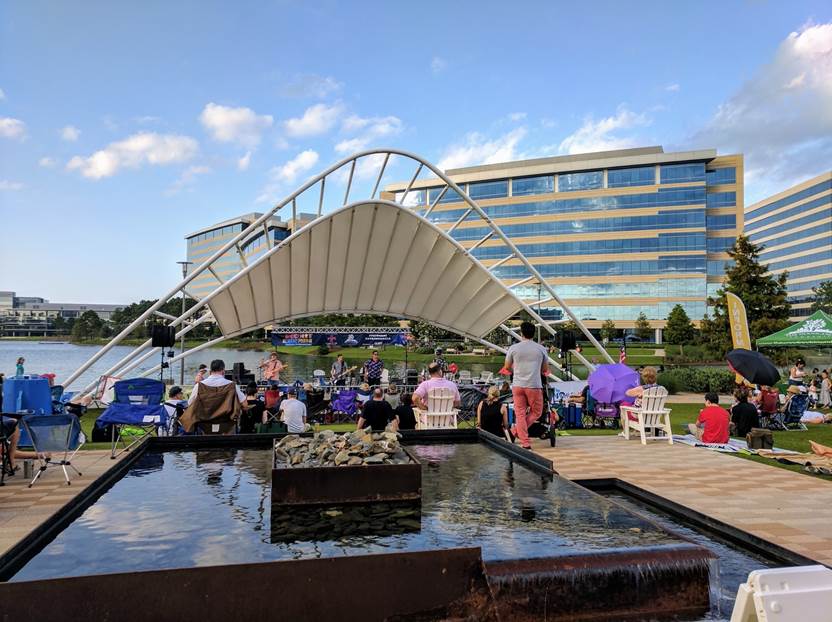 ---
Embark on a Scavenger Hunt for Public Art
Stunning mosaics, eye-catching sculptures small and large, and a lonely serpent rising out of the gentle waves of Lake Woodlands. Spend any time exploring The Woodlands, by land or water, and you'll discover that art is everywhere here. There's no better way to see it all than by simply heading outdoors and meandering along The Woodlands Waterway and through Market Street or Hughes Landing. Start at Waterway Square, where what at first glance looks like a forgotten purse is actually part of an expansive work of art. Known as Grandma's Purse, this bronze lifelike sculpture has everything you'd expect to see tumbling out of a purse, along with a frog hanging on for dear life. The artwork is part of a larger structure that includes a colorful splash pad that is just the place to cool down during the summer.
Head out in either direction from Waterway Square along The Woodlands Waterway and you'll encounter one public work of art after another, from nine mosaics depicting local plants and wildlife and glass sculptures to more than 20 art benches and the towering Millennium Sculpture. Meanwhile, Market Street has its own fair share of surprises. Keep an eye out while you are window shopping here and you'll come across several whimsical sculptures and the 12-foot-tall Woodlands Cardinals, Market Street's only painted bronze sculpture. For eye-catching metalworks, Hughes Landing is the place to be. Admire works like Unmasked Symbiosis and the Fenris, Karale, and Midgard Glaciers while you're delighting in all the area's first-rate dining.
Of course, no art tour would be complete without visiting the Rise of the Midgard Serpent. Installed in 1985, this 35-foot-long sculpture looks like a mythological beast brought to life. You can see it by renting a kayak at either Riva Row Boat House or Lakes Edge Boat House and paddling to the southern end of Lake Woodlands, or by following the running trail west and south from Northshore Park.
To see all of the outdoor public art you can discover in The Woodlands, click here.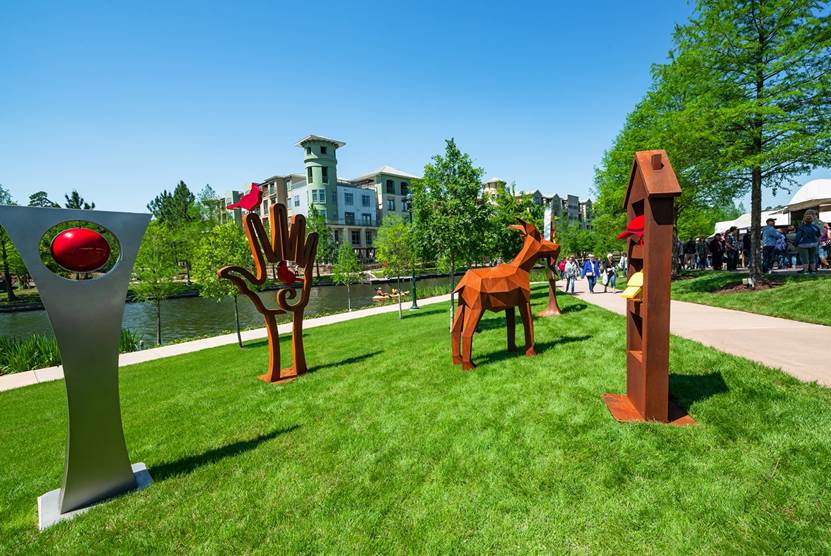 ---
Savor Food as Art
The mix of colors, how elements are paired and presented, and the interpretation of the final work. Like paintings or sculptures, food is as much of an art as anything else. That's especially true here in The Woodlands, where there is an abundance of restaurants plating up delicious (and beautifully presented) dishes of all kinds best enjoyed on their outdoor patios. Begin your culinary journey at one of the eateries along Restaurant Row in Hughes Landing like Del Frisco's Grille, where you can enjoy the delightful combination of a mouthwatering steak, glass of wine, and a beautiful view of Lake Woodlands.
Meanwhile, the inviting patio at Hearsay on The Waterway is one of the several places you can dine alfresco along The Woodlands Waterway. Sip a cocktail and nosh on a charcuterie board before tucking into a hearty filet mignon or crab-crusted redfish. Finally, the cozy patio at Market Street's CRÚ Food & Wine Bar is just the spot to explore the world-spanning wine menu and nibble on the small-plate eats. Market Street has a wealth of other high-end restaurants with outdoor spaces, giving you all the more reason to bring your appetite and indulge in the enticing combination of fresh air and delicious fare.
With all its outdoor sculptures, mosaics, music venues, and patios, The Woodlands is a one-of-a-kind destination for art lovers. Discover it for yourself by planning your next visit here.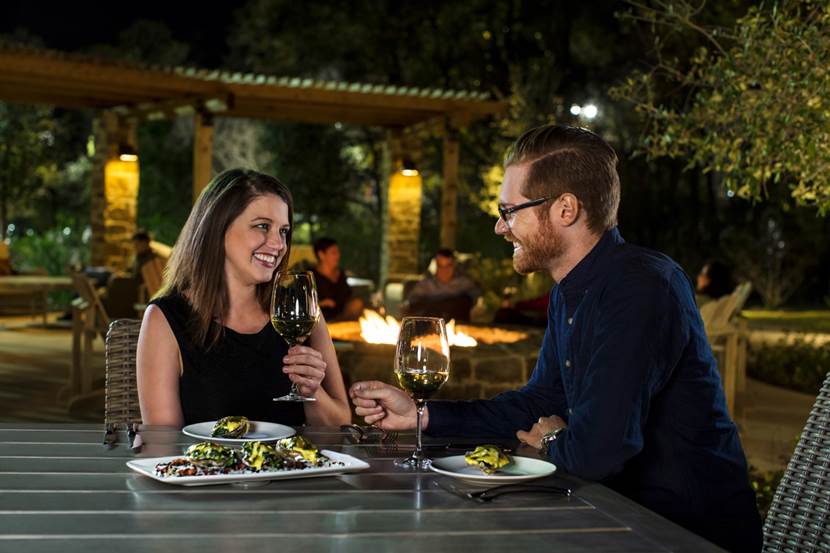 ---
---
---