---

9 Top Rated Fun and Free Things to Do in Kilgore, TX
By Alexandra Dedovitch
Nicknamed the "City of Stars" and known for its Lone Star charm and rich oil history, Kilgore, Texas offers visitors a treasure trove of fun and free things to do throughout the year. Filled with friendly people, engaging sites and seasonal events, Kilgore is a must-stop for every East Texas adventure.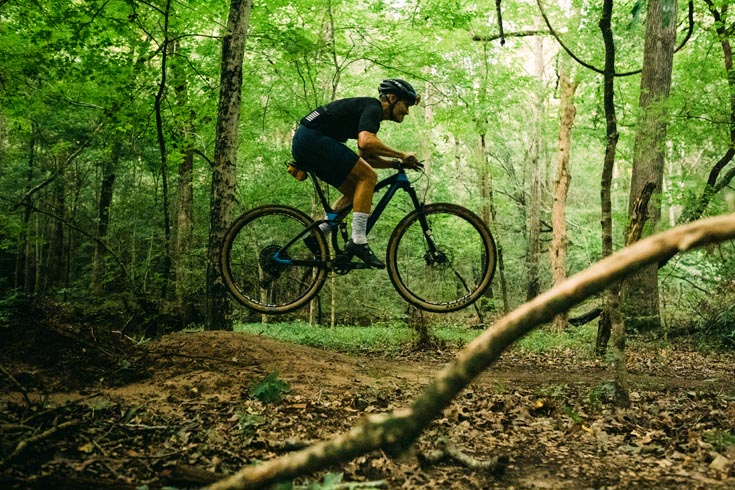 1. Jump, Twist and Fly on Kilgore's Mountain Bike Trails
Kilgore is mountain bike country! With 10 free mountain bike parks and more than 70 miles of trails in and around Kilgore, the area is the perfect place for testing and building your mountain biking chops.
Creekside Trail is a great place to start, providing bikers a chance to traverse a partially paved trail along Bighead Creek. For a more challenging excursion, branch off and head for Bighead Creek Trail. Feel the wind in your hair as you ride up and down four miles of trails filled with exciting features, including berms, jumps, and boardwalk crossings, some of which will leave you exhilarated and maybe even a little muddy. Other trails across the area keep bikers coming back for more, no matter their ability level.
Kilgore's mountain bike parks serve up an opportunity to not only get out and exercise; they're also a chance to take in the pristine beauty of the East Texas Piney Woods. As you ride, enjoy bucolic views of native pine and oak trees, as well as beech, elm, magnolia, and many other species of beautiful floral and arbor foliage.
Catch glimpses of delicate white dogwood flowers as they bloom in the spring, and in the fall, watch as these serene spots burst with ripened autumn colors. Kilgore's mountain bike parks are also fantastic places to bring your binoculars and spot the area's many species of native and migratory birds.
---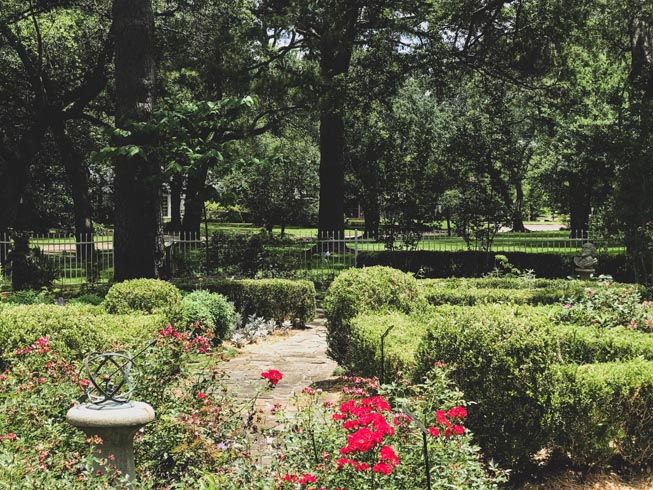 2. Flowers Play the Lead Role in Kilgore's Shakespeare Garden
How dost thy garden grow? You'll find out in the beautiful Kilgore Shakespeare Garden on the Kilgore College campus. The garden was created to serve as an interactive companion to the celebrated annual Texas Shakespeare Festival, which takes place every summer at the college.
You don't have to attend the live theater event to enjoy the lush and lovely gardens, which are open year-round. Rows and paths of carefully curated plants, flowers, herbs, and shrubs are modeled after the original Shakespeare Garden in England and were chosen for their reference in Shakespeare's works.
The garden's red and pink roses were inspired by, "A rose by any other name would smell as sweet" from Romeo and Juliet. There's also rosemary and coneflower, mentioned in Hamlet; iris from Antony and Cleopatra; honeysuckle from A Midsummer Night's Dream, and dozens more examples, each marked with a quote from the related work.
A striking bust of Shakespeare, numerous finely crafted sculptures, and resting benches for deep reflection make this beautifully manicured space perfect for contemplation. Open daily with free admission.
---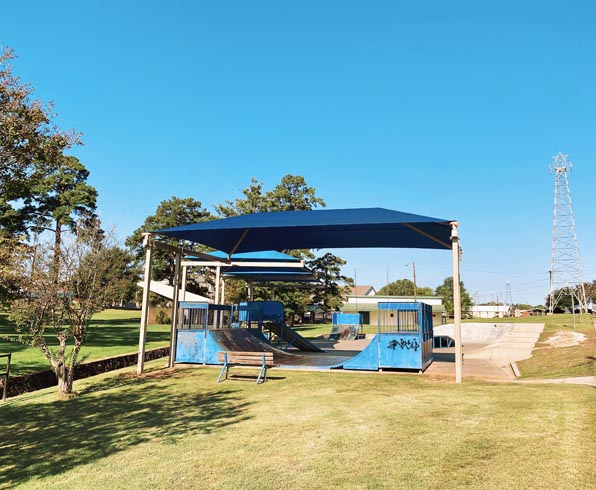 3. Skateboarders Grind and Slide at Kilgore Skate Park
Thrilling, fun and built just for skateboarders, Kilgore City Park's Skate Park is a cool place for skaters to practice moves and hang out with friends.
Every skate park around the world offers a different experience based on its individual, unique design. This dedicated skate park features a partial bowl, half pipe, quarter pipes, raised platforms, and a "hubba," a set of stairs where skaters can work on gravity-defying skills.
The city has added shade structures to the popular skate park, a big draw for young and old alike, eager to master new tricks with fellow skaters. Free, safe, and active, it's a good chance to engage with the community, while also enjoying an entertaining, recreational sport that is truly fun to watch and even more fun to do!
---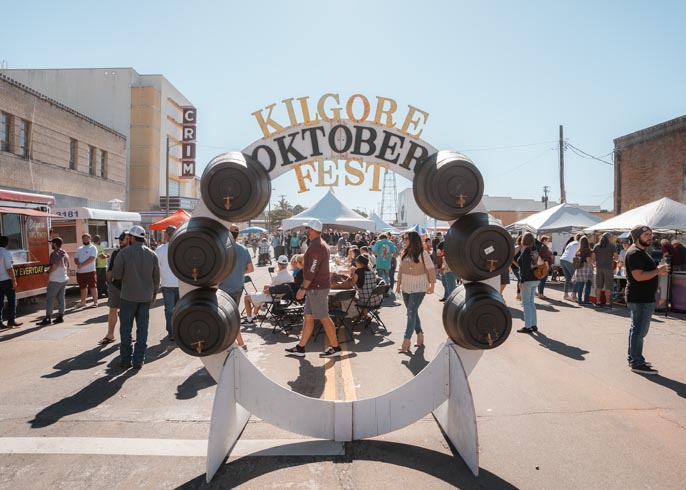 4. Enjoy Beer, Pretzels, and Polka at Kilgore's Beloved Oktoberfest
Hoist your stein! It's time to celebrate authentic German food, music, and drink at the annual Kilgore Oktoberfest. Held every October in historic downtown Kilgore, this family-friendly celebration is filled with opportunities to enjoy the sights, sounds, and flavors of German culture. Don your lederhosen and straighten your dirndl to enter the festival's "Best Dressed" competition.
Start the event off right with a time-honored Oktoberfest tradition by witnessing the opening and tapping of the keg ceremony. Let loose to spirited German polka tunes as you spin your partner round-and-round to live music, or sway to the rhythmic sounds of the local oom-pah band.
Once you've worked up an appetite, visit one of the many food booths to savor a variety of flavors from hot pretzels and spicy tacos to mouth-watering Texas barbecue. Then, compete in the side-splitting chicken dance competition, set to the accordion, of course!
Be sure to check out the assortment of fine artisan crafts, jewelry, books, gifts, and more from nearly two dozen vendors. Don't go home empty-handed either, be sure to grab your annual Kilgore Oktoberfest memorabilia before ending the night.
This free, festive, and belly-filling celebration is an unforgettable event with special attractions for everyone to enjoy this October.
---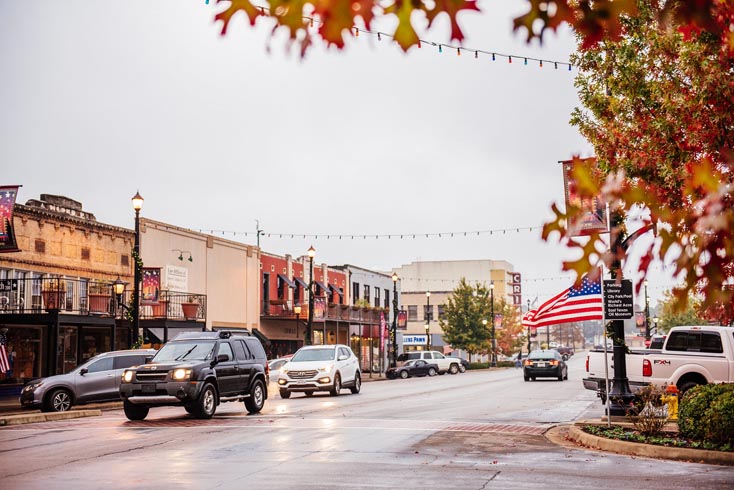 5. Go Window Shopping in Historic Downtown Kilgore
Historic Downtown Kilgore once boomed with the discovery of oil. Now it's booming with a plethora of locally owned shops. It's a charming area to go window-shopping all year round and it's perfect for those looking for a head start on any seasonal shopping. Start at The Shops on Main, where a group of merchants under one roof, including antique vendors, sell an impressive medley of vintage goods and collectible gifts.
A must-stop is an award-winning boutique, Everything that Blings. This specialized shop features an array of vintage, rockabilly, retro, pin-up, and swing clothing, along with great looks for proms, weddings, and pageants. For both casual and luxury fashion curated by an onsite stylist, you'll find an individualized, personal shopping experience along with high-quality apparel at De Rigueur.
Elsewhere in downtown Kilgore, discover a mélange of merchandise as you explore the whole gamut of shops. From comfortable children's clothing and eye-catching jewelry to practical hardware and modern fashion, feel free to explore Kilgore's variety of top-rated downtown stores set amongst art deco architecture and history-rich scenery.
---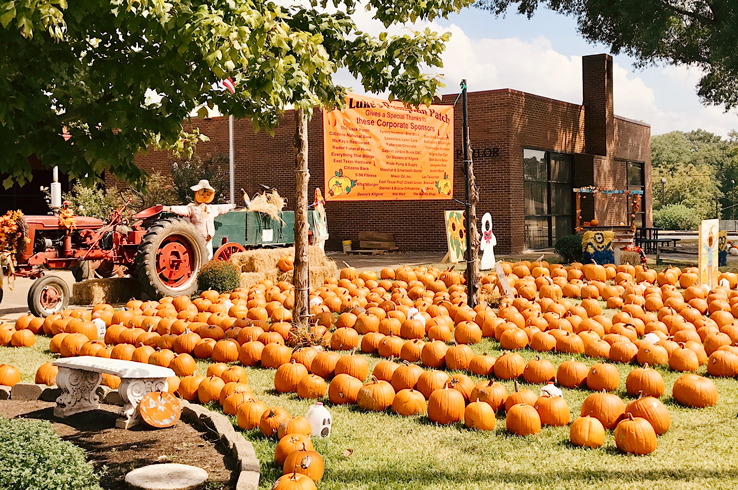 6. Find Your Perfect Pumpkin at St. Luke's Annual Pumpkin Patch
Throughout the month of October, St. Luke's United Methodist Church of Kilgore hosts an annual Pumpkin Patch. This always anticipated community event is more than just a fun place to find your perfect pumpkin.
The festivities begin with the annual arrival of hundreds of bright orange pumpkins in all sizes to the St.
Luke's Activity Lot across from Kilgore City Park. Families can easily drop by to pick up their seasonal pumpkins and explore the free pumpkin maze.
For those looking for more activities, attend their series of free festivities, including movie nights, social gatherings, and pumpkin carving contests. There's even a trunk-or-treat candy giveaway a few days before Halloween, and a Pumpkin 5K run. Although the actual pumpkin costs money, they offer discounts during special events and all proceeds from pumpkin sales benefit local charities.
---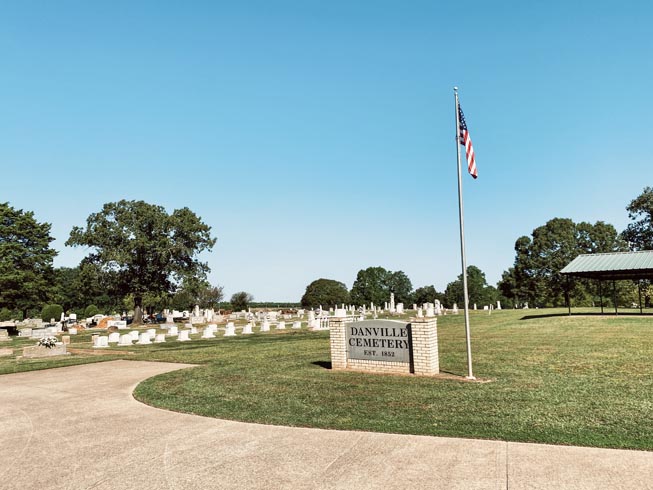 7. Take a Cemetery Tour to Learn about Kilgore's Past
The stories of everyday and well-known East Texas citizens come to life with a visit to Kilgore's cemeteries. Danville Cemetery is a great place to start. Stroll through at your own leisure or take a seasonal group walking tour to find the final resting places of prominent East Texans, including oilman B.A. Skipper, a farmer turned congressman Stephen Slade Barnett, and labor union activist Karen Silkwood.
Seekers of unsolved mystery visit from all around the world to get a glimpse of the most controversial of the deceased, Karen Silkwood.
Silkwood died in a mystifying car accident at age 28 on her way to meet a journalist from The New York Times. Silkwood was an outspoken advocate of safety concerns at the plutonium plant where she worked in Oklahoma. Many conspiracy theorists believe her fatal accident was intentionally orchestrated. Her amazing story was turned into a Hollywood film, portrayed by famous actress Meryl Streep, in the 1983 movie, Silkwood.
Bonus tip: If you plan to visit Kilgore during the month of October, give spooky cemetery hopping a shot. It is a free and fascinating way to celebrate Halloween!
Tour the grounds as you escape into its peaceful, quiet surroundings, and journey back in time to Kilgore's fascinating past.
---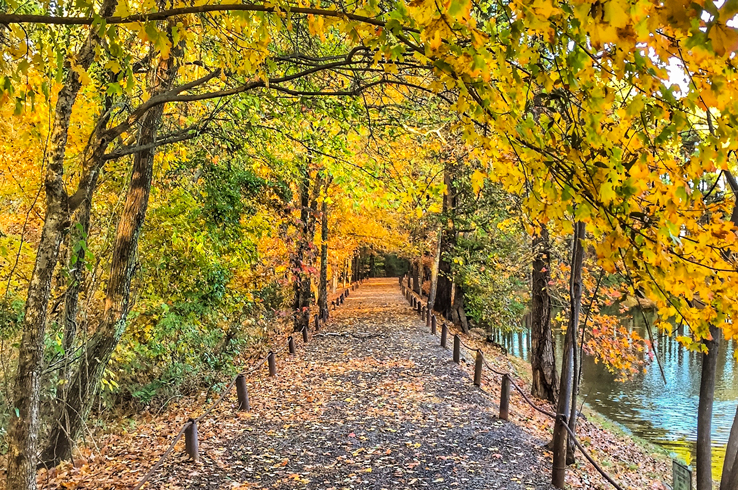 8. Embrace the Serenity of Nature at Synergy Park
Kilgore's picturesque Synergy Park features more than 672 forested acres situated around the beautiful 10-acre Elder Lake. Multiple walking and jogging trails throughout the park provide a satisfying place to exercise while taking in gorgeous views of the lake and landscape.
The park is a well-known location for snapping Instagram-worthy pictures of sunsets, wildlife, and flowers. Spot turtles sunning on logs, or herons and egrets spearing fish as you stand on the overlook, a terrific place to drop a fishing line with the kids. The lake is stocked with largemouth bass, rainbow trout, and other species.
In the fall, an explosion of red, yellow, and orange draws locals and visitors for the autumn leaf change. There's no shortage of scenic spots and viewing areas to stop and appreciate this awe-inspiring phenomenon, the perfect backdrop for holiday photos, family pictures, graduation, and engagement shots.
In the spring, native Texas wildflowers and blooming shrubs boast dazzling displays of color as songbirds chirp and sing while stopping here before migrating north. The park's shaded, wooded paths provide a calming respite from the heat in the summertime. Year-round, it's a magical place to witness a sunrise or sunset.
---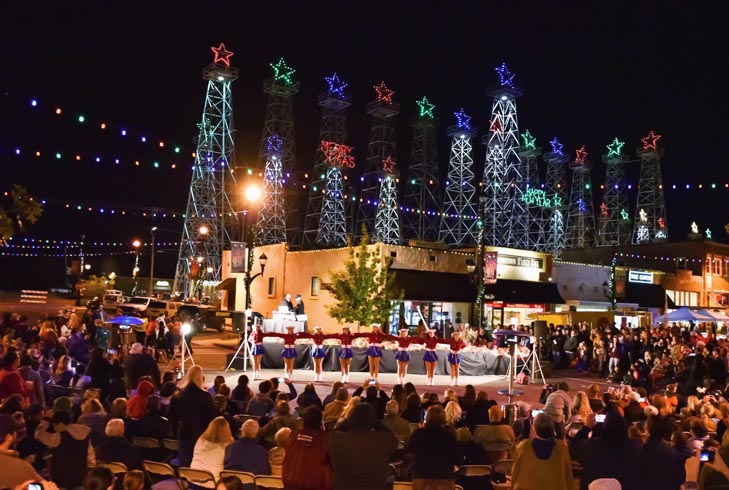 9. See Kilgore Light Up at World's Richest Acre Park
Kilgore's rich and diverse history brings even the most selective, seasoned history buffs to its front door. In the 1930s, a half-block in downtown Kilgore held the greatest concentration of oil wells in the world, ultimately producing more than 2.5 million barrels of oil and earning this site the nickname, "the world's richest acre."
Today, World's Richest Acre Park is a monument to Kilgore's storied oil boom, marked by a row of reconstructed derricks topped with fabricated stars. This prominent park also features brick pathways, a restored pumpjack, and a granite monument to honor pioneer oil families. Delve deeper into Kilgore's oil boom history at the East Texas Oil Museum nearby.
Besides being a hotspot for history enthusiasts, this free park is home to many annual community events designed for visitors near and far. Experience East Texas Oilmen's Chili Cookoff, a charitable event in which dozens of local teams compete for top chili bragging rights, and a Very Derrick Christmas during which the towering derricks and stars are lit for the Christmas season.
Charming, friendly, and loaded with free activities, Kilgore is chock-full of adventures that bring a smile to everyone's face. Find more free things to do, festive events, exciting attractions, and cool places to visit in Kilgore, TX during your trip.
---
About the Author: Alexandra is the head writer and digital content creator for Tour Texas. She is an avid traveler, lover of the arts, and enthusiast of all things Texas!
---
---