---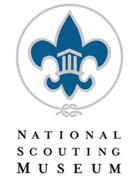 National Scouting Museum
The National Scouting Museum is the official museum of the Boy Scouts of America. It chronicles the collective 100+-year history of the Boy Scouts of America. Its mission is to preserve the legacy of Scouting and promote the movement to future generations.
Size: 53,000 square feet in size, it would take some 3,200,000-merit badges to fully cover the Museum's floor.


National Scouting Museum
Number of artifacts:
Almost 600,000 individual items and artifacts, ranging from paintings to uniforms; to badges; pins and letters, are housed in the Museum.
The oldest artifact:
Papers of Scouting fathers Baden-Powell, James West and Thomas Seaton. The Museum also has the first Eagle Scout badge ever awarded.
The largest artifacts:
A red convertible Geo Storm MTV pace car that was built by an Explorer post sponsored by GM and the largest known Pinewood Derby car, which was laser carved by General Motors for the 75th Anniversary of the Cub Scout program.
The Museum also houses the Norman Rockwell Art Gallery. This fine art collection includes the world's largest collection of original Norman Rockwell Scouting themed paintings. The collection includes the first Scout painting that he created in 1918 as an illustrator for Boy's Life and his last work created in 1976. In all, the Museum has 61 original paintings from the famed American artist.
Museum Experience: This state of the art, award winning Museum features several fun, interactive, hands-on exhibits, activity stations, and adventures including a Laser Shooting Gallery, Game bike adventures, full sized campsites, knot tying stations, animal track identification and cell phone audio tours. The Museum offers weekly Scouting advancement and general interest workshops, and activities.
The 2,500 square foot Grand Lobby is used for temporary exhibits and special events and programs including Eagle Court of Honor Ceremonies. There is a full service Scout Shop, and canteen vending area as well as meeting and event facilities available for rentals.
National Scouting Museum
Hours of Operation:
Monday: 10 a.m. – 7 p.m.
Tuesday – Saturday: 10 a.m. – 5 p.m.
Sunday: 1 – 5 p.m.
Open year-round. Closed Major Holidays.
Admission:
General: $8
Children (4-12): $6
Senior: $6
School/Daycare Group: $5
Scout/Scouter: $ 5
Under 4: FREE
Free admission every Sunday and Monday!
Scout Shop: Full-service Scout shop, including Museum and Norman Rockwell mementos.
For further information, call us at 800-303-3047 or click on the links below to visit our website or send us an email.
Please note prices and times are subject to change.
---
---