---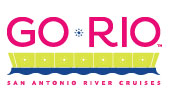 GO RIO River Cruises
Discover the Soul of San Antonio on GO RIO Cruises along the San Antonio River. Just steps below street level, escape into San Antonio's rich history, colorful culture and exciting future!
With a fleet of eco-friendly electric river boats in vibrant colors inspired by Mexican folk art, GO RIO offers an unforgettable experience of the San Antonio River that reflects the sights, wonders and culture of a unique American city. Guests can take guided or specialty tours, chartered excursions or catch a ride on a river shuttle from downtown to the Museum Reach to experience the Soul of San Antonio. All of our barges are ADA accessible for enjoying tours, taxis and charters.
---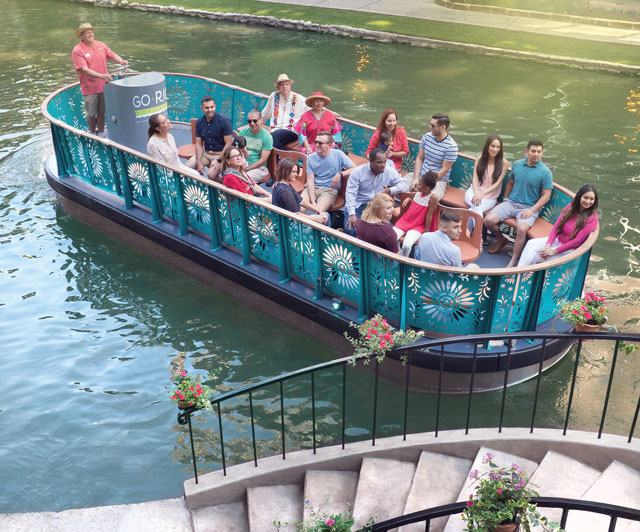 Narrated Tours
GO RIO's 35-minute tour along the San Antonio River will take you on an enchanting journey through San Antonio's rich history, from La Villita, the city's first neighborhood (and where General Santa Santa Anna placed his cannon line in the Battle of the Alamo)… past the Old Mill Crossing where Teddy Roosevelt led his Rough Riders… You'll learn about our city's architecture and points of interest from San Antonio's diverse cultures: German, Mexican, Mexican American and western, such as Selena's Bridge, where Tejano superstar Selena Quintanilla Pérez's husband proposed to her; the Hyatt Regency Hotel, designed so its height would not cast a shadow on the Alamo in the setting sun; and the Briscoe Western Art Museum.
Purchase your narrated tour tickets online today and use them for any public tour that leaves our docks every 15 to 20 minutes. Our narrated tours run daily from 9am until 10pm. (weather permitting)
Adults $12
Local Bexar Resident $10
Children (1-5) $6
Military $9
Senior 60+ $9
---
Buy Tickets Online or on-site at one of our Ticket Booth locations:
Rivercenter Ticket Booth
849 E. River Walk
Historia Ticket Booth
706 River Walk
Aztec Theater Ticket Booth
731 River Walk
---
GO RIO Shuttle Service
Look for the GO RIO Shuttle signs that are located along the River Walk downtown and on the Museum Reach. Boats are labeled with GO RIO Shuttle signs. There are no scheduled pick-ups or drop offs and shuttles will run every 20-30 minutes. Shuttle service begins at 10am. Tickets also available for purchase on the boat or at any GO RIO Ticket booth.
DOWNTOWN REACH
One-way pass $10
One day pass $12
3-day pass $25
MUSEUM REACH
MONTHLY PASS
---
Chartered Tours
Chartered tours are another great way for your group to enjoy the beautiful San Antonio River Walk. Private cruises for up to 40 people can be arranged by calling us at 210-227-GRIO (4746).
---
---