---
San Antonio Botanical Garden
555 Funston
San Antonio, TX 78209
210-536-1400
www.sabot.org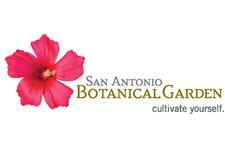 San Antonio Botanical Garden Special Exhibits
Lucile Halsell Conservatory
Designed by Emilio Ambasz, and built by the San Antonio Botanical, the Conservatory opened to the public on February 29, 1988. Plants from desert regions to equatorial rain forests are housed in these individual glass buildings tucked into the earth. These buildings surround a sunken courtyard and tropical lagoon filled with aquatic plants. Specialty collections include epiphytic plants display, desert cacti and succulents, equatorial tropicals, aquatic plants, and more. Each group is housed in its own climate-controlled environment.
Texas Native Trail
San Antonio Botanical Garden

The Texas Native Trail is a unique aspect of the San Antonio Botanical Garden. This area consists of plant communities characteristic of the Hill Country (Edwards Plateau), East Texas Piney Woods and South Texas. These three distinctive and diverse ecological regions of Texas vary in soil, plant life, topography and weather. The authentic botanical setting is enhanced by several early Texas houses, which have been reconstructed on the site to help illustrate and interpret the regional theme.
WaterSaver Lane
Take a stroll on WaterSaver Lane. This area of The Garden is a charming cluster of miniature cottages, with colorful diminutive gardens with blooms that belie their thrifty ways with water.

Each tiny cottage is a different architectural style, complemented by its own "front yard" of attractive water saving plants. You will visit a Cottage Garden, Wildscape Landscapes, Texas Hill Country, Spanish Courtyard, Manicured Xeriscape and a Traditional Landscape. Sponsored by SAWS, WaterSaver Lane is designed to inspire homeowners to create beautiful landscapes that conserve water. Guided Tours of WaterSaver Lane are offered on most first Fridays and third Saturdays of every month at 10:00 am. Please call for details.
Wings of the City
Now through June 5, 2016
The Mexican Consulate in San Antonio is proud to present the "Wings of the City" sculpture exhibit by world-renowned Mexican Artist Jorge Marín. "Wings of the City" is an urban art project that consists of eight monumental sculptures, including the main piece titled "Wings of the City," featuring a pair of bronze wings. The exhibit will be on display at the Botanical Garden from September 9, 2015 – June 5, 2016. "Wings of the City" became part of Mexico's artistic scenery as it made its tour through cities such as Morelia, Tampico, Ciudad Victoria, Saltillo, Torreon, and Campeche among others for over three years. In 2013, the U.S. tour began with Brownsville, Houston, Dallas, Fort Worth, and now San Antonio.
---
---
San Antonio Botanical Garden
555 Funston
San Antonio, TX 78209
210-536-1400
www.sabot.org