---

Texas State Aquarium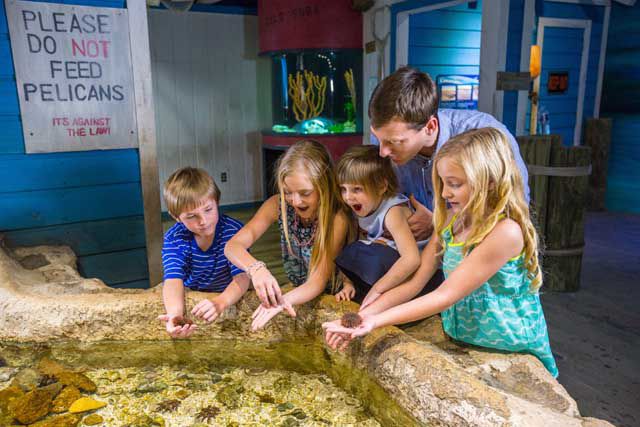 Every visit to the Texas State Aquarium is a chance to make exciting new discoveries and memories to last a lifetime! The Coastal Bend's most popular visitor attraction invites you to travel on an aquatic journey all the way from the shore to the depths of the Gulf of Mexico. Thousands of animals representing over 320 species inhabit naturalistic and educational exhibits.
Get up close and personal with Atlantic bottlenose dolphins from above and below the water in Dolphin Bay and the beautiful H-E-B Underwater Viewing Room. Gaze in awe at the Islands of Steel exhibit, where Sand tiger sharks swim alongside sea turtles and schools of snapper, barracuda, redfish, jacks, and stingrays.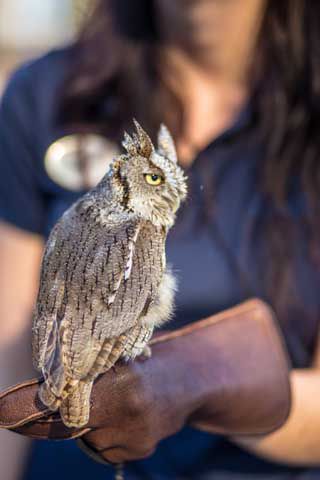 The Texas State Aquarium's Saving Sharks exhibit, where science meets sharks, is full of FINtastic fun! Use the OCEARCH Global Shark Tracker to track sharks live and learn how to help save them, then get inside the jaws of a megalodon, and enter a dive cage to get face-to-face with hammerheads! Next, get up close and personal with horn, epaulette, and bamboo shark species as you touch them and make real connections with these amazing animals.
At the Texas State Aquarium, you will be mesmerized by the aerial antics of a variety of birds through a free-flight performance featuring hawks, owls, falcons, parrots, and other exotic small mammals, such as Kimani the African serval and Sonora the white-nosed coati when you experience the Wild Flight Show in the Hawn Wild Flight Theater.
See a variety of sea turtle species at Tortuga Cay, which provides a sanctuary for rehabilitated, non-releasable sea turtles and allows guests to experience these aquatic reptiles from above and below the water. Watch avian species such as the roseate spoonbill and the white ibis fly over you in our Nearshore exhibit. The Nearshore exhibit is an immersive experience that portrays life at the shoreline, where sand dunes and mangroves meet shallow saltwater habitats that house stingrays, flounder, grouper, and American alligators!
Texas State Aquarium guests can also cool off in H-E-B Splash Park. This zero-depth wetscape water play area features water spray jets, interactive water features, water cannons, and more. The area also features Owen's Paleo Park, a fossil dig site which allows guests to unearth fossilized remains of animals, such as the Giant ground sloth and the Saber toothed cat that roamed the Coastal Bend 13,000 years ago.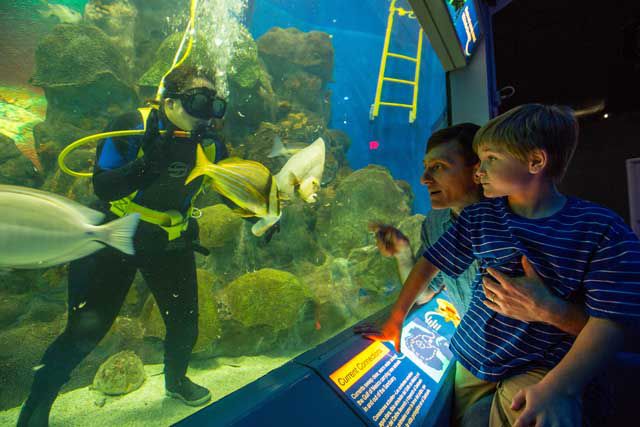 When you pay an admission fee to experience the Texas State Aquarium, you can feel good knowing that those funds go directly to helping us care for and conserve animals in the wild. Our Second Chances Wildlife Rehabilitation Program does just that, rehabilitating hundreds of animals along the Texas coast that have become ill or injured every year, including protected, threatened, or endangered species and, when possible, releasing them back into their natural environment.
Additionally, The Texas State Aquarium funds a variety of conservation-based research projects yearly through our Wildlife Care, Conservation, and Research Fund (WCCR). The Aquarium established the WCCR Fund in 2013 to further its mission of engaging people with animals, inspiring appreciation for our seas, and supporting wildlife conservation. Each year, the Aquarium awards funding to programs that focus on the species and environments in the Gulf of Mexico and the Caribbean that the Aquarium interprets in its exhibits.
Experience daily dive shows, animal feedings, training sessions, and hands-on programs with sharks and stingrays. Relax in our underwater dolphin room or cool off with a treat from our Pepsi Shoreline Grill. With more than a dozen species you can touch every day and so much to "sea" and do, what are you waiting for?
---
---