---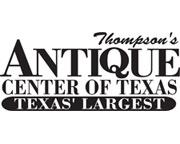 Thompson's Antique Center of Texas in Houston
When it comes to antiquing in the Lone Star State, there's one name that stands above all the rest: Thompson's Antique Center of Texas. With more than 190 dealer spaces covering 108,000 square feet and 17 aisles, Thompson's is the largest Houston antique mall, offering the best selection of vintage items and collectibles from all over the world. Whether you're buying, selling, or just browsing, Thompson's is one of the top antique stores in Houston to find what you're looking for.
Since opening in 1991 as Carolyn Thompson's Antique Center of Texas, Thompson's has established itself as a one-stop spot for art, décor, glass, furniture, collectibles, books, vintage items, and hard-to-find antiques. The Thompson family has over 50 years of experience in antique dealing, and the helpful staff are always more than happy to assist you in finding that perfect piece. Many of the vendors have honed their unique tastes and buying specialties over decades of collecting, and they serve as fabulous resources in buying around a specific theme or style.
Thompson's is open seven days a week and most holidays, closing only on Easter, Thanksgiving, and Christmas Day. Parking is ample and loading help is available, as is layaway if you need to come back when you have a vehicle large enough to carry your newly bought treasure. A range of services, including delivery, on-site porcelain repair and restoration, carpet repair, and jewelry sizing and repair, are offered at Thompson's as well.
For those who want to turn their passion for antiquing into a business, Thompson's invites you to join their network of successful vendors. Whether you're an experienced dealer looking for a new home or a first-time entrepreneur looking to start your own business, Thompson's has a skilled support staff, excellent facilities, and convenient layaway space to help you thrive.
Thompson's is located inside Northwest Mall next to Highway 290, just north of Interstate 10 and the Houston Galleria. The store is accessible from North Post Oak, Hempstead Road, 18th Street, Mangum Road, and the Highway 290 feeder. Stop in today to experience some of the best antique shopping in Houston at Thompson's Antique Center of Texas.
---
---