---
Buckhorn and TX Ranger Museum
Buckhorn Saloon and Texas Ranger Museum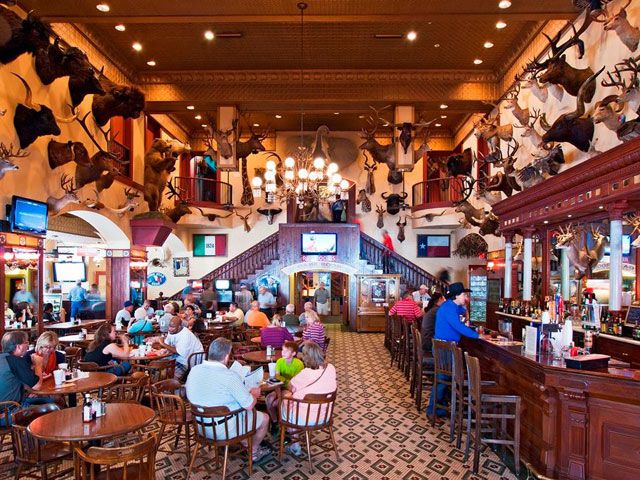 In 1881, just 45 years after the Battle of the Alamo, a 17-year-old bartender named Albert Friedrich decided to open his own watering hole on Main Plaza in San Antonio that he called The Buckhorn Saloon. Upon discovering that some of his guests didn't have the cash to buy drinks, the enterprising young Texan began offering a trade: one shot of whiskey for one set of antlers.
Thus was born The Buckhorn Hall of Horns, a spectacular display that would come to define the saloon as one of the most iconic tourist attractions in San Antonio.Although the saloon has changed hands a few times since its early days, Friedrich's collection has continued to grow.
Today, well over 500 species of wildlife from all over the globe are displayed in the exhibit halls of what is now The Buckhorn Museum, including the legendary 78-point buck Friedrich purchased for $100 in 1890. Many other world record and even pre-historic animals are featured, including a 1,056-pound black marlin and a 10,000-year-old Irish elk.
Friedrich's other innovations at The Buckhorn are still alive and well. Prohibition may be over, but The Buckhorn Cafe - which Friedrich started when he lost the legal ability to serve alcohol - is still serving up delicious lunch fare like Texas barbecue, cheeseburgers, and fresh salads. The Curio Store he launched, also in 1920, lives on as the museum's gift shop, where you'll find Bowie knives, cowboy hats, and many other Texas-themed treasures.
There have been some big changes over the years, though. In 1996, the saloon moved to its current location just two blocks from the Alamo. In addition to the 40,000 square feet of exhibition space, the building offers 8,000 square feet for parties and other private events. It houses an arcade and a shooting gallery, as well. In 2006, The Buckhorn Museum welcomed a new addition: The Texas Ranger Museum. From its authentic artifacts, like guns and badges, to the turn-of-the-century San Antonio exhibit, complete with a blacksmith shop, jail cell, and more, the museum is an excellent extension of the Texas history experience offered at The Buckhorn.
As if all of that weren't unique enough, The Buckhorn Saloon and Texas Ranger Museum is open every day of the year. So there's never a bad time to come have a great time eating, drinking, shooting, and marveling at some of the most spectacular collector's items in the Lone Star State.
---
---
Buckhorn and TX Ranger Museum