---
George Bush Presidential Library & Museum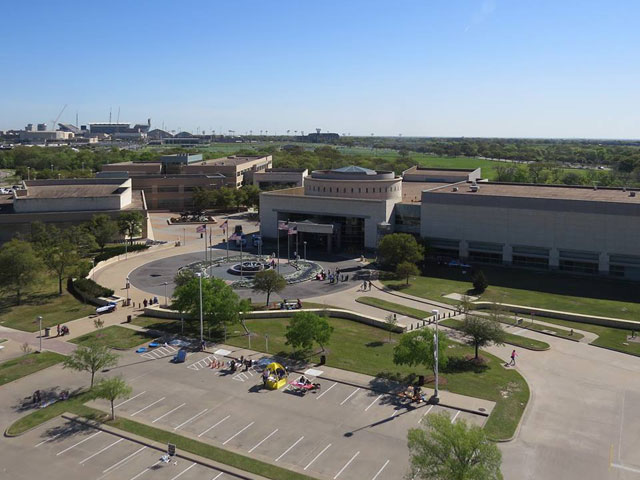 Decorated Navy pilot, congressman, ambassador, Director of the Central Intelligence Agency, Vice President, and President. All of these distinguished titles define the life and career of George H.W. Bush, the 41st President of the United States. Bush's illustrious career spanned a time of trial and tumult in America, starting with World War II and including the conflicts in Korea and Vietnam, the Civil Rights era, and the end of the Cold War.
Experience all of these pivotal moments in history from the perspective of one of the 20th century America's most prominent political figures and public servants at the George Bush Presidential Library & Museum in College Station.
Located on the campus of Texas A&M University, the presidential library and museum showcases a variety of exhibits that demonstrate the challenges and influences that shaped Bush's life and presidency. Your journey starts at the Symbols of the Presidency exhibit, where you can enjoy a look at a presidential limousine, a three-foot-tall crystal Presidential seal, and more. Continue on to learn about the Bush and Pierce families through exhibits of photographs and videos before seeing a restored 1944 TBM Avenger, the kind of plane Bush flew during World War II.
Explore the rest of the museum and you'll see more artifacts, photos, videos, and interactive displays that cover Bush's life in West Texas, his service in Congress, his time as the head of the CIA and Vice President to Ronald Raegan. Bush's journey to the presidency culminates in the Domestic Leadership area of the museum, where you'll read a speech from the teleprompter in the Press Room Theater, sit behind the desk in the Oval Office, and see some of the gifts given by foreign heads of state. Continue on to learn about the contributions of First Lady Barbara Bush and discover what life was like for the Bushes after they left the White House.
In addition to being a museum, the facility also houses a stunning collection of research material that features 43 million pages of official and personal papers, two million photographs, 2,500 hours of video, and about 100,000 objects. These materials are made available for research and display in the museum's permanent and temporary exhibits.
At the end of your tour of the George Bush Presidential Library & Museum, you'll have gained a greater understanding of world events as experienced by one of our nation's leading political figures. As one of the top attractions in College Station, the museum is an essential stop during your stay in this East-Central Texas town.
---
---
George Bush Presidential Library and Museum
1000 George Bush Drive West
College Station, TX 77845
979-691-4000
bushlibrary.tamu.edu/