---

Hemisfair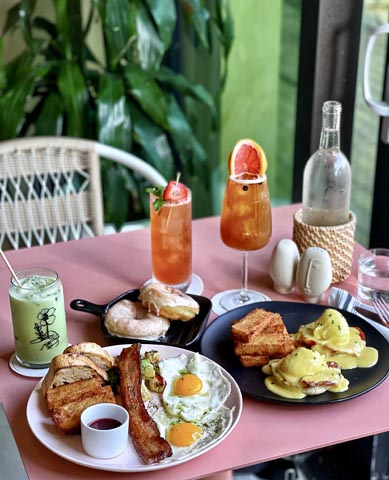 Escape the restless city and take a well-deserved breather at HemisFair in San Antonio, Texas. This natural respite, nestled on the original site of the famous 1968 World's Fair, welcomes visitors with wide open spaces, lush vegetation, comforting amenities, outdoor games, and plenty of public art to explore.
Hemisfair Urban Parks District
Made up of one beautiful and spacious completed public park with two more on the way, iconic Hemisfair is open year-around, completely free to the public, and undoubtably worth taking a trip to San Antonio to explore for yourself.
Yanaguana Garden, Civic Park and Tower Park are these three San Antonio parks, pristinely laid out over 37-acres of land, known collectively as the "Urban Parks District." As an exciting revitalization project in the heart of San Antonio, each environmentally and financially sustainable park caters to a different audience, creating a unique experience for every type of weekend tripper, Texas tourist, and nature lover.
Both children and adults are invited to relax and play in Yanaguana Garden. Designed with kids in mind, round up the littles ones for playtime on the swing sets, playground, games plaza, sand play, and splash pads. Take the whole family to a live theatre performance at Magik Theatre or grab your gym bag and work up a sweat at EnergyX Fitness.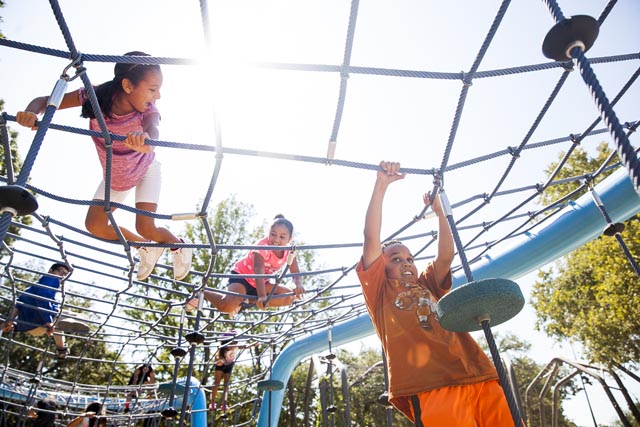 In Civic Park, all ages will enjoy the spacious, 10,000-person capacity Great Lawn, featuring shaded walkways and a large entry plaza. Tower Park is in the works, featuring cultural museums and a 750-foot-tall tower with a spectacular view of the Alamo City. There's so much Hemisfair entertainment to enjoy during your visit.
Throughout the year, be sure to check out their calendar of events from outdoor movies on the grassy lawn and live music in the plaza to fun games like active Mega Chess and scrumptious local food trucks. Everyone is invited to take part in the exciting roundup of public events hosted at Hemisfair Park.
Hemisfair Historic & New Developments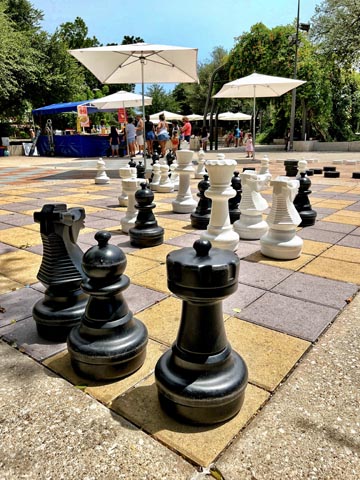 To bring back that neighborhood feeling, the new development for Hemisfair also includes 2000 residential units along with mom-and-pop shopping and dining. Enjoy homegrown local flavor including delish dining, cozy cafes, fine art galleries, and whimsical boutiques.
For the history buffs, 24-designated historic properties have been restored and maintained as new attractions continue to spring up around them. You're invited to peek inside and explore many of these historic properties preserved on the parkland. These memorable, history-rich areas of Hemisfair are designed with seven guiding principles in mind. Connectivity, Development, Green Space, Balance, Preservation, Sustainability, and Leadership. All of which give Hemisfair a special touch, unlike any other Urban Parks District found in San Antonio. If you simply love exclusivity and one-of-kind historic architecture, Hemisfair is a must-see for out-of-towners ready to relax and revive in an idyllic outdoor oasis.
Hemisfair Public Artwork
There's creative eye candy everywhere you turn, too! Hemisfair's art master plan showcases incredibly striking public artworks that beautify the grounds and give Texas artists an opportunity to display their work in an accessible setting.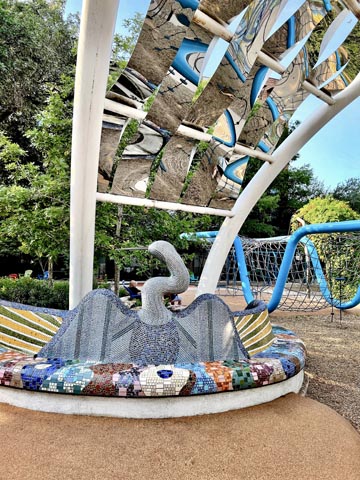 Meander through the larger-than-life abstractions decorated in hand-sculpted mosaics. Sit beneath the sculptural coverings shielding you from the sun. Relax on the remarkable hand-crafted benches giving you a picturesque place to take in the scenery. Yanaguana Garden Park has even created a six-part collaborative art installation bringing together artistry and community to shine a spotlight on the project's initiative.
Hemisfair Sustainable Conservancy
For the true tree huggers, bright and bountiful beautification forms a powerful union with environmentally friendly practices at Hemisfair as well. Organic landscaping and gardening flourish throughout the grounds, with a niche focus on local and drought-resistant plants. Dreamy, fairytale book, hanging gardens cascade atop awnings of airy walkways and fresh, lush greenery sprinkled with colorful pops of floral embellishments accompany your afternoon picnics.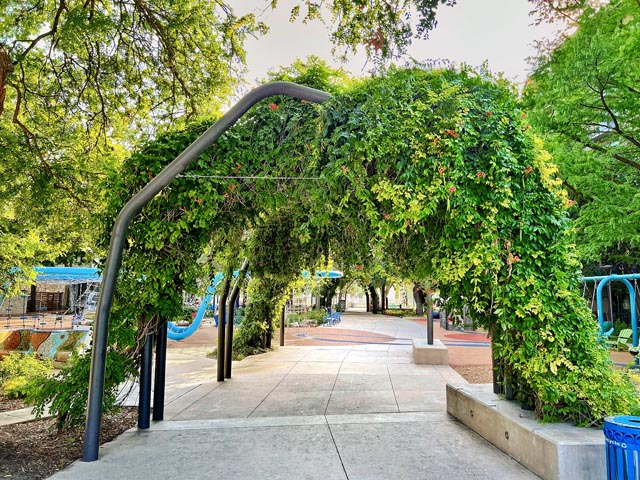 Cultivation of the raw landscape creates a biophilic and holistic approach to sustainable design by using recycled water at Hemisfair. Whenever safe and appropriate, recycled water is used to sustain the park's natural vegetation and plant life. This sustainable park practice potentially adds surplus water to the San Antonio River by including the gathering of stormwater runoff and air conditioning condensate.
As you might have realized already, Hemisfair is doing much more than creating fun and leisure for San Antonio and the visitors ready to escape here! Hemisfair uplifts traditional public parks and recreation design to a whole new level of innovation.
Creative, contemporary, and awe-inspired – Hemisfair astounds all who take a trip to its magical borders. Plan your visit to Hemisfair in San Antonio to experience the blossoming local culture, beautiful outdoor amenities, and thriving scene that flourishes there. Be sure to bring your cameras and your kids along with you for plenty of amazing, Instagram-worthy photo-ops as well. New life has grown in San Antonio and Hemisfair is a breath of fresh air for everyone!
Check out the Hemisfair official website for more details and new developments before planning your next visit to San Antonio, TX.
---
---