---

Holocaust Museum Houston Hours and Ticket Prices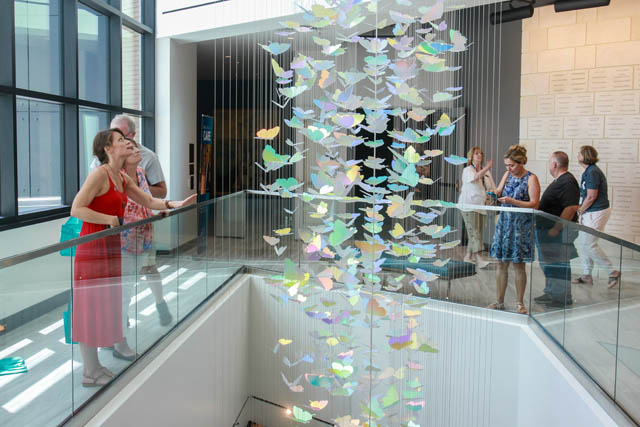 The Holocaust Museum Houston recounts the story of the Holocaust, honors the victims and survivors, and reminds us all of the dangers of prejudice, hatred, and apathy. See a World War II Holocaust railcar of the same type used to transport millions to their deaths, read handwritten letters from the victims, and watch footage taken during this dark time.
These displays help bring the point home that beyond the staggering statistics, there were real people who were victims of the industrialized slaughter of the Holocaust. The architecture of the building itself also contributes to your experience here, and there are many special events and educational programs throughout the year. Visit Holocaust Museum Houston for a greater understanding of the tragedy, as well as a reminder of the importance of resisting the worst in humanity.
---
Holocaust Museum Houston Hours
Monday: Closed
Tuesdays-Saturdays: 10 AM – 5 PM
Sundays: Noon – 5 PM
---
Boniuk Library Hours:
Weekdays: 10 AM – 5 PM
Weekends: Closed
The Holocaust Museum Houston is closed for New Year's Day, Easter Sunday, Rosh Hashanah, Yom Kippur, Thanksgiving Day, and Christmas Day.
---
Holocaust Museum Houston Ticket Prices:
Members: Free
Adults (19+): $19
Ages 0-18: Free
Sr. Citizens (65+): $15
AARP Members: $15 (with valid ID card)
Active-Duty Military: $15
Holocaust Museum Houston is free to everyone each Thursday from 2 PM to 5 PM and on International Holocaust Remembrance Day (Jan. 27), Yom HaShoah, Veterans' Day (Nov. 11 for active-duty military and veterans), and International Human Rights Day (Dec. 10).
---
Docent-led tours are available for groups of 10 to 60 and can be given in English, French, and Spanish. Call visitor services at 713-942-8000, ext. 302 to schedule a group tour.
---
Guided tours are available on Saturdays and Sundays for all visitors. Saturday tours run at 11:30 AM, 12:30 PM, 1:30 PM, 2:30 PM and 3:30 PM, and Sunday tours run at 12:30 PM, 1:30 PM, 2:30 PM and 3:30 PM.
Prices and hours are subject to change. Please check Holocaust Museum Houston's website for up-to-date information before making plans.
---
---

Holocaust Museum Houston
5401 Caroline St.
Houston, TX 77004
713-942-8000
www.hmh.org