---

Lady Bird Johnson Wildflower Center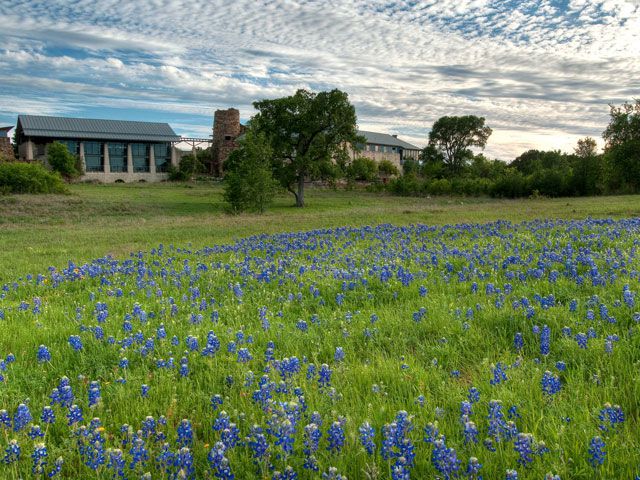 Drive along a Texas highway in the spring and you won't miss it: a profusion of colorful wildflowers decorating the roadside and splashed across meadows and pastures. If you appreciate the natural beauty of plants and flowers in their native habitats, you are sure to enjoy a visit to the Lady Bird Johnson Wildflower Center in Austin, a botanic garden and nature center dedicated to sustainable gardening that highlights wildflowers and plants native to Texas.
Lady Bird Johnson, our nation's First Lady from 1963 to 1969, founded the Wildflower Center in 1982 with Helen Hayes in an effort to conserve and display Texas' native plant life.
The botanic garden full of indigenous Texas plant and wildflower displays, meadows, trees, trails, and recreational areas attracts more than 200,000 visitors annually. Among the many wonderful things to do in Austin, the Wildflower Center is a top-rated attraction that you can't miss. Families, hikers and photographers will find plenty to enjoy about the gardens, which also offer opportunities to discover how versatile and essential native plants are to a healthy and sustainable landscape.
Here are some of the ways you can enjoy your time at the Lady Bird Johnson Wildflower Center:
---
Walk Through the Gardens
Sweeping meadows, lush gardens, and winding nature trails invite you to explore hundreds of species of Texas native plants. The grounds are beautiful year-round, but spring and fall are breathtaking as the landscapes explode with color. Look for butterflies and hummingbirds as you pass water features, such as ponds and streams. Climb to the top of the observation tower for panoramic views of the gardens. Visit the four homeowner inspiration gardens that provide landscaping ideas on how native plants can be used to evoke formal or informal styles in the home garden. Stroll through the expansive savanna of the Mollie Steves Zachry Texas Arboretum, which exhibits centuries-old oaks and other exemplary tree specimens, then sit for a spell on a relaxing tree swing.
---
Let the Kids Go Wild!
The Luci and Ian Family Garden is a natural playground of interactive features for children to explore. This 4.5-acre garden uses native Texas plants, tree stumps and other natural elements to engage families and provide fun ways for kids to connect with nature. They can splash in Dinosaur Creek, wander through the Metamorphosis Maze, search for animals in the Wildlife Blind, read pictographs on cave walls and play in the Stumpery, a unique garden where kids can crawl, climb, hide, hang, and jump on logs.
---
Take a Break
The Wildflower Cafe is the perfect spot for lunch or light refreshments. The cafe's glass walls offer great views of the center's beautiful outdoor courtyard. Later, make time for a stop at the Wildflower Center Gift Store, which offers an extensive selection of garden and plant-related items, from the educational to the whimsical.
Lady Bird Johnson worked passionately to preserve the native plants that are such a crucial part of the state's ecosystems. Her legacy lives on at the Lady Bird Johnson Wildflower Center, a spectacular garden full of the many vibrant colors of Texas.
---
---

Lady Bird Johnson Wildflower Center
4801 La Crosse Ave.
Austin, TX 78739
(512) 232-0100
www.wildflower.org