---
Miller Outdoor Theatre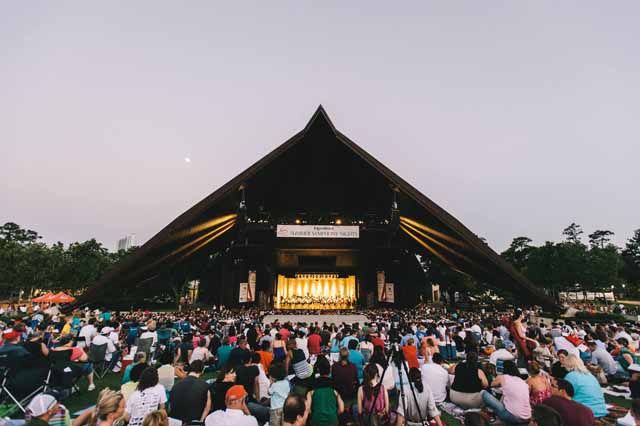 Houston's plethora of world-class theaters and thriving performing arts scene has put it on the country's culture map. While there are many venues that provide a great place to see a play or concert in Houston, one stands out as truly unique.
Take in a first-rate performance while savoring the fresh air at the Miller Outdoor Theatre, a cultural hub located in the heart of the Houston Museum District. Join thousands of locals and visitors for a concert, ballet, film screening, or play at this popular Houston attraction that hosts hundreds of shows each year.
Leave the stilettos at home and grab the flip-flops when you head to this laid-back venue in the Museum District. Your seating choice is up to you. Bring a blanket or lawn chair and a picnic and spread out on the hill overlooking the theater, or visit the Miller Outdoor Theatre Box Office to pick up tickets for assigned seating in the covered (and air-conditioned) area, putting you as close to the action as you can get without being backstage. These free tickets are first-come, first-serve on the day of the performance, with a limit of four per person. Unclaimed seats are released just prior to show time.
When the curtain rises, you can expect a high-quality performance that's always family friendly. Over the years, the Houston outdoor theater has hosted countless plays, from Othello to The Addams Family and everything in between. Performances by the Houston Symphony are an annual summer treat, as are a zydeco festival and a Shakespeare series by the University of Houston. Broadway and Hollywood stars have also appeared here, both live and through the Movies at Miller program. Such favorites as Star Wars, Jaws, Casablanca, and other beloved classics have been screened here. From March through October, the theater also hosts a number of children's musicals, plays, and other productions that are perfect for school trips or special time with Mom and Dad.
Not only are the shows free, parking is too! Park your car in the lot in front of the Houston Zoo, the McGovern Centennial Gardens, the golf course clubhouse at the intersection of Almeda and MacGregor, or the Bayou Parkland Pavilion and you'll be just a short walk from the theater. For a paid but super-convenient way to come, hop aboard the METRORail from any of 16 stations across the downtown area. After exiting at the Hermann Park/Rice U. station, you're just a five-minute stroll from the theater, and you won't have to worry about finding a parking spot.
The culturally diverse Bayou City is loaded with great venues for taking in the arts, but for some of the best free events in Houston, you can't beat the Miller Outdoor Theatre.
---
---