---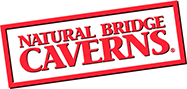 Natural Bridge Caverns in San Antonio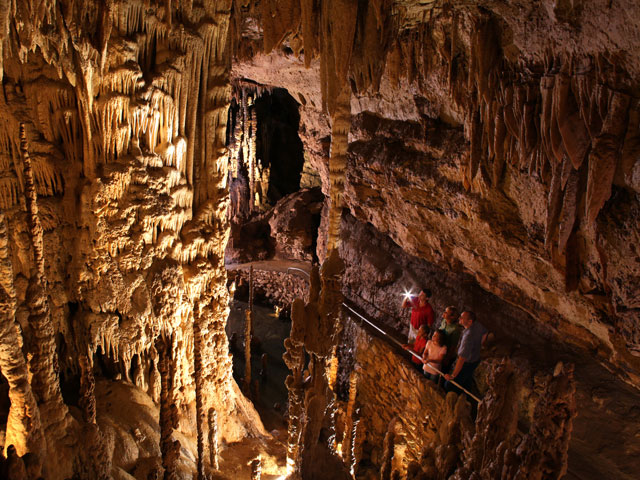 Rediscover the beauty of Natural Bridge Caverns, Texas' LARGEST show cavern and cavern system. For 60 years Natural Bridge Caverns has been educating guests on the natural wonders of this amazing geological find. Discover incredible chambers filled with spectacular and incredible formations formed over tens of thousands of years. Embark on The Discovery Tour as it takes you 180 feet below the surface of the earth. See towering stalactites and stalagmites, beautiful chandeliers, and breathtaking views. Looking for something a bit more intimate, the Hidden Passages Tour features the second caverns system and is a smaller underground chamber. Decorated with soda straws and cave ribbon the unique cavern is filled with some of our most delicate formations; furthermore, it lets you experience what true darkness really feels like. It's where majesty and mystery are combined.
For the more adventurous type, our Adventure Tour lets you take a "Hands On" type of approach to cavern exploration or "spelunking". Exchange concrete walks and handrails for carabiners and headlamps as your experienced guides lead you on a hiking and rappelling tour of the natural caverns just like the first discovery team experienced back 60 years ago. On your three-hour trip, you will crawl over, slide down, squeeze between, and climb these awe-inspiring rock formations for a truly unforgettable experience. No matter what tour experience you choose, you'll be greeted by the 60-foot limestone bridge at the cave's entrance that the caverns were named after.
While there is plenty to keep you busy below ground, the adventure continues with the World's LARGEST outdoor Sky Trail and Sky Rails course called Twisted Trails. Standing six stories high, it features over fifty elements to challenge adults and kids. Seven curved and one straight Sky Rails™ ranging from 82-feet long to 125-feet long were installed as exciting elements within the attraction. This experience is unlike traditional zip lining, which only travels along a straight line, Twisted Trails includes 685-feet of curved rails, including an astonishing 180° curved rail, providing the guest with a soaring roller coaster type experience, at an estimated 8-12 miles per hour. Twisted Trails Tykes is a smaller version of the Twisted Trails course allowing pint-sized adventure seekers, 4-foot tall and under, to experience the adventure of the larger course including a Sky Rail™ dedicated just for them.
Visit the Natural Bridge Mining Company, Texas' LARGEST sluicing activity. Water runs from a wooden water tower through a series of troughs. Pour bags of mining rough in a screen tray and lower your tray into the trough of water. While you sift and shake the tray, flowing water reveals fossils, arrowheads, amethyst, rose quartz, emeralds, and plenty of other gems.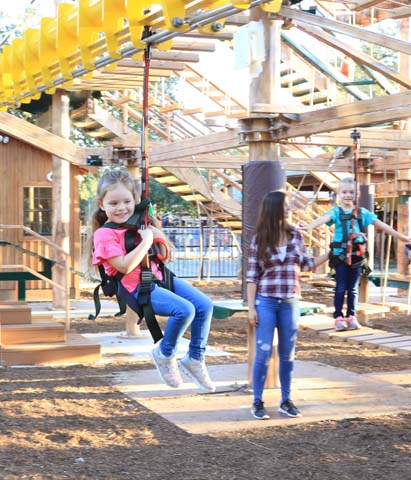 Kids of all ages will enjoy matching wits with the site's 5,000 square foot outdoor maze called the AMAZEn' Ranch Roundup. As any cave-diver knows, spelunking is hard work, so bring your appetite and head to the Cavern Café located in the Visitor Center for burgers, chicken fingers and even fresh pizza, or visit to the old-fashioned general store named Big Daddy's Sweets, Treats and Brew for candy, ice cream, and grown-up beverages. Don't forget to explore the Discovery Village Trading Post before you go. The trading post stocks jewelry, artwork, geodes, fossils, and other souvenirs of your time at this extraordinary place that's truly deep in the heart of Texas.
Natural Bridge Caverns is a designated State Historical Site, National Natural Landmark, and is listed in the National Register of Historic Places. With its astounding beauty and the number of ways to experience it, Natural Bridge Caverns is an attraction in San Antonio that you can't miss during your visit to the Alamo City.
---
---