---
Scarborough Renaissance Festival
2511 FM 66
Waxahachie, TX 75167
972.938.3247
www.srfestival.com
Scarborough Renaissance Festival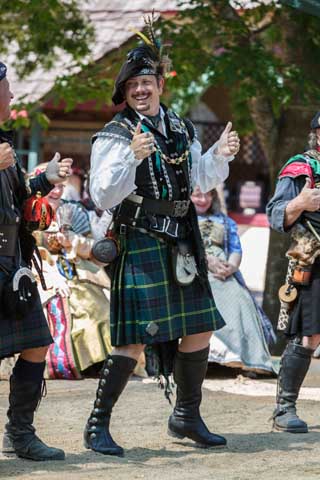 Step back in time to enjoy interactive fun 16th Century style at the annual Scarborough Renaissance Festival in Waxahachie. This nearly two-month-long festival celebrates each weekend with entertainment, food, and artisans. Each Saturday and Sunday from early April through Memorial Day, you'll encounter over-the-top fun like jousting, birds of prey exhibitions, a human chess match, knighting ceremonies, renaissance rides, dances, a petting zoo, and more. With something for everyone, the Scarborough Renaissance Festival provides fun for all ages.
Each weekend, there is non-stop entertainment on 24 stages with the likes of jugglers, comedians, aerial silk performers, sword fighters and more! There are even activities you can participate in like a Dance with the Nobles of Scarborough, do a jig with the villagers to country folk music or be knighted by a member of the Royal Court.
Learn how to make candles and soap, blow glass, and carve stone as you watch the artisan demonstrations throughout the Festival. Then you can stop in at over 200 unique "shoppes" at Scarborough Renaissance Festival! The "shoppes" of Scarborough is a curated collection of unique vendors gathered in one location to create a shopping experience unlike anything in the real world. Check out the jams and relishes at Lady Mcarthur's Fiery Fare, hand-sculpted glass figurines at Raven's Glass, and herbal aromatherapy products at Ye Olde Piquante Apothecary. There's everything from blownglass, jewelry, candles and wood carvings to handmade toys and apparel at this renaissance festival in North Texas.
There are rides and attractions for all ages, as well. Spin along the Carousello and Crow's Nest. Ride atop camels, elephants, ponies, and llamas. Swing on the pirate ship and dragon. Visit the beauties at Mermaid Lagoon, encounter trolls and vampires at the Mythical Monster Museum, and see what prisons of the Dark Ages were like at the Dungeon of Yorkshire Tower. Take aim at the archery station, climb the tower, and dunk a damsel. If you're feeling mighty, roll up your sleeves and try your hand at jousting, star throwing, and shooting a cross bow.
Refuel from a day of play at the many themed kitchens, pubs, and taverns. Enjoy favorites like fish and chips, handmade pastas, shepherd's pie, turkey legs, Canterbury Pork Pockets, and Ye Stuffed Spuds. Of course, there will be sweets like Italian ice, funnel cakes, fresh pastries, cobblers, and crepes. Toast to a great day with friends at one of the 11 pubs and taverns plucked straight from a Shakespeare play.
All of these are truly immersive experiences you won't find anywhere else. Do yourself a favor and take the half-hour drive south of Dallas to the Scarborough Renaissance Festival for an entertaining and enlightening experience like no other. You'll see why this festival has been a north Texas tradition for nearly four decades.
---
---
Scarborough Renaissance Festival
2511 FM 66
Waxahachie, TX 75167
972.938.3247
www.srfestival.com