---
Stark Museum of Art Exhibits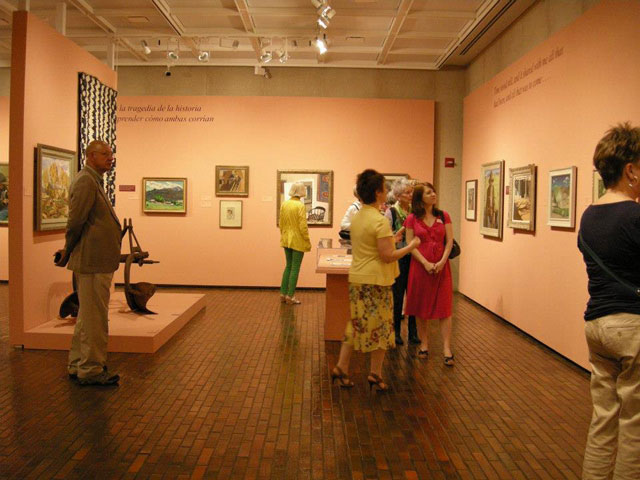 One of the finest collections of Western American art in the United States, rare books and manuscripts, and an astonishing set of engraved glassware are among the exhibits at the Stark Museum of Art.
Nestled in the heart of downtown Orange, the Stark Museum of Art has a variety of exhibits ranging from historic to contemporary that will appeal to just about anyone's tastes.
Continue reading to find out more about the Stark Museum of Art's exhibits and collections so you'll know what to look out for when you visit.
---
American Indian Art
The Stark Museum of Art's American Indian Art exhibit celebrates the artistic accomplishments and cultures of major Native American tribes from across the country, including the Navajo, Pueblo, and Hopi. Handcrafted baskets and clothing, intricately painted pottery, and beautiful rugs and blankets are among the many items in the exhibit. The historic artifacts are joined by numerous pieces of striking blackware pottery made by Maria Martinez, a world-renowned Native American pottery and ceramics artist.
---
Western American Art
View the Wild West though the eyes of American artists as you browse the Stark Museum's Western art collection. Paintings, photographs, prints, and sculptures from the 19th and 20th-century artists Joseph Henry Sharp, W.H. Dunton, Georgia O'Keeffe, and Alexandre Hogue are showcased within this part of the art museum.
---
Decorative Arts
Glass bowls, plaques, and porcelain modeled birds compose the decorative arts exhibit at the Stark Museum of Art. In addition to the deftly crafted glass and porcelain objects, the collection has the only complete set of The United States in Crystal, a series of glass bowls engraved with scenes representing the 50 states, Puerto Rico, and the Union.
---
Rare Books and Manuscripts
Along with the paintings, photographs, and glassware, the Stark Museum of Art has a compendium of rare books and manuscripts. The centerpiece of the collection is The Birds of America by naturalist John James Audubon, a book widely regarded as one of the finest illustrated works of all time. An 1843 edition of A Christmas Tale by Charles Dickens and a copy of Robinson Crusoe from 1719 are among the other texts in the collection.
---
---