---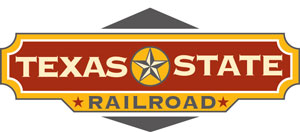 Texas State Railroad Rides and Annual Events
Come aboard the Texas State Railroad, a historic train line that takes passengers on a relaxing trip through the beautiful East Texas Piney Woods. Vintage steam trains wind through dense, green forests, so close you can almost touch the trees, then over bridges and through wide-open vistas.
Texas State Railroad ticket prices shown below are for the Piney Woods Train Excursion. Prices may vary for other special event train rides.
---
Piney Woods Train Excursion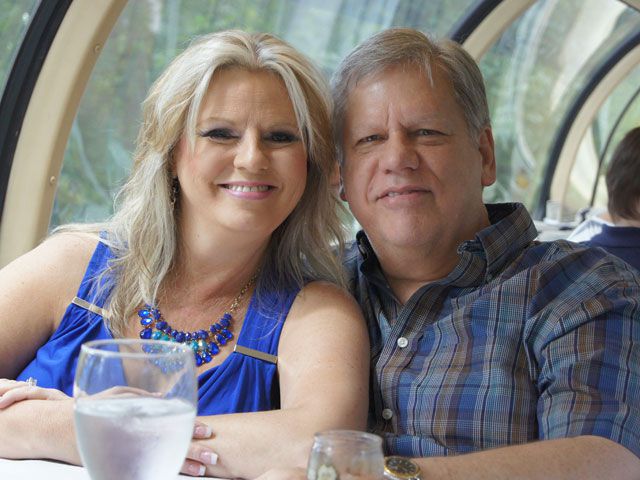 Classes of Service
Fares are for excursions leaving from the Palestine and Rusk depots. Children younger than two ride for free in Standard and Lone Star class.
Premium "Lone Star" Seating
Enjoy climate-controlled comfort, seated at tables in a vintage dining car. Price includes a box lunch, beverage and snack service.
Lone Star Class (Adult-Only Car): Adult $65 | Child N/A
Lone Star Class (Family Car): Adult $65 | Child $40
Standard Seating
There are two standard seating choices; each offers the option of ordering a box lunch for an additional $10 (must order when reserving tickets). Guests are welcome to bring their own lunch, if preferred. Beverages and snacks are available for purchase onboard.
Coach
Ride in comfort on cushy, upholstered seats in an enclosed car. Coach is not climate-controlled but windows can be opened and closed.
Adult (Older than 13): $32 | Child $20

Open Air
Enclosed cars with bench-style seating and open windows offer a great view of the scenery!
Adult (Older than 13): $32 | Child $20
---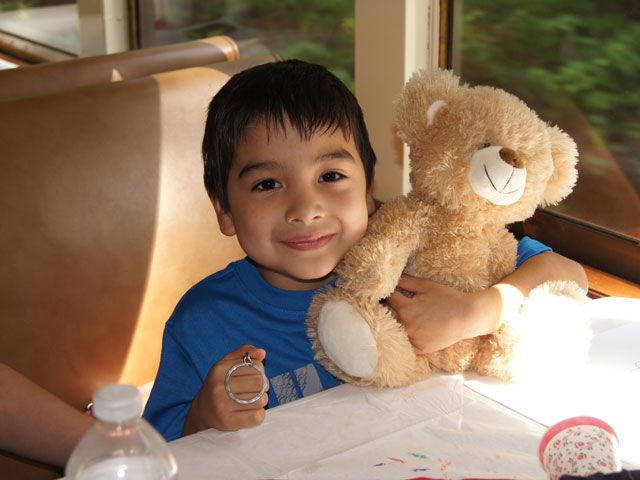 Annual Events
In addition to the regularly-scheduled Piney Woods Excursions, the Texas State Railroad offers several special event train rides throughout the year. Try a brunch or dinner train, a themed ride or a holiday event, including THE POLAR EXPRESS™ Train Ride. Regular premium and standard ticket pricing may not apply to special event trains.
February
Valentine's Dinner Train
What could be more romantic than a delicious meal by candlelight as you and the one you love ride through the gorgeous East Texas countryside? The vintage dining car is decorated for the occasion and passengers receive long-stemmed red roses and heart-shaped boxes of chocolates. Adults older than 18 years only.
March
Dogwood Special Brunch Train
Get a front row seat to this springtime show when the luminous white and pink dogwood blooms light up the East Texas woods. Enjoy a delicious brunch as the radiant blossoms and Piney Woods scenery pass by your window. Last Sunday in March.
April
Easter Egg Express
Take a train ride to meet the Easter Bunny! This springtime event is a family favorite. Kids enjoy an Easter egg hunt, games, food vendors, and much more! Takes place two weekends prior to Easter Sunday.
Steampunk Express: Cogs, Leather, Lace and Steam
The Texas State Railroad puts the "steam" in steampunk with this two-day festival. Grab your corsets and goggles and enjoy a costume contest, photo ops, live entertainment, and three different steampunk-themed train rides:
Wine Tasting & Photo Train
High Tea Train
Victorian Dinner Train
May
Rail Fan Photographers' Special
This two-day event offers both nighttime and daytime photo opportunities. This unique opportunity to photograph the Texas State Railroad's engines at several points along the track, features beautiful Piney Woods scenery and incredible photo ops. A light breakfast and box lunch will be provided. Ages 13 and up. First weekend in May.
Mother's Day Brunch
Treat your mom to a railroad adventure she won't forget. Enjoy a delicious gourmet meal in a vintage dining car while traveling through unforgettable scenery.
Memorial Day Salute to the Armed Forces
Join in the Texas State Railroad's homage to those who have served our country, past and present. Ride the Patriot Train. Current and former military members ride free with ID. Along the way, you'll see WWII reenactments, a flag raising ceremony, living history exhibits and military displays. Memorial Day weekend.
June
Wine in the Pines
It's the perfect way to relax and unwind, sipping delicious wines as the train takes you through the lovely Piney Woods scenery. Whether it's a romantic excursion, a "Girls' Night Out," or just a great night with friends, you're sure to enjoy sampling delicious Texas wines, paired with a selection of cheeses and other small bites. Adults 21 and over. This event also occurs in August.
Father's Day BBQ Train
Your dad is sure to enjoy this rail adventure on his special day. Treat him to a delicious barbecue meal among the Piney Woods in the comfort of a vintage dining car.
June through November
Streamliner Diner
Imagine yourself during the Golden Age of rail travel, riding and dining in style! The Texas State Railroad presents its highest level of service in its vintage dome and dining rail cars. Enjoy a delicious multi-course meal as your train rolls through beautiful East Texas scenery. This popular train ride is available from early June until the beginning of November.
August
The Teddy Bear's Train Ride
The Teddy Bears take over the train ride and your children are invited to join the fun! The ride features teddy bear-themed games, activities, music, and snacks, with a special visit from Boomer Beary, the Texas State Railroad's own teddy. Children younger than 12 years old who bring their teddy bears with them ride for free. Departs on the first Friday in August.
Wine in the Pines
What could be more relaxing than sipping vintage wines on a vintage train? Enjoy a lovely Friday evening ride through the beautiful Piney Woods while sampling delicious wines made in Texas, paired with a selection of cheeses and other small bites. Adults 21 and over. This event also occurs in June.
September
Pints in the Pines
Raise a pint with friends as this special ride takes you on a fun trip through the East Texas woods. Live entertainment sets the mood as you sample eight different Texas-brewed beers and a tantalizing selection of appetizers. Adults 21 and over.
October
Pumpkin Patch Express
Enjoy Trick or Treat Street! Plus children (aged two to 12) can pick out their own pumpkin from the pumpkin patch, have fun on a hayride, play games, and enjoy live entertainment. Costumes are encouraged for all kids (and grown-ups, too!) Weekends in October.
November
Fall Foliage Brunch Train
The East Texas Piney Woods are always beautiful, but in autumn, the forest puts on a dazzling show in hues of red, orange, and yellow. See this colorful display as you enjoy a delicious brunch in a charming vintage dining car. First Sunday in November.
Mid-November through December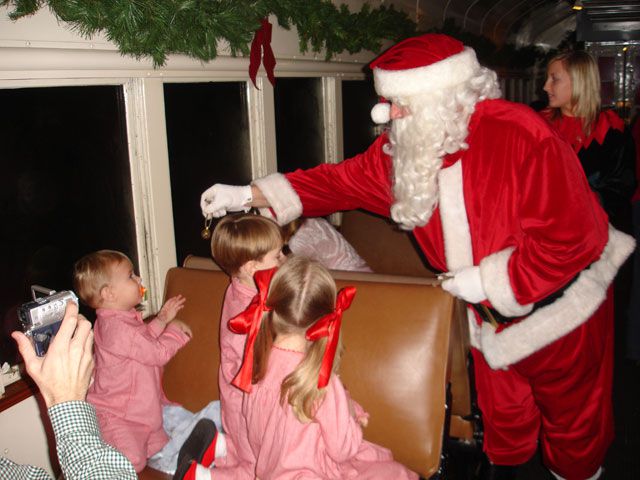 THE POLAR EXPRESS™ Train Ride
All aboard for a magical journey to the North Pole! Based on the hit movie and award-winning book, the ride brings the story to life with dancing chefs, caroling, and delicious hot chocolate and cookies served to children in their pajamas. Your destination: the North Pole, where thousands of lights illuminate Santa's workshop. Santa boards the train and presents each child with a gift and a shiny silver bell, just like in the story. Children may then tell Santa their Christmas wishes and get a photo taken with him. THE POLAR EXPRESS™ Train Ride is the Texas State Railroad's most popular event; many families have made it an annual Christmas tradition. If you want to go on this ride, be sure to plan in advance.
Prices and dates are subject to change. Please check the Texas State Railroad's website for up-to-date information on rates and schedules before making plans.
---
---