---
The Grand 1894 Opera House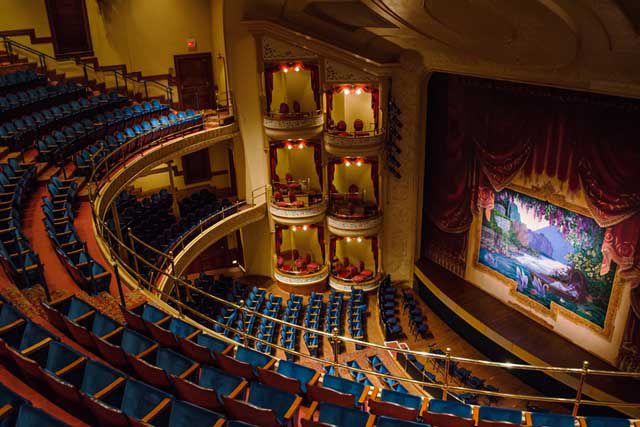 World-class concerts, dramatic theater productions, Broadway hits, holiday-themed specials, and unforgettable performances make up the year-round programming at The Grand 1894 Opera House, a premier entertainment venue in Galveston's historic downtown Cultural Arts District.
Since it opened its doors in 1895, the theater has hosted some of the world's greatest entertainers, including Anna Pavlova, Carole Burnett, Ray Charles, and Willie Nelson. This tradition is alive and well today, which is why the theater was designated as "The Official Opera House of Texas" by the 73rd Legislature, and one of the must-see attractions in Galveston.
Step in to this historic Galveston theater and you'll feel as if you have been transported to the past. A grand wooden stage stands at the front of a three-tiered auditorium framed by private boxes and walls decorated with intricate patterns similar to those found in great opera houses around the world. The stately interior décor showcases the opera house's long history as a top-tier performing arts venue. Over the years, it has survived three hurricanes, including the infamous 1900 storm and Hurricane Ike in 2008, and was restored each time by the people of Galveston.
The Grand 1894 Opera House hosts performances throughout the year, with its main performing arts season starting in mid-September and ending in May. Although each season is different, most include concerts by internationally renowned musicians across a variety of genres, shows by stand-up comedians, stars of stage and screen, Broadway hits, theatrical plays and more. If you happen to be in Galveston in the summer and want to catch a show, don't worry. The Grand presents a summer season from June through August, so you don't have to go without high-quality entertainment if you're in Galveston for a summertime beach vacation.
A full schedule of upcoming shows is available on the theater's website, so make sure to check that while you're planning your trip to Galveston. You can even save some time by purchasing tickets through the online box office. After the show, grab a drink or a bite to eat at one of the bars and restaurants in the Galveston's Cultural Arts District that are just a short walk away.
Let your imagination run wild at this one-of-a-kind Galveston theater. As they say, all the world is a stage and the possibilities are endless at The Grand 1894 Opera House.
---
---