---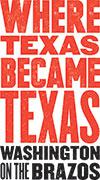 Washington on the Brazos
Located on 293 acres of lush park land, the picturesque Washington on the Brazos State Historic Site gives visitors unique insights into the lives and times of the 59 delegates who met there on March 2, 1836 to make a formal declaration of independence from Mexico. Washington on the Brazos truly is "Where Texas Became Texas."
Washington on the Brazos State Historic Site (WOB) has many onsite amenities open daily, and an active schedule of events. On the grounds of this TPWD state park is the Star of the Republic Museum (collections honoring the history, cultures, diversity and values of early Texans; administered by Blinn College); Independence Hall (the site in 1836 where representatives met to write the declaration of independence); and Barrington Living History Farm (where interpreters dress, talk, work and farm as the earliest residents of the original farmstead did). Its Visitor Center features interactive exhibits about the Texas Revolution and the site's historic attractions. The Gift Shop offers snacks and Texas-themed items. Parking, entrance to the park grounds and Visitor Center are always free.
With an ever-changing array of flowers, butterflies and birds, WOB has much to offer nature lovers, artists, photographers and families. The expansive park grounds, playground, amphitheater, pavilions, meeting rooms and facilities provide a beautiful setting for weddings, reunions, conferences and other events.
H-E-B presents Fireworks on the Brazos--the annual 4th of July celebration at WOB--from 10 a.m. to 10 p.m. on Saturday, July 4; highlights include free concert by Cody Bryan Band from 7 to 9 p.m., followed by a fireworks extravaganza with patriotic music.
Support Texas heritage by joining the Washington on the Brazos State Park Association, an organization dedicated to supporting and facilitating preservation projects, celebrations and educational programming at WOB. Individual, family and corporate memberships available.
---
---