---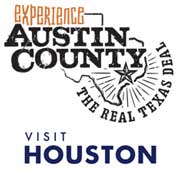 Austin County
The Real Texas Deal
Austin County includes these communities: Sealy, Bellville, Bleiblerville, Brazos Country, Cat Spring, Frydek, Industry, Kenney, New Ulm, Shelby, San Felipe, Wesley, Wallis and Welcome. And you'll find interesting things in all.
Rich Texas Heritage
Austin County, with its rich historical and agricultural background, presents a unique and inspiring view to visitors. Our rolling hills and picturesque farm settings can be breathtaking, and on closer inspection the farm houses and commercial buildings give an impression of the tenacious pioneer spirit that the first settlers brought to this once wild land. Besides many rich historic-based places to visit such as the San Felipe de Austin State Historic Site, we just naturally have lots of interesting things to see and do. Real Texas things.
Close enough to the hustle and bustle of everyday life to get to, yet far enough to get away from it all, Austin County is ideally-located less than an hour from Houston, and a mere two hours from San Antonio.
Austin County includes these communities: Sealy, Bellville, Bleiblerville, Brazos Country, Cat Spring, Frydek, Industry, Kenney, New Ulm, Shelby, San Felipe, Wesley, Wallis and Welcome. And you'll find interesting things in all.
San Felipe de Austin State Historic Site, The Colonial Capital of Texas
Learn about the early history of San Felipe "The Cradle of Texas Liberty" at the San Felipe de Austin State Historical Site. The site preserves a portion of the townsite of San Felipe de Austin that served as the colonial capital of Texas. Visitors also explore the life of Stephen F. Austin, the "Father of Texas," and his impact on the settlement and independence of Texas. On a picturesque bluff overlooking the Brazos River, the story of Austin and the pioneers that followed him to Texas is told through statues, monuments, historical markers, a replica cabin and exhibits in the Josey Store Museum. The park is open daily with no admission fee.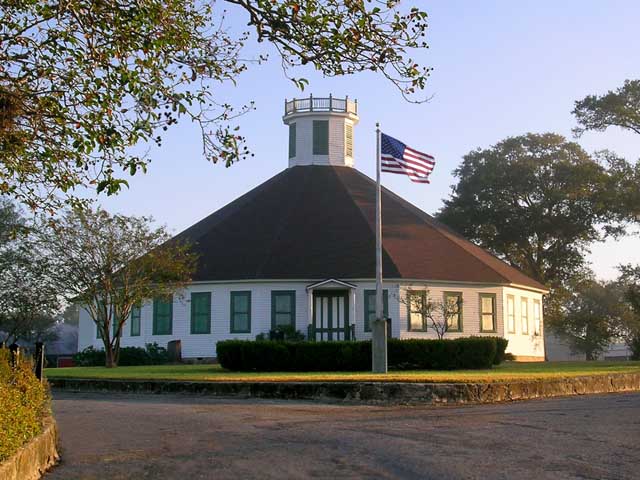 The Josey Store Visitor Center - The last store erected in San Felipe de Austin was constructed in 1847 by John Crutcher and was in continuous operation for the next 95 years. Dr. J.J. Josey bought the building and contents in 1867 and operated the general store until 1880 when the building was moved about one mile south. The store remained in operation until 1942. The store now serves as the Visitors Center for the San Felipe de Austin State Historic Site.
Stephen F. Austin State Park is nestled on the banks of the Brazos River and provides opportunities to get up close to nature. This quiet and peaceful park, located just 30 minutes from the outskirts of Houston, is a nice escape from busy city life. Various species of flora & fauna call the park home and many are visible with just a car ride through the park. Activities include picnicking, camping, fishing, hiking, and nature and historical tours.
---
Historic Buildings, Historic Downtown Districts and historic Homes
Guardian Angel Catholic Church - One of the last Painted Churches built in Texas, construction was completed in 1915. It is believed to be one of the oldest and largest solid wood structures of its type in Texas. This Gothic Style church was designed by architect Leo Dielman of San Antonio and was built by Jan Bujnoch of Wallis with the help of parishioners who volunteered their carpenter skills. The interior is newly painted artistically while keeping the ornate altars as close as possible to the original design. The leaded, stained glass windows were created in Italy and there are three brass bells in the tower.
Haynes Mattress Factory - Daniel Haynes moved to Sealy in 1882 and entered the mattress business in 1885. His best-known patent developed in 1889 was known as the "World Famous Sealy Mattress®". This factory, built in 1909, still contains machinery & equipment as it did in the early 1900's. Shown by appointment only. (Donation)
Santa Fe Park Museum - Artifacts from the early days of Sealy and Austin County are displayed, including a caboose and early maintainer. Shown by appointment only. (Donation)
Preibisch Building - In 1885 German immigrant Adolph H. Preibisch and his wife Emilie hired brick mason John Colleton to construct this commercial building which features arched window and door openings and corbelled brickwork. Colleton's brickyard was in nearby Bellville where he fired bricks from Brazos River clay. On a prominent corner lot, the building first housed Preibisch's own store. Later tenants included a saloon known as "My Place" which served as a setting for several motion picture films and advertisements. Currently houses the Saddleback Saloon.
The Cumings Family Vault - Rebecca Cumings and her three brothers, James, John and William came here from Virginia in 1821. As members of Stephen Austin's "Old 300" colony, they received 20,000 acres in return for the construction and operation of a mill on a nearby creek (Mill Creek). Legend has it that Rebecca was the sweetheart of William Barrett Travis, who died at the Alamo. Fifteen members of the Cumings family are buried in this vault.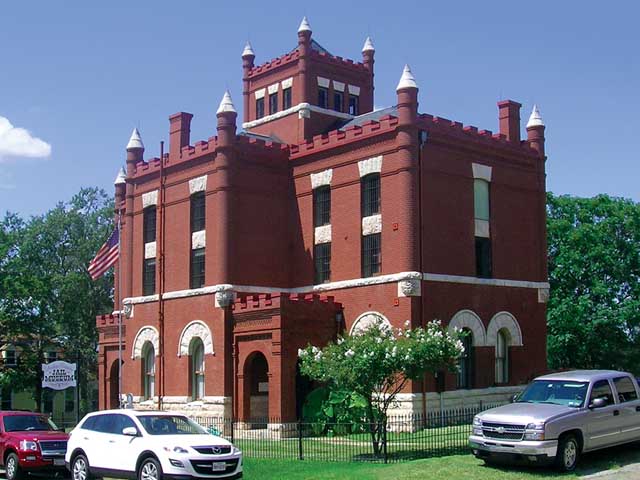 Austin County Jail Museum - A fascinating tour of the "old" jail with tales of sheriff's quarters, hangings and more. Built in1896 it served as both living quarters on the left side and a jail on the right. The building was constructed with a space on the small fourth floor for a gallows used only once. The jail was used until 1982. A must-see in Austin County.
---
Turnverein Pavilion & other historic Dance Halls
Central Texas is known for its historic dance halls and Austin County has some of the finest. The Bellville Turnverein pavilion, built in 1897 by local contractor Joachim Hintz, is one of several polygonal social halls built in Austin County during this era.
The E.O. Finn Building and the Blacksmith Shop
This vernacular ltalianate building was built in 1896 by E. Oscar Finn and John Colleton. Stucco was applied over the brick, and patterned to simulate stones. Double doors on the side allowed entry for carriages & buggies to the first floor showroom. The second floor was the living quarters for the Finn family. A wooden balcony is suspended by iron hangers around all four walls. A well inside the building and an inside cistern piped rainwater to the bathtub, sink and commode, quite modern for it's day.
Cowboy Blacksmith Shop next door, was built in the mid-1800's but still with original flooring (part brick, part wood) and original rings for pulleys, it's still in use today by Phenix Knives where you can watch a professional blacksmith practice his trade. Cowboy has been featured on television due to his expertise working with metal and historic tools of the trade.
Liedertafel Hall in Sealy was built in 1914 by a German singing society on land donated by the Lux and Kinkler families for the purpose of a gathering place for plays, concerts, and dancing. The Cat Spring Agricultural Hall, Peters Hall, Milheim Hall and others round out the scene.
Early Republic of Texas Post Office at Industry - The historic Industry Post Office is located in Industry, the earliest German settlement in Texas, in an incredibly serene park setting. Industry is also home to a cotton gin.
Historical Homes Tour - Take a trip back to the past, enjoying the architecture of days gone by. Architect Alfred C. Finn, born in Bellville, became the most prominent architect in the boom years of Houston. Several homes in Bellville and Sealy bear his signature as architect. As the protege of one of the most important developers of Houston, Finn designed many of Houston's landmarks such as the Rice Hotel, Hermann Hospital, and the San Jacinto Battleground monument.
---
Antiques, Collectibles, Gifts & Boutiques Shopping
You'll find numerous shops across the county including antiques & collectables, specialty gift shops and boutiques of all sorts. Looking for western wear and the latest young gal's Texas fashions…yep, we've got you covered. And if your passion is antiques, the antique shows at Kenney & Shelby are a part of one of the largest antique shows in the country, the Antiques Week/Round Top Antiques Fair. Round Top is only 8 miles from Shelby. Over a week of antique shows at different locations combined to make over a week of shopping.
---
New Ulm Art Festival
The New Ulm Art Festival is in late April with incredible art, crafts, food & music.
---
Scenic Wildflower Drives
In the spring and colorful foliage in the fall. The bluebonnets are better starting in Austin County. Head this way to drive by fields of the state flower, stopping to take pictures in a blanket of blue. Relax and enjoy the fresh open spaces.
---
Cattle Ranches & World-class Horse Farms
Our area of Texas is home to some of the finest horse breeders in the country. So if you're a horse lover, you're in luck. We like our horses, and we love to share them with others.
Bluebonnet Farms - American Saddle Bred Horses maintains a large number of horses and opens up the farm for a tour of the barn and a workout of the horses. (horses are sometimes at various competitions). By appointment only. Contact Sandy Currier at 979-865-5051
Rancho Texcellente IXL - Paso Finos, Saddlebreds, Miniatures, Warm Bloods, Reining, Green Colt Breaking Clinic, Alpacas and Miniature Donkeys, Olympic Dressage and more. The horses travel all over the US to compete in shows. The ranch has regular workouts in a covered arena with spectators seating for approx. 75-100 visitors. Shown by appointment only.
Texas Ranch Life - An 1800-acre working cattle ranch and bed & breakfast with eight restored historic homes dating to 1850's along with 1910 wedding chapel. Open range horseback riding, longhorn cattle works available for the true working ranch experience.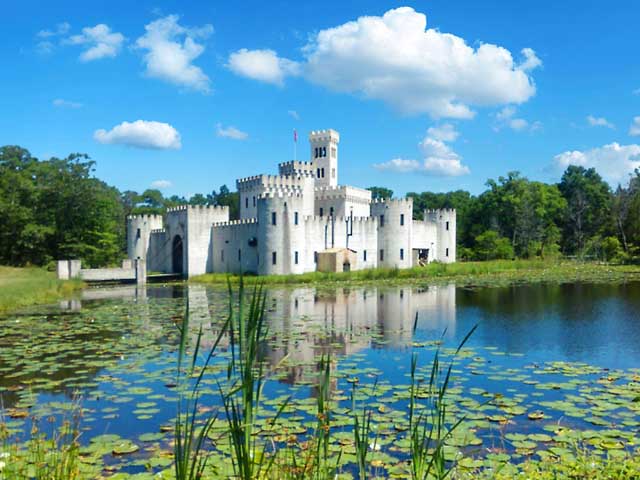 Newman's Castle - An authentic castle in the country, built-by-hand by the owner Mike Newman, a local bakery owner. With a proper moat and working drawbridge, this is a must-see! Available by appointment for tours, private parties, mystery dinners and more.
---
Motorsports
Our area if brimming with car people. Many antiques, classics & muscle cars are just a twist of a key from being out of their garages and cruising to area car shows such as the Classic Car Stampede the first Saturday in March, "Off The Rail" Summer Street Dance & Cruise-In in May, Wallis Fine Rides Autofest in October, and more. And with lots of scenic country back roads to cruise your classic rod or favorite bike, you're sure to enjoy the road trip here.
If the excitement, sights & sounds of internal combustion engines really gets your blood pumping, a trip to Lonestar Motorsports Park could be for you. An IHRA sanctioned drag strip, and home of Hennessey Performance Engineering, Lonestar is just outside Sealy on I-10.
Virnau's Antique Car Collection is an extensive collection of very fine antique cars and farm implements. Shown by appointment only. (Donation)
---
Live Music in abundance...
at The Kenney Store, Saddleback Saloon, Cochran Store, Kathy's Korner and more! The Kenney Store is an old-time country store, where the comfort food is delicious & plentiful and the music will have you tapping your toes to local talent and popular artists. Plus, our annual music events such as the Austin County Fair, Summer Music Fest, Sealybration, Off The Rail Street Dance & Cruise-In, Rock the Square, and the Bluegrass Music Festival.
---
Area Vineyards & Wineries
Surprising to most, Austin County is home to several growing vineyards. Texas has become the fifth largest wine-producing state in the nation, and Austin County is doing its part to help spread this romantic industry. You can tour the Yellow Brick Road Winery, one of our locals, that has an Academy-Award composer performing to enhance the experience to a whole new level.
---
Huff Brewery
Huff Brewery is a local craft brewery start up with all that craft beer can be.
---
Of course there's Scrumptious Food!
Besides Barbeque around each corner, you'll find much more, including everything from a Fish Fry at Cross Roads Tavern to New Orleans Food & live entertainment at Kathy's Korner. Texas comfort food at The Kenney Store to fine dining at Carol's at Cat Spring. There's something for everyone, So come hungry!
---
Incredible Bird Watching
San Felipe and the Stephen F. Austin State Park has some of the most breathtaking birds in North America as abundant visitors, including the Painted Bunting.
---
---