---
Glen Rose Somervell County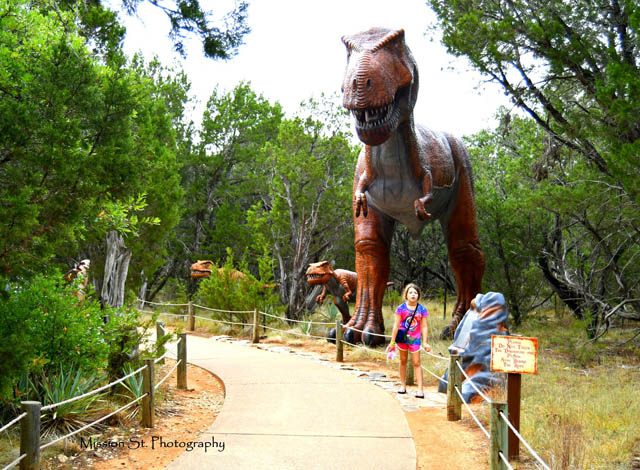 Glen Rose is a quaint north-central Texas town that offers the ancient and the contemporary in equally compelling measure. Millions of years ago, herds of massive dinosaurs roamed the terrain around town, leaving hundreds of tracks that are still visible to this day. The sheer number of tracks is part of why Glen Rose is known as the Dinosaur Capital of Texas, but this charming town has much more to offer than dinosaur footprints. It sits among rolling hills and dense oak forests near the intersection of the pristine Paluxy and Brazos rivers.
In town, you'll find great shopping and unique restaurants in the town's courthouse square, anchored by the spectacular and historic Somervell County Courthouse. There's much to see and do in Glen Rose, and its location just 60 miles southwest of Fort Worth makes it as convenient as it is alluring. Whether you're looking for outdoor adventure or some fun for the whole family, you'll find it in Glen Rose.
The area in present-day Glen Rose was first settled in 1849 when two brothers, Charles Barnard and George Barnard, opened a trading post. About 10 years later, George Barnard built a flour and grist mill on the north bank of the Paluxy River, a structure that today is known as Barnard's Mill and Art Museum. In 1875, Glen Rose was named as the seat of Somervell County, and the ornate courthouse that stands to this day was built in the 1890s. Much of the history of Glen Rose and Somervell County is retold at the Somervell County Museum, nestled right in the town square.
Of course, the history of the lands around Glen Rose go back much further than the 19th century. The best place to see one of the densest concentrations of dinosaur tracks in Texas is the Dinosaur Valley State Park. This scenic area has four major track sites, as well as 20 miles of hiking and biking trails and access to the Paluxy River for fishing and swimming. For more dinosaur-related fun, head to Dinosaur World Texas, a 20-acre theme park that includes a prehistoric museum and 150 life-size animatronic dinosaurs. Glen Rose is also home to the Creation Evidence Museum of Texas, which features dinosaur fossils, a recreation of Noah's Ark, and exhibits that support Biblical creation.
Hungry? Glen Rose is a foodie's paradise. There are no big chain restaurants or fast-food joints in town—just an eclectic mix of local places serving up amazing fare. It doesn't matter if you're in the mood for a juicy burger, BBQ, or Italian—there's something here that will satisfy your cravings. And if you're looking for a sweet treat, look no further than our historic square where you can indulge in local wine, homemade pie, towering ice cream sundaes, and more!
Glen Rose has plenty of things to do that aren't directly related to dinosaurs. Relive the life of Jesus Christ at The Promise in Glen Rose, a musical production that includes a 150-person cast and crew, mesmerizing special effects, and live animals. Shows are held at The Promise's amphitheater, the largest permanent structure of its kind in Texas, April through May and September through October. Play a round at the Squaw Valley Golf Club, one of the top public golf courses in Texas, rent a canoe and paddle the Paluxy and Brazos rivers, or take your mountain bike to the thrilling trails at Solavaca Ranch. Finally, embark on a Texan-style wildlife safari at Fossil Rim Wildlife Center, where you'll see giraffes, zebras, rhinoceroses, and other exotic animals.
Walk in the footsteps of ancient dinosaurs, experience one of the grandest Christian musicals in Texas, or simply enjoy the natural beauty of north central Texas. Do all of this, and more, in Glen Rose, a must-visit Texas vacation destination.
---
---
Glen Rose Somervell County
100 NE Barnard St.
Glen Rose, TX 76043
(254) 897-3081
ExploreGlenRose.org