---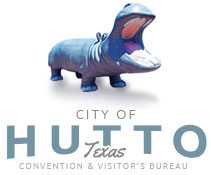 Things To Do in Hutto
Gallop through stunning meadows. Conquer one of the best golf courses in Texas. Watch future baseball stars hone their craft. Travel to Hutto, Texas, and you can do it all. Hutto is a small town located on the northeastern fringe of the Austin-Round Rock area that offers a bit of something for everyone. To help you discover what this place has to offer, we've put together a list of some of the top things to do in Hutto while you're in town.
---
Hutto's heart lies in its historic Old Town area, where you'll find quirky independent shops and restaurants housed within colorful arcade-style buildings. Old Town is situated along East Street on both sides of Farley Street in north central Hutto, an easily accessed area just off of Highway 79. Stroll along East Street and you'll pass a one-of-a-kind candy store, a unique gift shop, a cafe and pie shop, a restaurant and bar, and a statue of Henrietta the Hippo. If you're here at the right time of the year, you'll also encounter one of Hutto's many music festivals, held just down the street from the Old Town area. Whether you're a fan of window shopping or you're searching for something delicious to munch on, you'll find exactly what you're looking for in Old Town Hutto.
---
Go on a Self-Guided Hippo Hunt
Have you spotted any of Hutto's famous hippos in their natural habitats? The Dalmatian species is known to frequent Hutto Fire Rescue. The zebra breed resides near Hutto Middle School. The camouflage water horse is at City Hall! Nearly every nook and cranny of the community boasts a unique hippo of their very own. You can see all of the colorful varieties featured at Hutto businesses, schools and city facilities with the City of Hutto's Self-Paced Hippo Tour. If you're ready for the hunt, simply follow the map located at www.visithutto.com/hippotour, and you're on your way. Check back often as new hippos will be added frequently.
---
Go Horseback Riding
The Texas Hill Country is renowned for its breathtaking beauty, and there are plenty of ways to see and experience it. In Hutto, one of the best ways to do so is by riding a scenic trail on horseback, and you can do just that with Maverick Horseback Riding. Step into the saddle and you'll ride your way over gently rolling hills and through oak thickets and picturesque pastures. Maverick Horseback Riding offers tours that range from 45 minutes to nearly three hours, giving you the chance to enjoy the experience for as long as you like. Skilled riders may find the longer rides more to their liking, but each tour is open to even the least-experienced equestrians. If you're looking to go horseback riding in the Austin area, then this tour in Hutto is a must-do.
---
Play a Round of Golf at One of Texas' Best Courses
There's more than one way to enjoy Hutto's breathtaking scenery. If spending a few hours playing through a picturesque golf course sounds like your idea of a hole-in-one afternoon, then don't miss The Golf Club at Star Ranch. Lush green fairways with spotless white-sand bunkers sit among gently sloping hills, a forest of oak trees, and numerous ponds, offering pleasant scenic views and enough of a challenge for golfers of any skill level. The club, rated as one of the best public golf courses in Texas by the Dallas Morning News, also features a practice area and a 15,000-square-foot clubhouse that includes a restaurant, pro shop, and locker rooms. Want to give the Star Ranch golf course a shot? Tee times at the golf course can be booked online.
---
Root for the Home Team
Get your peanuts and cracker jacks and root for the home team at a Round Rock Express baseball game. Round Rock Express, a Triple-A minor league club affiliated with the Texas Rangers, plays its games at the more than 11,000 seat Dell Diamond, located about five miles west of downtown Hutto. Not only is the stadium conveniently located, but sports fans will enjoy getting the chance to see some of baseball's top talent hone their craft before one day making it to the big leagues. The Minor League Baseball season begins in early April and ends in September, offering plenty of an opportunity to see some of these young prospects in action. Tickets for upcoming games are available on the team's website.
---
---