---

Events in City of Marfa
Plan a trip to the Big Bend region around one of the annual events in Marfa. Though you don't need an excuse to visit Marfa, these are great reasons to return again and again.
Combine world-class art, stunning natural surroundings and adventurous, and creative people, and you get a town that plays host to unique and popular annual events. Marfa is home to festivals, art exhibits and live concerts that draw locals and visitors alike. There's always something interesting happening in Marfa.
May
Marfa Invitational
The annual Marfa Invitational provides an unparalleled platform for viewing and experiencing today's leading contemporary art. See the work of selected artists at the annual event, which takes place over a long weekend. Enjoy a contemporary art fair, exhibitions and activities that include live conversations with artists and more.
325 E. San Antonio Street
Marfa, TX 79843
---
June
Agave Festival Marfa
The annual Agave Festival Marfa celebrates agave and its influence on culture through food, film, music, science and, of course, spirits. Enjoy original programming that highlights this magical ingredient and its role in popular culture, and especially in food and drink.
---
July
Viva Big Bend
Hear more than 50 bands in 10 venues across not just Marfa, but also its neighboring towns of Alpine, Fort Davis and Marathon. This is a must-see for music-lovers and features intimate concerts representing a variety of genres against a mountain backdrop.
---
August
Marfa Lights Festival
Enjoy three days of family-friendly entertainment, food and fun centered around Marfa's famous natural phenomenon. Bring a chair and listen to live music played on downtown streets. Enjoy a parade Saturday morning. And, of course, when the sun goes down, head to the Marfa Lights Viewing Area nine miles east of town to catch a glimpse of nature's local light show.
300 Highland Street
Marfa, TX 79843
(432) 295-1804
---
September
Trans-Pecos Festival of Music + Love
Calling all intrepid wanderers! The hip and edgy Trans-Pecos Festival of Music + Love attracts music lovers for live bands, workshops, new friends and activities that even include sandlot baseball. The popular festival is held annually on the grounds of bohemian hotel, El Cosmico.
802 S. Highland Ave
Marfa, TX 79843
(432) 729-1950
---
October
The Marfa 100
On a course set through rugged hills, the Marfa 100 is a challenging, 100-kilometer bike race held along a low-traffic ranch road. The event is held annually to benefit a local Marfa charity. Limited to 275 cyclists, the ride includes stunning views of the Chinati Mountains, native flora and high plains grasslands. It's a satisfying way to take in the area's beauty.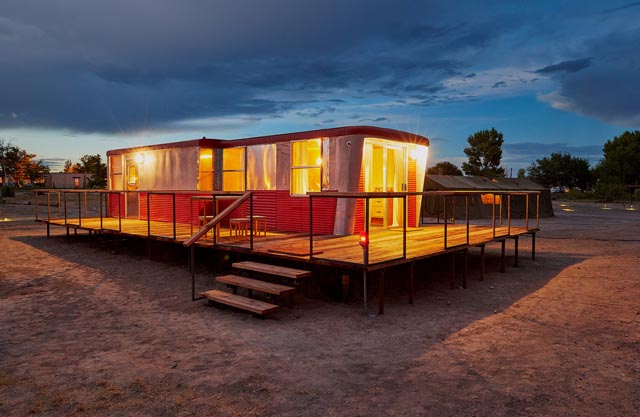 Chinati Weekend
Started in 1987 by minimalist artist Donald Judd, Chinati Weekend is an open house designed to draw the local community and visitors to the spaces and exhibitions of the Chinati Foundation, the grounds that housed Judd's home and studios. The weekend includes exhibit openings, events and public programs.
1 Calary Row
Marfa, TX 79843
(432) 729-4362
---
November
Camp Cooking
Learn how Texas cooking evolved from cowboys at the campfire to influential haute cuisine at this culinary weekend festival at El Cosmico. Activities includes a welcome reception Friday night, intensive workshops on Saturday, a cookout dinner at the Bunkhouse Ranch on Saturday night and a campfire breakfast on Sunday. It's a foodie's dream, West Texas-style.
802 S. Highland Ave
Marfa, TX 79843
(432) 729-1950
---
December
Marfa Holiday Bazaar
The Marfa Holiday Bazaar is a great place to pick up gifts you can't find anywhere else. Shops, artists, makers, and organizations set up booths in downtown Marfa along Highland Avenue to showcase their offerings. A visit from Santa, twinkling holiday decorations, crafts for kids and live entertainment round out this festive gathering.
207 Highland Street
Marfa, TX 79843
(432) 729-4942
---
---